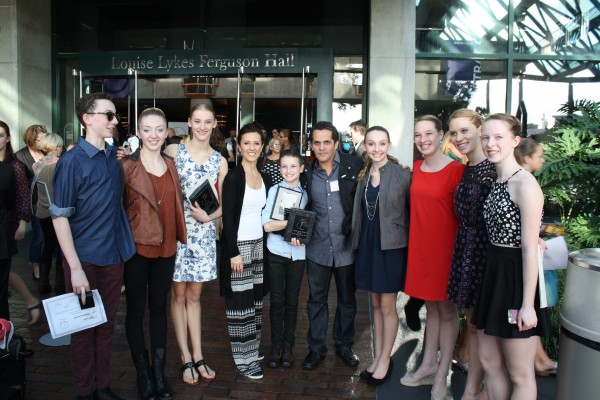 Cary, NC — The International Ballet Academy (IBA) opened five short years ago, but they are already making their mark on the national ballet scene.
The Grand Prix
In January 2015, the school sent seven of their top dancers to the Youth America Grand Prix (YAGP) semi-finals in Tampa, Florida. Two of the students won the top awards in their category. The greatest honor that can bestowed on a dancer at this competition is called the Grand Prix and, this year, that was awarded to Nicole Fanney, 15, who danced in the women's senior division.
Her classmate, Anissa Bailis, 17, placed in the top 12 dancers in that division. Parker Garison, 11, won the Hope Award–the top award in the Pre-Competitive age group.
This was the fourth time that the school has competed in this prestigious international competition and, of the seven dancers that made the trip, four were invited to the Finals competition that takes place April 10-16, 2015 in New York City. The school itself was recognized with the Outstanding School Award. IBA managing director, Christina Fanney, says:
It's a huge honor to receive this award from YAGP, as it reflects the caliber of training the students are receiving at IBA.
A Surreal Experience for IBA
Christina Fanney remarked, "It was a surreal experience, a perfect storm where everything was the right timing." She went on to say, "IBA is very grateful to Larissa Saveliev, Gennadi Saveliev, and the entire Youth America Grand Prix organization for providing these wonderful opportunities for our students."
Her daughter, Nicole, who won the Grand Prix award and who was invited to perform in "Stars of Today Meet the Stars of Tomorrow Gala," has competed in Tampa previously. Nicole's growth as a dancer is due to the hours of training that she has received at IBA with her teachers Rossana Gahagan and Servy Gallardo and with her hours of coaching by Haydée Gutierrez.
She added that, "For whatever reason, this year, the culmination of many factors created a good moment for her [Nicole]. It was the best performance I've ever seen her do." Christina then stated that:
Since the school has been coming to the competition the last few years, the people backstage were now rooting for them to perform well. It made them feel more relaxed. The judges have been watching the progress of the little school from Cary.
After the awards, the dancers and their families went to a nearby restaurant to catch their breath and celebrate. While there, one of the judges, Bruce Marks, came over to their table and took a few moments to not only congratulate them on their artistry "but also to make sure they understood how lucky they were to have these teachers who helped them achieve."
He was impressed with the consistency that all the dancers from the studio exhibited. Lead instructors Rossana Nesta Gahagan and Servy Gallardo have a passion for "their kids" and put in many extra hours of practice necessary to rehearse routines of this caliber.
YAGP Semi-Finalists
Four IBA dancers, Anissa Bailis, Cy Doherty, Nicole Fannéy and Parker Garrison will move on to the next round of competitions in New York City during the week of April 10-16, 2015. The Youth America Grand Prix finals require a dancer to have scored a 95 out of 100 to be invited to compete. For IBA to send four dancers is quite an accomplishment!
For the final round, they will be competing against ballet dancers not only from the USA but from around the globe. About three hundred dancers who have been selected by YAGP from their respective semi-finals will converge in New York City to see how they stack up.
During that week, dancers take intense classes with instructors from professional ballet schools. This exposure can lead to scholarships and even job placement for the students who are ready to take that next step.
We wish them all luck on their journey.
———————————————————————————————————————————–
Story by Lindsey Chester. Photo from IBA.
https://carycitizenarchive.com/wp-content/uploads/2015/01/groupIMG_8223-e1421622339844.jpg
400
600
Lindsey Chester
https://carycitizenarchive.com/wp-content/uploads/2020/03/cc-archive-logo-450-v3.png
Lindsey Chester
2015-01-22 09:41:53
2015-01-23 09:06:06
Cary's IBA Scores Big in National Ballet Competition