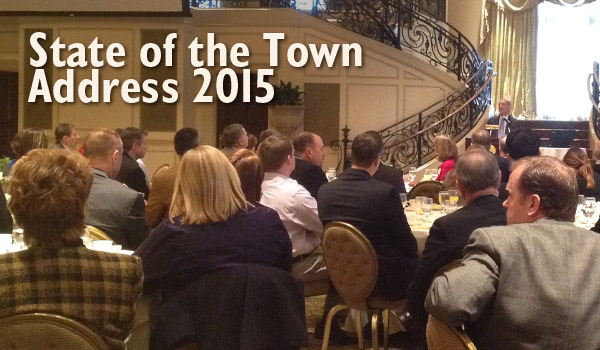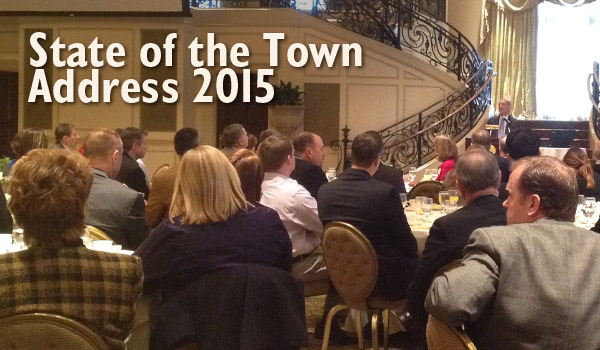 Cary, NC — This week on Wednesday, January 28, 2015, Mayor Harold Weinbrecht delivered his annual State of the Town Address to the Cary Chamber of Commerce at Prestonwood Country Club. 
The State of the Town Address
Harold Weinbrecht, Cary Mayor for the past seven years, discussed the town's accomplishments, challenges, amenities, and services to a group of 100+ citizens on Wednesday. It was his eighth year of doing so. If you missed the address, we've listed and summarized the main points of Mayor Weinbrecht's speech here.
You can also view the address in video or text format through the Town of Cary website.
Cary Statistics
How would you describe Cary? The statistics Mayor Weinbrecht covered in his address can provide an interesting, informative, and factual answer. As we begin 2015, Cary stats are as follows:
Population: 151,700
Land mass: 58 square miles spread among two counties
Cary has the lowest tax rate in Wake County (35 cents)
Mayor Weinbrecht emphasized that Cary is an educated and culturally diverse community with:
2/3 of residents having four year degrees
1/4 of residents having advanced degrees
1 in 5 Cary residents born in another country
Less than 5% of residents born and raised in Cary
Over 22% of Cary residents over 65
Financial Status
Cary's financial standing remains strong with the highest rating from all major bond rating agencies. Also:
Cary continues to maintain a reserve balance more than triple of what is required
Our debt is well below our 15 percent ceiling (at around 11 percent)
Cary budgets conservatively; the 2014 fiscal year's budget came in at $17 million less than planned
Accolades
Cary received many accolades in 2014. One is that we have the lowest crime rate in the nation for communities of our size. Here are a few others:
In the country…
#8 best place to live
#4 best economy
#5 best housing
#4 best education
In the Raleigh/Cary metro area…
#1 for raising a family
#1 for home ownership
#2 for young professionals
#4 for job growth
#4 for launching a start-up company
Town Council
This year, the Town Council will operate with only six members instead of seven, since former Mayor Pro-Tem Adcock was elected to serve in the NC Legislature. Voters will elect her successor in October. While Cary will miss Gale, this is good news, as our town has gained a strong advocate at the state level.
Mayor Weinbrecht also stated that "the remaining Council members average 11 years of service and are professional, respectful, and passionate about keeping Cary great."
Town Staff
The Town of Cary staff are dedicated to "doing more with less." Most communities our size have an average of 11 employees per 1000 residents, but Cary's efficient operations use less than eight employees per 1,000 residents.
Job Growth
Cary, in partnership with the Chamber of Commerce, had a great year for job growth in 2014. Mayor Weinbrecht stated that:
The Economic Development Partnership of NC decided to locate their offices in Weston Office Park. Having this newly privatized marketing arm of the NC Department of Commerce located in Weston means that visiting companies interested in locating in North Carolina will see Cary first.
Other big news:
Cary's unemployment rate is 3.5%, which is considered full employment and pre-recession.
Over 700 new businesses registered to do business in Cary in 2014.
HCL Technologies is bringing over 1,000 jobs to Regency.
SAS opened a new building that will house 600 workers over the next three years.
MetLife filled nearly 1100 jobs with about 300 positions remaining. Annual salaries average at $110,000.
Police & Fire Protection
Mayor Weinbrecht thanked Cary fire and police officials for their hard work, bravery, and dedication. He also announced the groundbreaking and development of a new downtown fire station and discussed the Town's need for policeman as a result of its growth.
Sports & Recreation
Many developments took place in 2014. Cary begins the new year with 30 parks, three community centers, a cultural arts center, a senior center, a nature center, and the Booth Amphitheatre.
Cary's greenway and trail system is becoming larger–82.2 miles are completed and an additional 150.7 miles are proposed. Within the next couple of years we should have greenway connections from Lake Crabtree to the American Tobacco Trail. Eventually, our trails combined with others will allow a continuous greenway from Falls Lake in Raleigh to Durham.
Cary has three major sports venues that provide our citizens with recreational and entertainment opportunities and the town with economic benefit. It is estimated Wake Med Soccer Park, USA Baseball, and the Cary Tennis Park inject close to $8 million into our economy annually.
Road Projects
There are over 680 miles of roads in Cary. The town maintains approximately 430 miles of streets–the remainder being maintained by the NC Department of Transportation and private homeowners' associations. About 60 percent of the portion that Cary maintains is in good or excellent condition.
The Town has increased expenditures for road repair and repaving by over 400 percent since 2011. The town is also spending an additional $5,000,000 on road repairs from our 2012 Community Investment Bond Referendum. Current and upcoming projects include:
Walnut Street bridge over US1/64 near the Buck Jones Road ramps
Academy Street improvements downtown
Cary Parkway over US 1/64 to allow for two continuous westbound through lanes
The intersection of NW Maynard Road and Chapel Hill Road
Green Level West Road
Carpenter Fire Station Road project
The Town of Cary now has over 417 miles of sidewalks. Sidewalks continue to be a budget priority and are required with development projects.
Transit
Transit service has expanded in the past year. CTran now runs from 6 a.m. to 10 p.m. six days a week. Additionally, an express route from Cary's Town Hall parking deck to downtown Raleigh was created as part of NCDOT's Fortify construction on I-40. If this route becomes popular, Triangle Transit may continue to provide this service after construction is complete.
Challenges for Cary
Growth-Related Issues
Cary's growth is less than 3%–but Western Cary residents don't feel it.
Schools, roads, and parks in West Cary are becoming crowded and overwhelmed.
Town Council doesn't have State authority to stop development–they only have the power to decide which type of development occurs. Every property owner has a legal right to develop his or her land, but the Council has to make sure that the growth can be accommodated by Town services and schools–which are provided by the county.
School Overcrowding
School overcrowding, especially in western Cary, is a significant problem. The Town has consistently communicated growth date to the school system for years, but the funding needed for additional schools in western Cary and throughout the county has not been available, resulting in the capping of many Cary schools.
A school bond vote to provide funding for additional schools will not be allowed until 2016 due to legislative restrictions by the General Assembly.
Road Congestion
The NC Department of Transportation is responsible for maintaining roads in Cary, but adequate State funding is not available. This leaves the current General Assembly to look for ways to improve roads throughout the state with very little money. For Cary, that means road congestion, especially in western Cary, will also be a challenge this year.
General Assembly Decisions
Cary will need to make sure Legislators understand that municipalities aren't competing with rural areas and that we need to all work together to bring jobs and improve commerce in our state.
The elimination of the privilege license tax cost Cary over $1.7 million in revenue, and the legislature is looking at ways to redistribute sales taxes collected in Cary to rural areas, which could result in an additional loss of $4 million in revenue. Other decisions being considered by the legislature that could impact Cary include:
Efforts to eliminate our aesthetic controls of homes
Fracking, which could impact our drinking water
Not implementing the Jordan Lake rules, which allows pollutants in our drinking water
The possibility of requiring municipalities to take on the responsibility of State roads
Google Fiber
Google Fiber has announced its selection of the Triangle–great news for both businesses and residents. The company projects that these services could become available to a large segment of Cary residents within about 18 months.
Downtown Developments
The Academy Streetscape Project, beginning in April, will provide an attractive main street with better pedestrian access, and it will also improve old water and sewer construction. A Downtown Park is in process with even plans more underway–so keep your eye out for developments.
Conclusion
Cary will face some significant challenges in 2015, but Mayor Weinbrecht continuously stated his confidence and pride for the dedicated and kind citizens and staff of Cary. He ended by stating:
Cary begins the year financially sound, environmentally friendly, and economically strong. Cary is one of the greatest places to call home whether you are a resident or a business. I appreciate your trust and confidence in me as your Mayor and, with your help, we will make Cary even greater than it is today.
————————————————————————————————————————————-
View the entire address online. Photo by Hal Goodtree.
https://carycitizenarchive.com/wp-content/uploads/2015/01/State-of-the-Town-Address.jpg
350
600
Staff
https://carycitizenarchive.com/wp-content/uploads/2020/03/cc-archive-logo-450-v3.png
Staff
2015-01-29 15:38:43
2019-12-08 10:11:08
Cary Mayor Delivers 2015 State of the Town Address