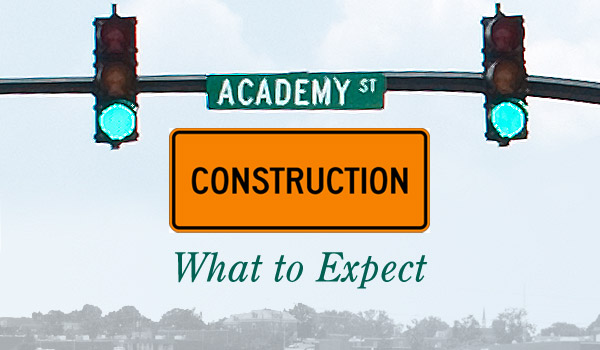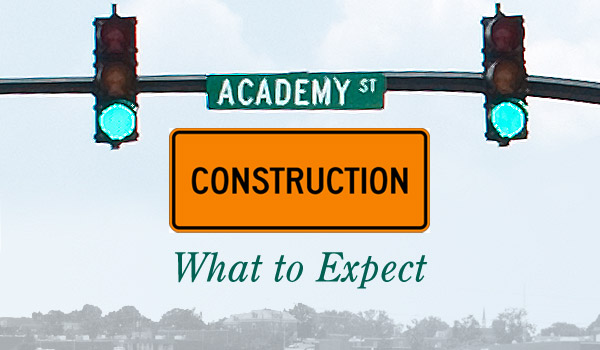 Cary, NC — April 2015 marks the groundbreaking for infrastructural and aesthetic improvements to Academy Street, Downtown Cary's main thoroughfare. This week, Kyle Hubert, engineer and project manager for this estimated $10 million endeavor, shared with citizens the project's timeline, construction plans, and measures that are being taken to reduce disruption. 
Academy Street Transformation
Prior to Hubert's presentation, Ted Boyd, Cary's Downtown Manager, addressed the audience, saying "Downtown Cary will see a significant transformation in the next five years." Isn't that the truth! Apart from replacing road infrastructure from the sixties and improving pedestrian and motorist travel, plans are in place to construct a downtown park near the arts center and to beautify Academy Street with various features and designs from artists and engineers.
These efforts are all a part of the town's revitalization plans–a several-year-old project with the goal of enhancing the character, charm, and attraction of downtown. The now completed Cary Arts Center and Cary Theater were also part of these revitalization efforts.
Construction Disruptions
Hubert addressed members and guests of the Heart of Cary Association, which is a group largely made up of individuals who work or live downtown–that is, near or on Academy Street. Needless to say, most people present at the presentation were anxious to see how the downtown construction would affect their businesses or homes.
This project will begin on the Kildaire Farm Road curve, near the Cary Arts Center, and, from Dry Avenue, will continue all the way down Academy Street. While one side of Academy Street is under construction, traffic and parking will exist on the other.
Boyd reassured the group that access to businesses and homes will be maintained at all times. Construction signage will be used before and after groundbreaking to announce that:
Construction is coming
Downtown businesses will remain open during construction
Parking is available
Construction teams will also work on Saturdays and evenings to minimize interference.
Design Highlights
Hubert stated his excitement about the design plans, which have been in state for 18 months now. He explained, in detail, the various plans and design for both Academy Street road construction and for the streetscape, or basic view.
Road Construction
From both Boyd and Hubert, I got the impression that this project is, very much, a, "If we're improving part of it, we should improve everything we can," situation.
Basically, the extreme upheaval of Academy Street is not just to repave the road and replace existing infrastructure; rather, it's also a great time to take advantage of the construction accommodations to improve sidewalks, electrical installations, and overall appearance.
Academy Street infrastructure, electrical, and road construction will include:
The improvement of electrical wiring throughout the street to support downtown events
The replacement of water lines and sewer pipes from the sixties
Storm drainage improvements and installation of new gas lines
The burying of some overhead electrical wires
Sidewalks widened from 5 feet to 10 feet
Kildaire Farm Road curve improvements will include:
A new traffic signal installed at Walnut Street
An exclusive right turn lane for those going northbound on Academy Street
Design Elements
The infrastructural replacements create a better foundation for downtown businesses and homes, but the following design elements will also play their part in the revitalization efforts by adding charm, beauty, and enhanced usability to the streetscape.
Artist Jack Mackie was commissioned to create 12 music-inspired granite benches that will be placed throughout downtown. He also constructed several dogwood flower-shaped bike racks, which will be placed near the post office and library.
Other streetscape elements include:
New streetlight fixtures
Removable bistro tables and chairs in front of library
Combination trash/recycling containers
Tree grates along sidewalk
Twinkle lights in trees
Additional metal benches
The addition of many diverse trees, including Japanese maples and upright trees
The addition of a downtown park and fountain
An attractive variety of pavers (exterior flooring like stone, brick, or concrete) will be used in the crosswalks, streets, and pedestrian access areas. Instead of paint, yellow pavers will serve as lane markings on the street.
Parking Improvements
Boyd explained that, currently, parking along Academy Street is very inefficient. Parking spots are not marked which, as a result, encourage customers to leave odd-shaped gaps between cars–minimizing available spaces. The new Academy Street will feature these markings and should help resolve some of the current issues.
Right now, there is only one handicapped parking spot on Academy Street that is ADA (Americans with Disabilities Act) approved. Several others are marked as handicapped but don't feature the necessary accommodations of an ADA spot. The new Academy Street will add three approved spots.
Project Timeline
Here's the project timeline:
April 2015 – Groundbreaking
May 2015 – Construction begins
August 2016 – Estimated completion
Public Meetings
Prior to groundbreaking, two informational public meetings will be held at the Cary Theater on:
February 11, 2015 at 8:30 am
February 17, 2015 at 5:30 pm
Residents can learn more about construction plans and disruptions at the public meetings. Additional details and project manager contact information can be found at Town of Cary.
————————————————————————————————————————————
Story by Jessica Patrick. Lead image by Hal Goodtree. Additional photos from Town of Cary.
https://carycitizenarchive.com/wp-content/uploads/2015/02/academy-street-construction.jpg
350
600
Jessica Patrick
https://carycitizenarchive.com/wp-content/uploads/2020/03/cc-archive-logo-450-v3.png
Jessica Patrick
2015-02-06 14:07:05
2019-12-08 10:14:55
Academy Street Construction: What to Expect