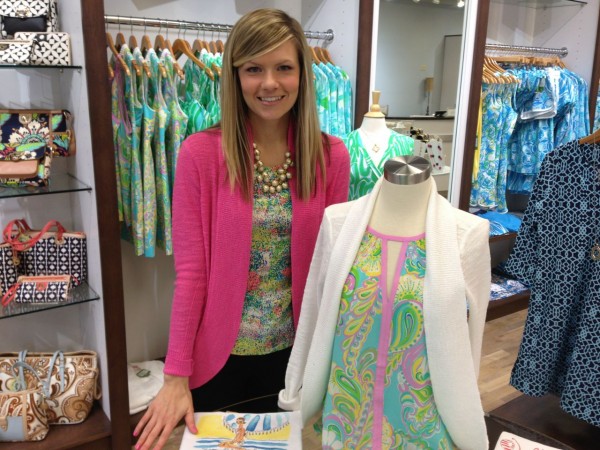 Cary, NC — A few weeks ago, before spring clothes hit the stores, I was able to the preview some of this year's spring fashion trends. Now that the weather has finally warmed up, these colorful designs are starting to pop-up right here in our many locally-owned Cary boutiques.
Shop Local
With so many chain stores in the area, many women wonder if we have locally-owned stores. The answer is a resounding "Yes!" In almost every corner of Cary, you can find an interesting, independently-owned clothing boutique with an owner who knows her customer and buys accordingly. One of the added advantages?
Owners only buy a few of each item, close to the time of need, so you won't see yourself coming and going if you buy from them. And, the independently-owned stores don't take the high mark-ups that department stores do, so pricing is generally sharp.
Spring 2014 in Cary Boutiques
Ashworth Prim & Proper
1331 Kildaire Farm Rd, Shoppes of Kildaire
Stephanie Ashworth and her husband, Scott, opened this boutique about a year ago. They carry a mix of southern staples including High Cotton, Pandora and Brighton jewelry and Jack Rogers sandals. They've carried Jude Connelly dresses since they opened, and in February they added Lilly Pulitzer. Spring trends look like a Palm Beach vacation.
In a few words, their customers like "tailored" and "preppie" styles. There are lots of hot pinks, turquoise, soft blues and pops of white. Jude Connelly's dresses are perfect for packing, as they're made of a poly/spandex blend.
Swagger
2425 Kildaire Farm Rd, in Lochmere Pavillion
You'll find lots of dresses and tunics at Swagger, a boutique perfect for women looking for a great pair of jeans or a top to update their look for going out. Dresses have become a real staple for spring and summer, with lengths ranging from above-the-knee to maxi. Newest looks have a defined waist, but shift dresses are still popular.
Lace is still an important detail, and the store offers an entire rack of pieced lace detailed tunics and tops. Swagger believes in the printed pant and had several versions ranging from rayon challis palazzo pants to closer-to-the-body spandex blends.
You will also find an array of designer jeans from Henry & Belle in dark washes that are skinny with a higher rise this season retailing for about $168.
Violets
302 Colonades Way, Suite 211, in Waverly Place
Hannah Ellis opened Violets last June and has continued to stock her store with an eclectic "Boho" mix of comfortable tops and dresses along with quality denim. Hannah buys for a customer who wants to be comfortable but still look stylish. The store features jeans from Citizens of Humanity, Raleigh Denim and AG in skinny fits with softened worn-in washes.
You'll find roll-up and ankle-zip styles and a legging all retailing about $170. To wear over these jeans, she has MuMu and Free People tops in soft prints and peasant styling as well as cute cropped denim jackets. Colors are muted with blues, pinks and soft yellows dominating.
GiGi's and sister store Finley's
302 Colonades Way, in Waverly Place
Cheryl Reinert owns both GiGi's and its sister store, Finley's. GiGi's is a Cary staple and has been in business for over seven years. The GiGi's customer is trendy but stylish. GiGi's moved across the street last year and opened Finley's in the adjoining space to cater to women who liked the GiGi's look but needed a more classic fit.
You will find well-priced PIKO tops (if you don't know what those are, ask your daughter or any college girl!) at GiGi's and a close copy in Finley's with a more flattering fit. GiGi's has lots of cute dresses from several California vendors that have focused on the pastel color family.
Prints for spring include Aztec updated with pastels for a softer look, paisleys and engineered border prints. Lace is still a popular trim accent.
In Finley's, many of the themes continue with an emphasis on flattering tunic length tops in watercolor prints with bold colors. A favorite line of tailored pants is Slim-sation by Multiples, which features a half panel in the front to hold you in. These tailored pull-on pants come in a range of colors and subtle prints that would be at ease in the boardroom or a party.
Paisley
117 W Chatham St, in Ashworth Village, Downtown Cary
Paisley opened just before Lazy Daze last year and has grown a following of college girls and women who are looking for the "preppie look" at an affordable price.
Most items retail around $50. Owner Lauren King has carried PIKO tops since she opened, and the long sleeve and 3/4 sleeve bamboo fabric tunics have been best-sellers. Kimono tops are popular "completer" pieces. Rompers have also been a big hit with the college set.
She carries a line called Southern Frock whose cute poly blend dresses in geometric prints retail for $84. Like most independent boutiques, Lauren buys her merchandise close to the season, and she told me she will be receiving the majority of spring in the coming month, a few boxes arriving daily.
Purple Polka Dot
114 S Academy St, South Academy Street, Downtown Cary
This boutique, owned by Kristen Gurganis, carries an eclectic mix of hand-painted furniture, monogram jewelry and clothing. Her tops and dresses retail for under $50, and she has developed a large following with students from NC State.
On my visit, I spotted a cute romper with Aztec embroidered bodice, dresses with a defined waist, and several styles of printed palazzo pants. They have a version of the ubiquitous PIKO tops which retail for only $28.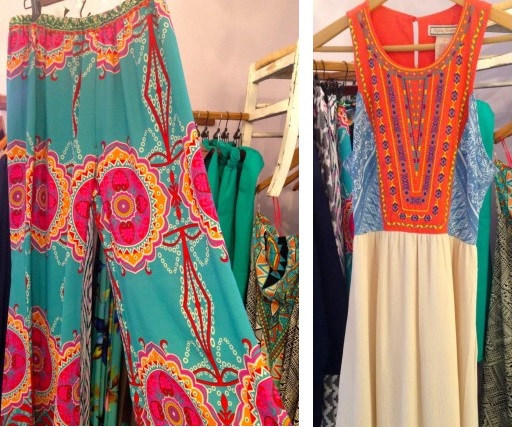 My Girlfriend's Closet
100 Parkthrough St, Parkside Shoppes in Downtown Cary
(other locations: Downtown Apex and Ooh La La in Ashworth Village)
My Girlfriend's Closet got its start when owner Lois Cozart rented a funky house in downtown Apex and filled it with unique high-end consignment fashions. She expanded into Downtown Cary three years ago and recently opened a second Downtown Cary location.
Her unique ability to spot great finds and merchandise them in an appealing way has led to many loyal customers who return frequently to replenish their wardrobe with the latest styles. She told me that, right now, she is really stocking current trends, as many consigners seem to be clearing out their closets on a more regular basis.
That's great news for bargain hunters, because you can find Anne Taylor, Calvin Klein and Trina Turk at a fraction of the original cost. Lois has current styles like jumpsuits in both knit and woven fabrics. She said softer ballerina colors are popular with lace and delicate fabrics making the transition into spring. Aztec prints, polka dots and shiny metallic fabrics, and colors of turquoise, coral and lots of blue.
Soft color mixes and combinations at My Girlfriend's Closet
Peachy Keen
250 Grande Heights Drive, in Harrison Point Shopping Center
This unique family-ran boutique opened two years ago with a mix of Boho fashion in one half of the store (run by sisters Jenn and Karly Hankin) and fine estate jewelry sold under Joint Venture Jewelry by parents Donna and Lee Hankin in the other half.
I met with Karly as she pointed out the trends she is counting on this season for her customers, who range from high schoolers to college girls and their moms. Peachy Keen has stocked vintage prints and dip-dye tunics and dresses in shades of blues early.
Army sage green is also going to be popular in mixed tunic prints. Ikat prints continue with softer colorations this spring, and black and white combinations are selling early. They have continued stocking items with lace trim and embroidery which carries over from fall and last spring.
The store has a great selection of jeans and they are stocking high rise waists and relaxed boyfriend fits from Paige Jeans, DL 1961, and Genetic. These are great for all fits depending on the tops you pair them with.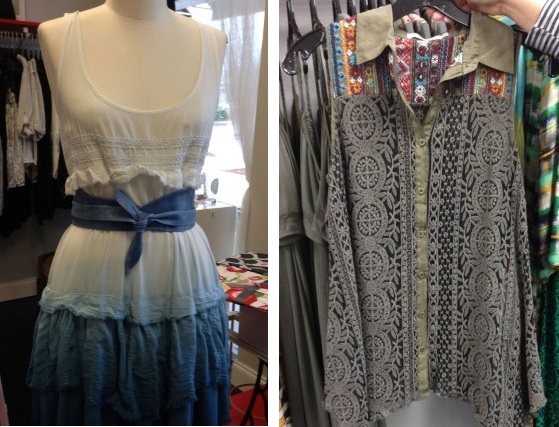 Vestique
2004 Market Center Drive, Morrisville, in Park West Village
This indy retailer got its start when the owners were students at NC State and opened a shop in Cameron Village. They have expanded to seven stores and opened in Morrisville last Summer. Their tried and true customers are high school and college girls who are always looking for affordable style.
The jeans here sport distressed finishes and cropped high-waisted silhouettes from Articles of Society. Cute well-priced dresses and tunic tops are their mainstay along with cute romper styles. Much of spring is yet to come into the store in late March and early April.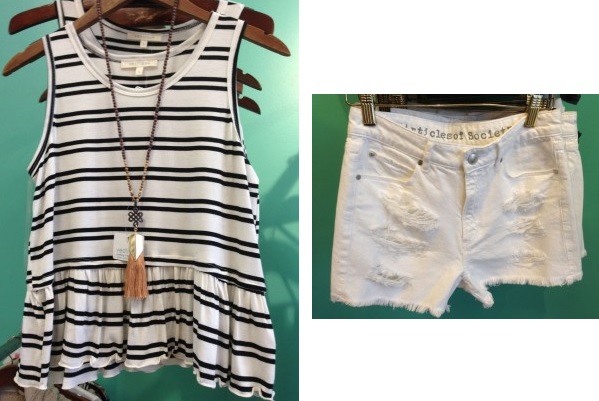 Scout & Molly
in Stonecreek Village
Scout & Molly's store manager, Kelsey Stepp, told me that blues have been an early hit with powder blue mixing with navy. Black and white is one of their year-round staples. Prints include cleaned up ethnic prints and polka dots. The styling here is boho and beachy with a hint of dressy with beading accented tunics.
The store has a nice display of high-end jeans in slim styles and medium and dark washes–these retail for about $180. Flowy dresses and tunics from Kerisma, Escapada and Jou Jou are organized on the racks by color family which makes finding something in flattering colors very easy for customers.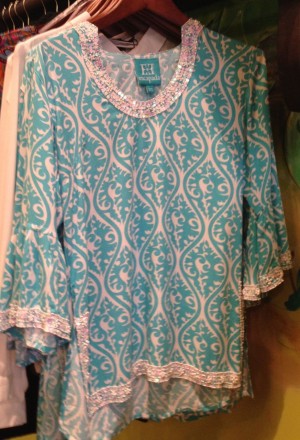 Shop for Spring Now
Spring break (or what's left of it) is upon us. Before heading to the mall, give some of these shops a look. Shopping local can be incredibly satisfying, especially when you find something unique when you work with knowledgable salespeople or the owner of the store itself. Shop local! You'll be glad you did.
————————————————————————————————————————————
Story and photos by Lindsey Chester.
————————————————————————————————————————————
The 2014 Cary Spring fashion Guide has been sponsored in part by My Girlfriend's Closet and Ashworth Prim & Proper.
https://carycitizenarchive.com/wp-content/uploads/2015/03/stepahnie-Prim-Proper-e1426434426119.jpg
450
600
Lindsey Chester
https://carycitizenarchive.com/wp-content/uploads/2020/03/cc-archive-logo-450-v3.png
Lindsey Chester
2015-03-24 14:43:25
2019-12-08 10:15:27
Cary Boutiques: 2015 Guide to Spring Fashion