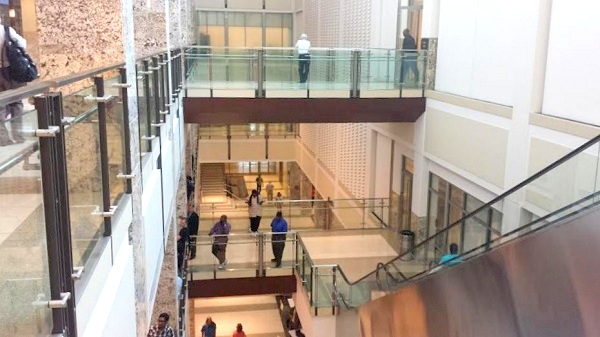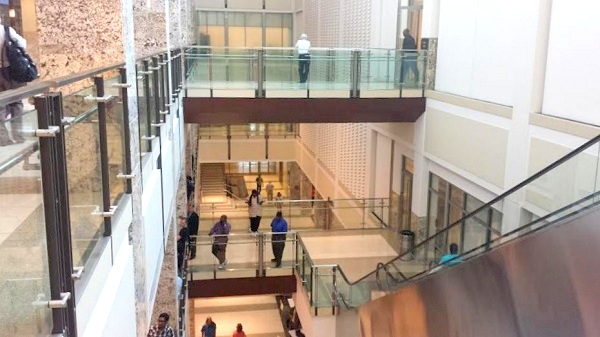 Raleigh, NC — One day this week, instead of going to work, I spent eight hours in the Wake County Justice Center in Downtown Raleigh. While there, I anxiously awaited to see if I'd be picked to serve as a juror in a criminal trial.
Jury Duty
Jury duty. Because I've been a licensed driver and registered voter in Wake County for more than five years now, I wasn't surprised to see the envelope in my mailbox. In fact, I was curious.
I'd been called for jury duty once before but declined the summons since I was in college and two hours away from home. Now that I live in Raleigh again, I knew that it was my "duty" to go. Missing a day of work wasn't ideal but, besides that, I didn't mind the summons. I appreciate new experiences and was looking forward to my first real glimpse inside our justice system.
9 am – 11:30 am
That glimpse didn't come as soon as I thought I would, nor did my dismissal from jury duty.
Once I parked in the Wake County Parking Deck, walked to the new Justice Center, got through security and received my free parking slip for being a juror, I sat in a waiting room with more than 400 other people for three hours.
At 9 am sharp, we all watched a video. It covered jury duty basics like:
Every two years, eligible residents are randomly selected to serve as potential jurors
Jury duty provides the opportunity for anyone to play an active role in the judicial system
An overview of the people in a courtroom (plaintiffs, bailiffs, defendants, judges, etc.)
An overview of the different kinds of cases
Waiting was boring but not difficult. Our "waiting room" was spacious with many comfy seats, magazines, vending machines and clean bathrooms. We could leave anytime we wanted to grab a coffee or sandwich from the cafe downstairs as long as we left our cellphone number.
11:30 am – 1 pm
I watched as the group of 400 slowly dwindled. Some were selected to serve as grand jurors, some were sent home and told to return at 2:30 and some were whisked off to a morning trial. My name, along with about 40 others, was the last group called for the day.
We were immediately taken into a courtroom, and jury selection began.
This was a criminal case; a defendant against the state.
I watched as twelve of my peers were selected (by random) to sit on the stands right off the bat. Each told their profession, their marital status and if they'd ever served on a jury before.
Based on the values, feelings and past experiences of each potential juror, both sides dismissed individuals who they thought wouldn't keep the trial a fair one. Listening to this back-and-forth between both parties, the judge and the jurors was the most interesting part of my day.
I knew that this questioning process was an important part of jury selection, but hearing the different questions and learning just how much the individual experiences of each potential juror could negatively affect the fairness of the overall decision was fascinating.
By the time lunch rolled around, twelve jurors were approved by both sides. I was asked to come back after lunch because two alternate jurors still needed to be picked.
1 pm – 2:30 pm
Lunchtime. Despite the lengthy break, I decided to stay put and ate at the cafe downstairs.
2:30 pm – 5 pm
In the morning, and almost all day, I thought my chances of being picked to serve in the trial were slim. However, by 4 pm, only 25 of us remained in the courtroom as potential jurors. The attorneys had already dismissed about ten people before lunch and, after, they dismissed about four people before the two alternate jurors were picked.
I was never questioned, because I never got past the random selection process, but a lot of my peers were. 12 suitable jurors, and two alternates, were finally picked right at 4:50 pm.
Dismissal
I was glad to be dismissed, but it also felt odd to leave after all that I knew.
I spent my whole day listening to the personal accounts (and many private details) from a whole group of strangers, and I got a detailed look into the case (much more than I'd expected to as just a potential juror). Of course, I didn't get to see any evidence or hear any testimonies, but the rigorous jury selection process, surprisingly, revealed many details of the crime.
I found jury duty, and my day at the Justice Center, to be educational. And, after spending hours of my day just listening and observing, I can't help but feel somewhat invested in the case and will, most certainly, follow it to see the final decision.
————————————————————————————————————————————–
Story and photos by Jessica Patrick.
https://carycitizenarchive.com/wp-content/uploads/2015/04/Jury-Duty.jpg
337
600
Jessica Patrick
https://carycitizenarchive.com/wp-content/uploads/2020/03/cc-archive-logo-450-v3.png
Jessica Patrick
2015-04-09 10:03:20
2015-04-09 10:03:20
Jury Duty: My Day at the Wake Justice Center