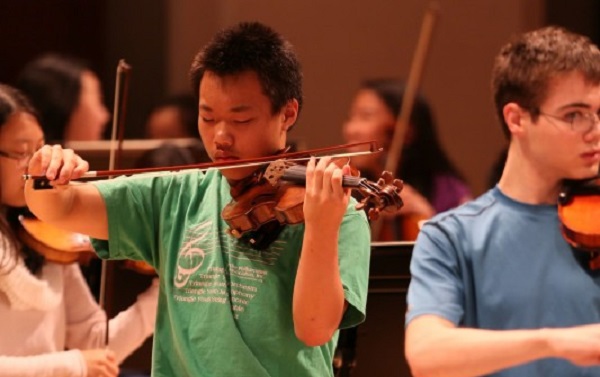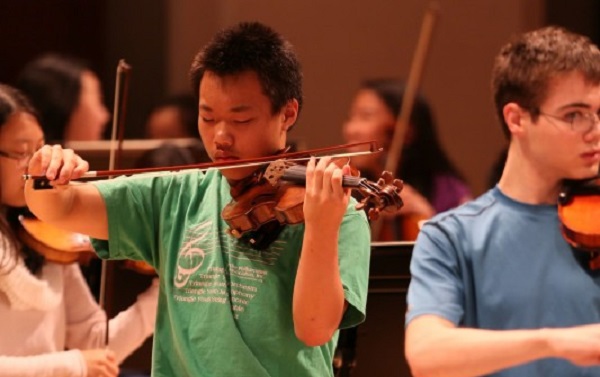 Cary, NC — Two weeks ago, Samuel Zhu, a 15-year-old violinist from Cary, performed with the Philharmonic Association at Meymandi Concert Hall. I talked with Sam to find out more about what it's like being a young musician and about why he loves playing the violin.
Meet Sam, Cary's Young Violinist
Sam, a 15-year-old freshman at Enloe High, has been playing the violin since he was five.
He has been a member of the Philharmonic Association since 2009, playing two years in both the Triangle Youth Orchestra and Triangle Youth Symphony, and is in his second year in the Triangle Youth Philharmonic. He has held titled chairs in all three groups and currently plays in the Philharmonic Association String Quartet.
In addition to playing the violin, Sam swims competitively for Enloe, where he is in the ninth grade, and year-round at the Triangle Aquatics Center.
An Interview with Sam
I asked Sam some questions to learn more about his musical passion.
Q: What was it like playing the violin at the age of five?
[My first teacher] was very kind and made me fall in love with the violin and music. When I started, I played on a tissue box. There were rubber bands (the strings), and a ruler (the neck). When one is that young, everything is a little easier. Each piece didn't take very long to finish, and everything was very laid back and fun.
Q: Why do you love to play the violin?
My favorite part of violin is that I can express myself without even opening my mouth. Through music, one can perform a story that no one can ever truly and accurately express through words. Also, the repertoire available for the violin is so diverse and incredible. In my future, if I work hard enough, I can play masterpieces from Bach to Shostakovich. I also enjoy playing for people, even though it is very nerve-racking.
Q: Tell me about your role in the various musical groups you've joined.
In the Philharmonic Association, I have learned to become first a follower, then a leader, which are both equally important. Being concertmaster of a full orchestra is a great honor and responsibility, and I have always enjoyed that position. It taught me how to be a leader and also strengthened my skills like listening and looking at the conductor.
The Philharmonic Association Quartet has been so fun. I got to work with great string players in the orchestra. We all are great musicians and we have become a very strong team.
Q: I heard that you often make parodies of your colleagues' music. 
I try not to take music too seriously because if I do, I get tired more easily and lose my drive to be better. I like to 'accidentally' make mistakes on purpose because it amuses me and my colleagues when we warm up.
It lightens the mood, and I enjoy when everyone is having fun and carefree. I like to think that I 'play' music, not work or study it, which has a connotation of work and burden. Of course, I spend a lot of time developing the skill, but I try to have as much fun as possible as I spend time working on it.
———————————————————————————————————————————
Interview by Jessica Patrick. Photo contributed by Samuel Zhu.
https://carycitizenarchive.com/wp-content/uploads/2015/05/3H6A2665.jpg
377
600
Jessica Patrick
https://carycitizenarchive.com/wp-content/uploads/2020/03/cc-archive-logo-450-v3.png
Jessica Patrick
2015-05-18 08:57:41
2015-05-15 15:50:52
Meet Sam, Cary's Young Violinist