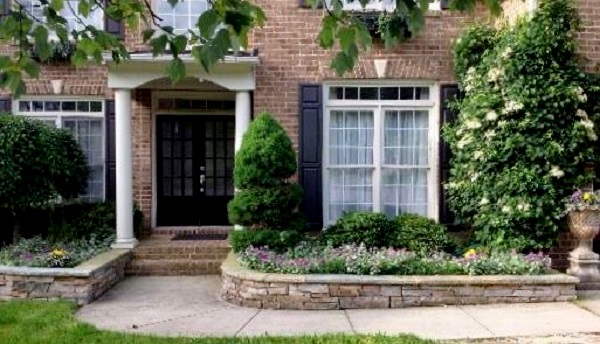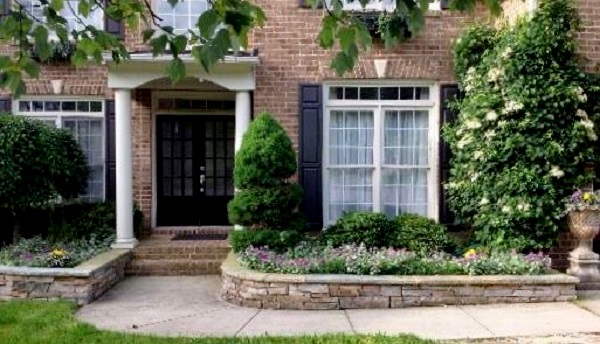 Cary, NC — Having great curb appeal for any home is all about being neat and clean.
Curb Appeal – It's Easy
You don't have to have a weekly lawn service or break your back to make your home look great. Most often, when we talk about curb appeal, our minds render thoughts of red doors, curvy walkways and glossy hardware. Your plants can make just as much of an impact–and probably more–with a bit of care and planning.
First, don't worry about how many plants you have; you don't have to have expensive ornamentals or lots of containers overflowing with perfect flowers.
Just start off by making sure your walkway to the main entry is not obstructed and the view of your door from the curb is not blocked.
Try to have a base garden of shrubs, perennials or trees that will last years with little care, and then leave yourself space to add annuals, flowers and/or pots for lots of color.
Move Your Plants Around
Don't be afraid to move a plant or remove a plant completely. Plants grow just like everything else and will, often, outgrow an area. In my neighborhood, it is very common to see glossy American Holly shrubs on either side of your door.
When homes are newly built, landscapers often choose plants that offer instant impact and that are cheap, attractive year-round and low maintenance.
That's fine, but it doesn't mean forever. That American Holly at your doorway can get five feet wide and nine feet tall–much too big for most entries. Remove it! Often, you don't need to replant. So don't be afraid to move a plant or remove a plant completely.
Keep it Neat
Second, try to keep your lawn and garden well-trimmed. If your thumb isn't green, or any variation thereof, you can buy low-maintenance plants that need little care. Some gorgeous new shrubs for small areas are Purple Pixie Lorepetalum or Sunshine Ligustrum.
You can also add ground covers that are somewhat slow growing and that need little pruning such as lambs ear, creeping phlox, vinca, creeping thyme or lamium. These can be dug up, split and planted in new area during spring. Free plants!
Here are some examples of what ground cover can look like:


Have a Landscape Plan
Lastly, if you are starting from scratch or are fed up with your lack of curb appeal, have a landscape design created just for your front yard. A landscape plan is not only helpful and smart; it will also help save you money. Remember, this is not only your time and effort but also an investment that will add significant value to your home.
Resources for Help
The Wake County Cooperative Extension Service manages quite a few demonstration gardens that offer great ideas for your home. They include the:
Oakview Herb Garden
Crowder Park Prairie Garden
Fairgrounds WaterWise Garden
Lake Crabtree WaterWise Garden
Mel's Tip of the Month
Watch out for these scale egg sacks!

Look now for small white egg sacks, which resemble a Q Tip, that have hundreds of scale eggs inside. These insects are very hard to see and have numerous species. They will feed on trees and shrubs during spring and summer, lay eggs and start over again.
Scale weakens plants and cause them to yellow and brown, grow slowly and become susceptible to other problems. If you see these egg sacks just pull off the leaf and throw it in the trash. It will help your plants be healthy and beautiful all summer.
Happy gardening!
———————————————————————————————————————————-
Melody Hughes is a North Carolina State Extension Master Gardener Volunteer and a real estate agent at Dunlap Lilley Properties, Inc.
———————————————————————————————————————————-
The garden column is sponsored in part by Garden Supply Company on Old Apex Road in Cary.
https://carycitizenarchive.com/wp-content/uploads/2015/05/Curb-Appeal.jpg
344
600
Melody Hughes
https://carycitizenarchive.com/wp-content/uploads/2020/03/cc-archive-logo-450-v3.png
Melody Hughes
2015-05-21 09:02:12
2019-12-08 10:15:24
Gardening: Curb Appeal