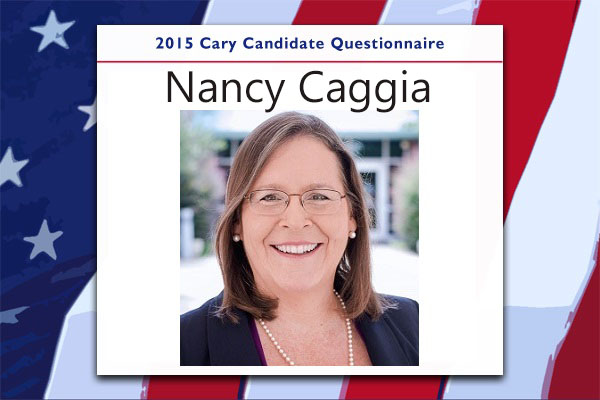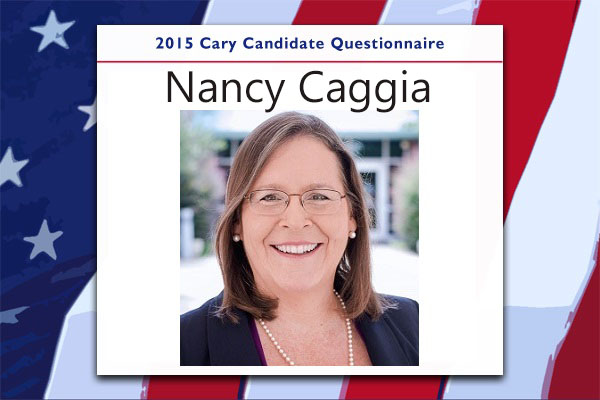 Cary, NC — This is the sixth installment of our Candidate 2015 series, in which candidates get to respond in their own words to the same three questions.
As usual, we publish the responses in the order we receive them. Next up is Nancy Caggia, running to fill the currently vacant District D seat in Cary Town Council.
Candidate Questionnaire
As we have done in previous election cycles, we sent a list of three short questions to all the candidates for office in Cary. We do not edit the answers but provide a forum for the candidates to speak to our readers in their own words.
We encourage all citizens to go to the polls in Cary on Tuesday, October 6, 2015.
Nancy Caggia
Q1 – Why are you running?
I want to serve Cary and ask for your vote as the District D candidate with the most current and relevant qualifications.  Consider evaluating this campaign as if you are "hiring" someone to listen and represent you who has the right knowledge, skill set and values.
Q2 – What are your top three priorities and how will you accomplish them?
My objectives as your future representative on Cary Town Council are:
To continue Cary's safety and services while remaining fiscally responsible keeping taxes low and property values high;
To keep Cary prosperous with customer service and policies which attract/retain business and talent with informed growth that is harmonious with our community; and
To be accessible to citizens for their input and serve as liaison with school and local area governments.
I ask many questions to understand many sides of a situation, facts and data, and to identify many possible solutions. Currently on Planning & Zoning Board, I meet with people, read and respond to emails and actively listen to people's input.  As future Town Councilperson, I would continue to genuinely seek citizen's feedback and meaningful involvement in our Town.
Then, using my leadership experience and knowledge, I would work with Town staff and other Council members to make the right decisions today that affect our future. I have declined political party endorsement as I firmly believe that our Council's success has been due to their nonpartisan effectiveness. While I am a registered Republican, my yard signs are purple as the blending of red and blue illustrates my independent thinking and collaborative decision making process.
Right now, I hear from Cary D residents that we are worried about infrastructure becoming too overcrowded and that we need informed growth decisions and cost effective future plans that further our admirable current quality of life and level of services. I have been a persistent safety and education advocate and would serve as an "Ambassador of Cary" with our schools, Chamber, PTA's, citizen community groups, large and small businesses, and other stakeholders in our local area.
I, Nancy Caggia, will listen and lead Cary to a bright tomorrow.
Q3 – Give us a brief bio and tell us about your relevant experience.
Married 27 years to Ret. Commander Vince Caggia and we raised three daughters in Cary since 1995
Nancy Caggia's Qualifications:
Presently serve on Town of Cary's/TOC Planning and Zoning Board
Appointed to TOC Economic Development Advisory Commission 2009-2011
Member of Cary Chamber Education Committee for 4+ years
Graduate of Cary Citizens Police Academy Class #17 and Cary School of Government 2004
Lead safety/preparedness and prevention initiatives in Cary 2003-6, such as CERT/Community Emergency Response Team/Training
Member of Wake County Critical Incident Task force 2013 ensuring safety in our schools
Girl Scout Leader for 11 years
Volunteered with children and scouts within TOC conservation Block Leader and other environmental programs
Ran for School Board 2013 "for academic growth" and narrowly lost by 239 votes, or 1.9%
Education activist as schools'/county PTA leader since 1999
Berkshire Hathaway HS YSU Realtor who understands property values
Blog for safe and ageless residential design for our Senior and disabled citizens
Co-own technology consulting business with husband here in Cary since 1995
Nonpartisanship, pragmatism, vision, knowledge, people skills and independent-thinker
Please hire me, Nancy Caggia with your vote as your Cary Town Council representative.
Candidate Information
Website: www.Nancy4CaryCouncil.org
Email: Nancy4CaryCouncil@gmail.com
Facebook: electNancyCaggia
Twitter: @nancycaggia
———————————————————————————————————————————
Read more in the Candidate 2015 series.
https://carycitizenarchive.com/wp-content/uploads/2015/09/Nancy-Caggia.jpg
400
600
Community Contributor
https://carycitizenarchive.com/wp-content/uploads/2020/03/cc-archive-logo-450-v3.png
Community Contributor
2015-09-17 09:13:40
2016-01-09 11:39:13
Candidate Questionnaire: Nancy Caggia