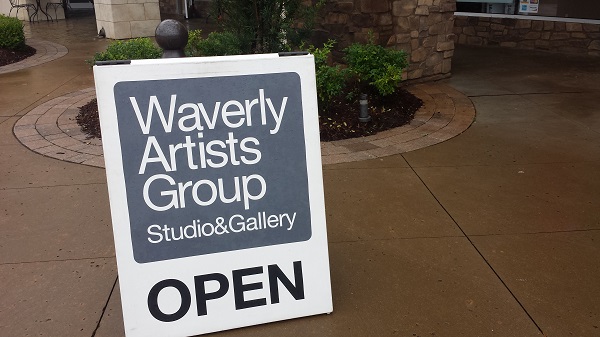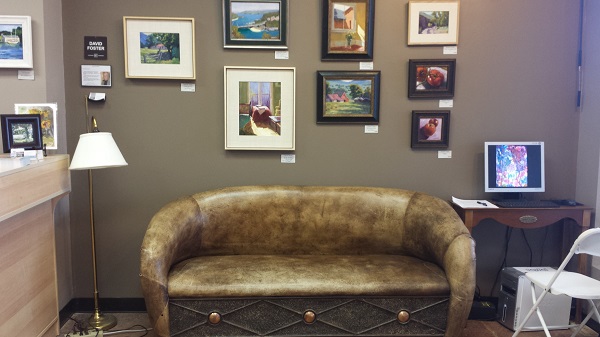 Cary, NC — I've seen a lot of art lately. Two weeks ago, I took a tour of the Village Art Circle gallery. A week before that, I visited the Cary Gallery of Artists to write about their 10-year anniversary. This week, I stopped by a third Cary gallery – the Waverly Artists Group.
Waverly Artists Group
The Waverly Artists Group is located on the upper level of Waverly Place, near Gigi's Cupcakes and Violets Boutique. I stopped in to take some photos of the gallery and talked to Ryan Fox, who was working on a painting and manning the gallery that day.
Much of the art in the Waverly Artists Group consists of watercolor or acrylic paintings, but other mediums, like fiber art, are represented, too. The gallery has an urban, industrious feel, and there's plenty of open space to step back and observe the work.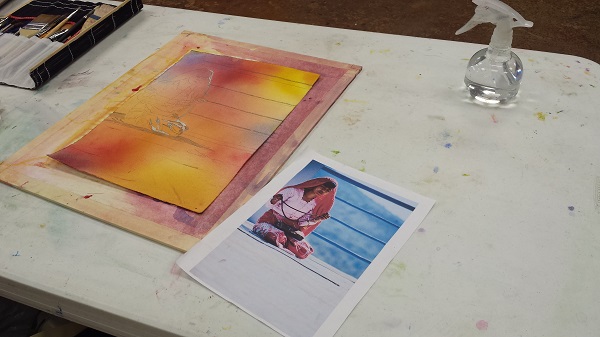 While I was there, Fox showed me his collection of realistic watercolor paintings. All were incredibly detailed. "Most of my paintings are adapted from photographs I've taken during my travels around the world," he told me as I looked at one of his in-progress pieces. Fox told me that he loves to paint while he's working the gallery, as it helps him focus.
More than 15 other artists exhibit in the gallery, too. Whether you just stop in while shopping or purposefully make a trip over there, you'll enjoy the view.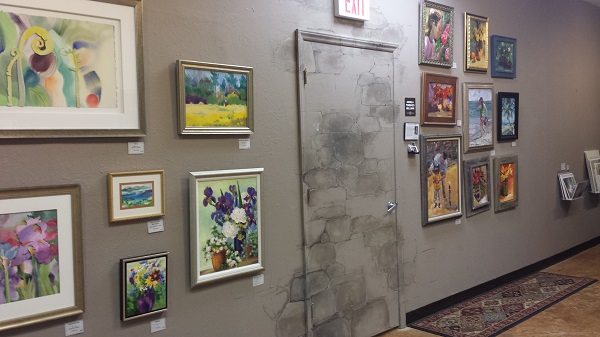 Hours & Location
You can visit the Waverly Artists Group at 302 Colonades Way, Suite 209. The gallery is open Wednesdays-Saturdays from 11:45 am-5 pm.
Final Friday (the last Friday of each month) is a great time to stop by both the Waverly Artists Group and by Cary's other galleries. On Final Fridays, the galleries are open late, the artists are all on-site for meet-and-greets and refreshments are available.
Let's Talk About Artist Cooperatives
Like the other galleries I've written about lately, Waverly Artists Group is an artist co-op.
Artist cooperatives, or co-ops, provide many different opportunities and benefits for both local artists and the community, and I've learned quite a bit about how they work in the past several weeks. Basically, artists run these galleries. Local artists apply to become members of the galleries, and, once they're accepted as members, they're able to display their work there.
Artists commit to working a few shifts per month at the gallery so that they'll be there to answer customers' questions and assist with purchases. The artists are also encouraged to work on their art while they're there – so there's a good chance that you'll get to see an artist in the process of creating a masterpiece if you pay these galleries a visit at any given time.
Cooperative galleries support local artists and put them in touch with one another. They also make local art and art education accessible to the community. The Waverly Artists Group, for example, offers various classes, camps and workshops to the public.
Visit Cary's Galleries
After visiting the Cary Gallery of Artists, the Village Art Circle and the Waverly Artists group, I'm hooked on Cary's galleries. Each and every gallery I've visited is both a place of quality work and a place where art-lovers or artists of any level would feel welcome.
The prices, mediums and styles of the artwork in these galleries vary tremendously. Two art-seekers of completely different tastes could each find something to take home in any of these galleries and have a great conversation with a local artist along the way.
Related Content
———————————————————————————————————————————-
Story and photos by Jessica Patrick.
———————————————————————————————————————————-
Cary Citizen is sponsored in part by Elegant Stitches in Waverly Place.
https://carycitizenarchive.com/wp-content/uploads/2015/11/20151028_134342.jpg
337
600
Jessica Patrick
https://carycitizenarchive.com/wp-content/uploads/2020/03/cc-archive-logo-450-v3.png
Jessica Patrick
2015-11-04 08:54:40
2019-12-08 10:24:32
A Look Inside the Waverly Artists Group