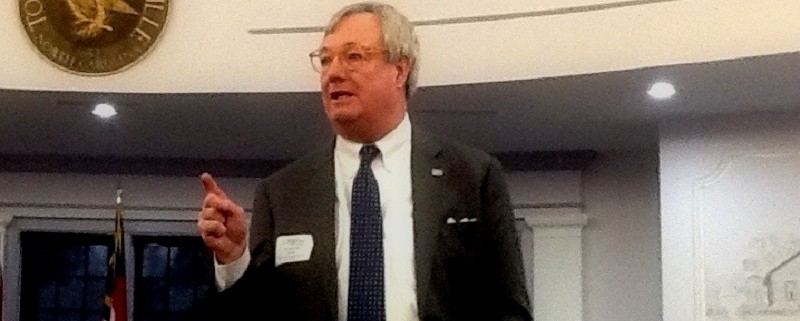 Morrisville, NC — Commerce Secretary John Skvarla visited Morrisville Town Hall on Thursday, February 4, 2016 to shed a little light on the business climate in our state. The net down? Things are pretty rosy in the 9th largest economy in the U.S.
Morrisville Councilman Steve Rao introduced the secretary as the chief salesman for the state of North Carolina because his job requires "filling the business pipeline" with potential companies that will either move here or bring jobs to the state.
Thinking Life Outside the Hudson River
Skvarla began his remarks with a little history about how he, a former New Yorker, came to call North Carolina home. He attended UNC-Chapel Hill for law school, and, after graduating in 1970, he thought, "There's too much opportunity here" and stayed. His friends would "give him the wrinkled nose," he said, and ask him, "'Why are you doing this?" His response? "I want to prove to you that there's thinking life outside of the Hudson River – not only is there thinking life, there's a better life!"
Then, over the course of about 10 years, all his friends ended up here as well. Sound familiar?
We're on Everybody's List
His own experience shapes why he is a great champion of the state and how he works tirelessly to draw businesses to locate here. Most states fight to be on the Economic Development List. But, in North Carolina, "We are on everybody's list, whether that's for internal growth or new company recruitment," he said. Why is that?
According to Skvarla, North Carolina places in the top four states because of our:
Location in the middle of the east coast
Proximity to mountains, seas and golf courses
Overall best-rated climate
High level of academics
Incentives Tip the Decision
The hard part is, once you get to the final four states, differentiating our state from the others. What most companies want are incentives. Skvarla's job comes down to educating the decision makers about what our state can offer.
Incentives or, as Skvarla calls them, "refund programs," return a portion of the revenue created by these new jobs back to the company after verification. Until recently North Carolina did not have much to offer.
Skvarla stated the Incentive Programs are necessary for one simple reason:
It's not the only reason they come to North Carolina, it's probably pretty far down the list – they come because those programs make headlines.

When they are announced, that deal makes headlines.
That means publicity for the company, for the state and for the deal itself. Skvarla used MetLife as a prime example, with their recent addition of 2,600 jobs with average annual wages of $85,000. That plays a big part in how companies make that final determination on picking between four great places. Who can sweeten the deal just a little bit more?
Most Robust Incentive Program Ever in Place
Under Governor McCrory, North Carolina now has one of the most robust incentive packages than ever before that will also be in place longer than ever before (seven years as opposed to renewal every two years).
That two-year renewal could be a huge problem when deals were in play.
Now Skvarla states that we have:
Lowered the corporate tax rate from 6.9% to 3% this year
Lowered personal income tax from 7.75% to 5.49%
Lowered sales tax rate from 5.75% to 4.75% plus the local tax
Lowered the unemployment tax
More Praises for North Carolina
Skvarla was proud that the state has gained 265,000 new jobs since 2013 (75,000 net new jobs in 2015). The state went from the 5th highest unemployment rate in 2013, and now it's growing jobs 10% faster than the rest of the United States.
Per capita income growth is in the top 6th in the U.S., and NC is one of a handful of states with a triple A bond rating by every rating service. Skvarla's conclusion is that North Carolina is in wonderful shape. At this point, everyone in the room was ready to pat themselves on the back. Skvarla said he believes our pipeline is pretty full.
---
Story and photos by Lindsey Chester.
https://carycitizenarchive.com/wp-content/uploads/2016/02/Skvarla.jpg
372
800
Lindsey Chester
https://carycitizenarchive.com/wp-content/uploads/2020/03/cc-archive-logo-450-v3.png
Lindsey Chester
2016-02-09 09:46:44
2016-02-08 11:01:19
NC Commerce Secretary Visits Morrisville