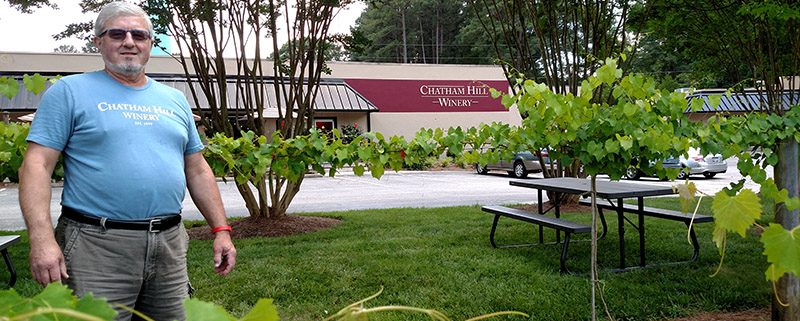 Cary, NC – After waiting three years for the vines to grow, Chatham Hill Winery will soon have its first harvest of wine grapes grown at its new location.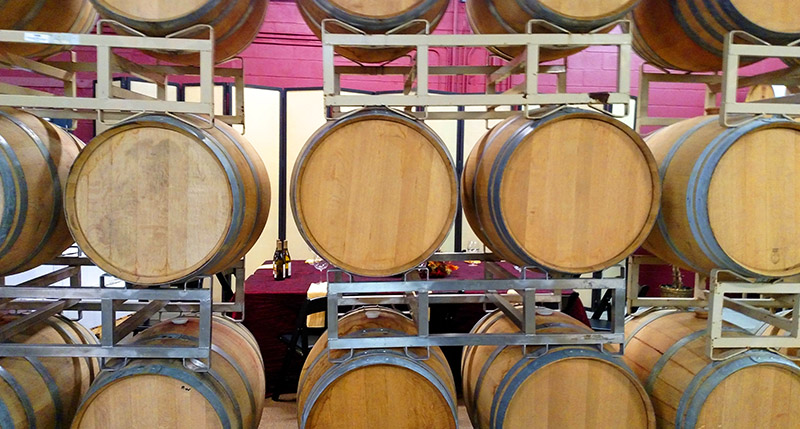 First Harvest
Chatham Hill Winery has been operating since 1999 as North Carolina's first urban winery and the first of any kind of winery in the Triangle. Originally in the Gateway, Chatham Hill has been at its location on 8245 Chapel Hill Rd. for three years now as its vineyard has grown.
Two rows of Muscadine grape vines grow in front of Chatham Hill Winery – white Carlos grapes on one and red Noble grapes on the other – form what owner and winemaker Marek Wojciechowski calls the "micro-vineyard."
"We trim the branches while we wait until the vines connect horizontally," Wojciechowski said.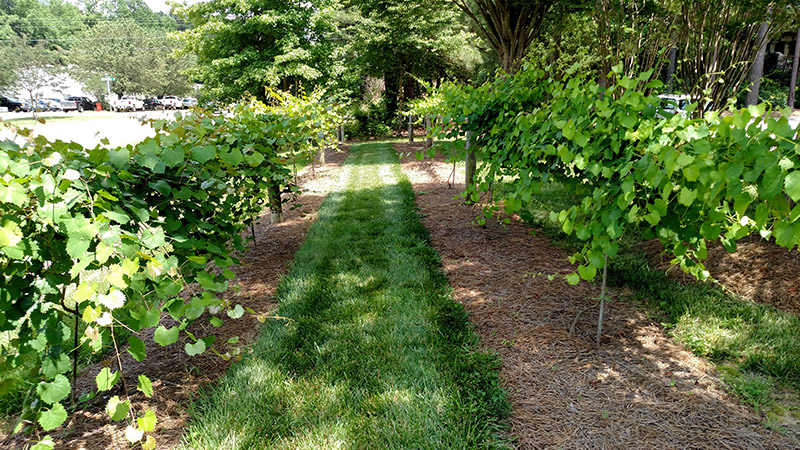 Right now, aside from the occasional trimming, Wojciechowski said the vines are set and, depending on sunlight, should be ready by the end of August.
"We will leave enough for the October harvest where we'll have food trucks and music," Wojciechowski said. Grapes will also be saved for a stomping event which is held at Chatham Hill.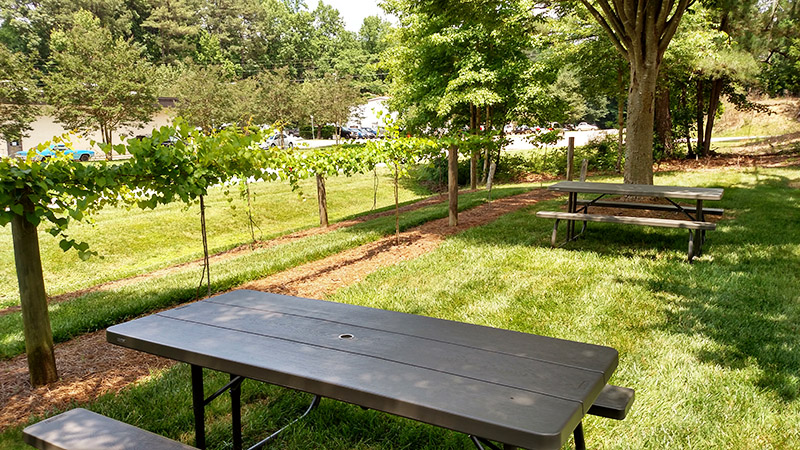 Understanding Grape Varieties
While the micro-vineyard will be the focus of Chatham Hill's October harvest, the grapes from these vines will not be used in Chatham Hill's wines and are there for educational purposes. Wojciechowski, who has an academic background in chemistry, said he likes to give people the chance to see the vines for themselves and learn about the growing and children can try picking grapes at harvest time.
Plus, Wojciechowski said Chatham Hill Winery does not make any wines from Muscadine grapes, preferring to use European varieties to make more complex wines.
"Muscadine wines have a unique taste but it only has a few flavors and then it's gone," he said. "They're sweet and are the kinds you see a lot in North Carolina so we like to give people something different. It's our specialty."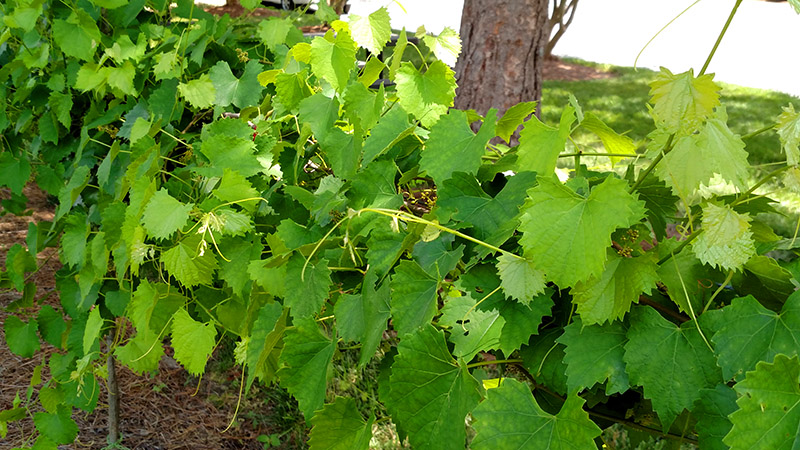 Because Muscadine grapes are native to the Southeast, they are good for the educational vineyard and need less upkeep in the humid weather, according to Wojciechowski.
"We don't need to spray so there's no health hazard," he said.
By using other types of grapes, Wojciechowski said their wines have more in common with Californian grapes and even have California residents signing up to order and ship Chatham Hill wines from North Carolina across the country.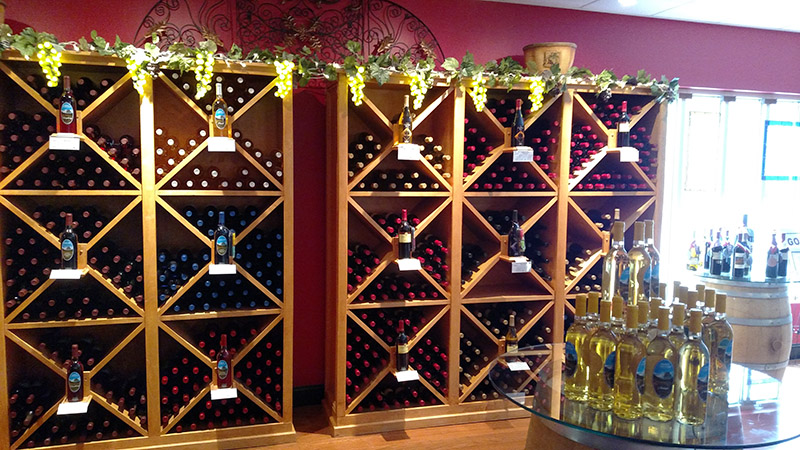 North Carolina Originals
Chatham Hill Winery may not use Muscadine grapes that one commonly finds in North Carolina but the majority of the grapes it does use come from their vineyards in North Carolina's Yadkin Valley in the Northwest part of the state.
"Our best premium wines come from North Carolina and we use North Carolina grapes if we can," Wojciechowski said. "But if I feel customers will enjoy another type, I will bring in some grapes from California."
In the back of Chatham Hill Winery, there are large machines for making wine, all of which Wojciechowski is involved in using his chemistry background. There are big vats for fermenting, freezers to prevent crystallization and churning machines to separate stems and seeds from berries, or remove juice and skins when it comes time to make white wine as opposed to red wine.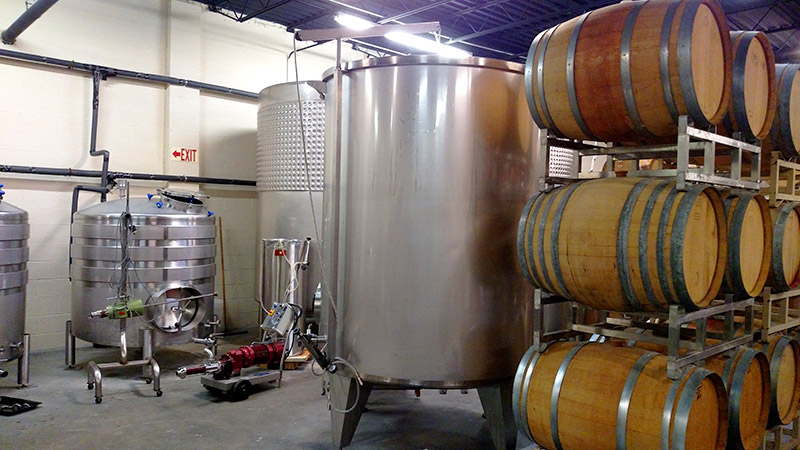 By having another small vineyard on their property, Wojciechowski said they have created a "destination winery" for people to learn more as they taste and buy local bottles.
"It creates an alternative for people who want to see a winery," he said. "It's a five or ten minute drive here vs. a day-long trip to Yadkin."
Inside, Chatham Hill has displays of their wines as well as a list to break their brands up by dry or semi-sweet and explaining the flavors so people who are not experts can understand and make the right choice.
"We want to be welcoming," Wojciechowski said. "We don't want to be wine snobs."
In that same spirit, Chatham Hill Winery also carries draft beer from Fortnight Brewing in Cary for any visitors who do not like wine, just as Fortnight carries wines from Chatham Hill.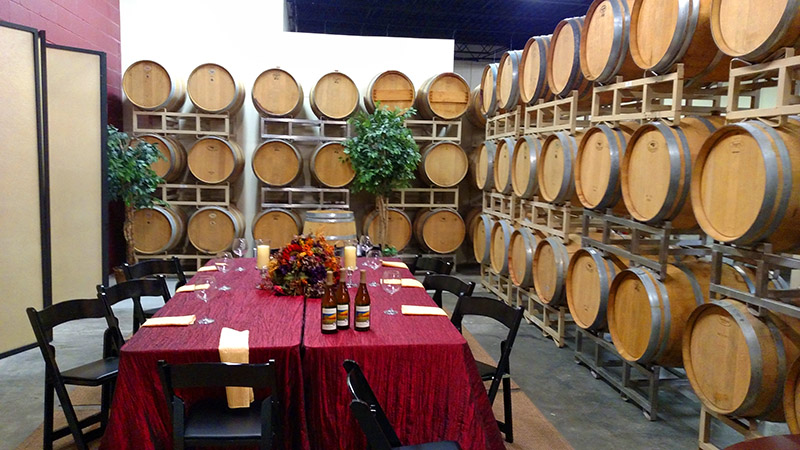 There is also space for events, where Wojciechowski said businesses have come back for multiple years, and Chatham Hill Winery also has a wine club, with some members staying for more than 10 years.
"With so many wineries in the area now, that is really impressive," he said.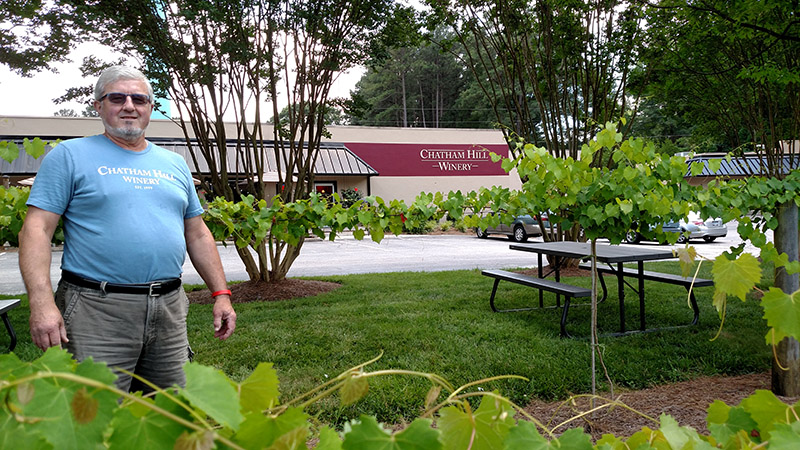 ---
Story and photos by Michael Papich. Coverage on CaryCitizen is sponsored in part by Waverly Place in Cary.
https://carycitizenarchive.com/wp-content/uploads/2016/06/WineFeatured.jpg
450
800
Michael Papich
https://carycitizenarchive.com/wp-content/uploads/2020/03/cc-archive-logo-450-v3.png
Michael Papich
2016-06-08 10:10:27
2016-08-08 11:14:51
Cary Winery Ready for First Harvest at New Location