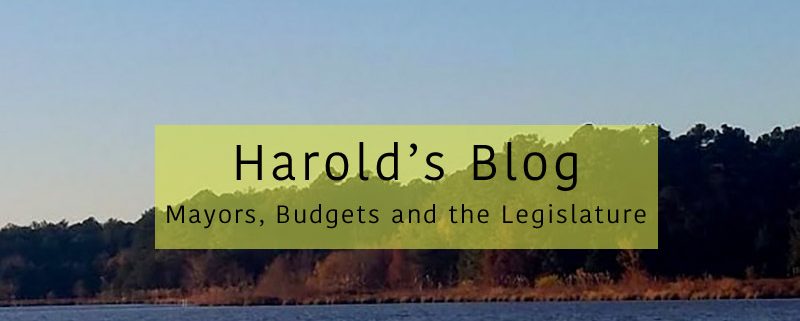 Cary, NC – This week consisted of a lot of late nights.
Monday – Mayors Meeting
Monday started with my weekly one-on-one meeting with Interim Town Manager Bajorek. First, we discussed Cary's CAMPO LAPP (Capital Area Metropolitan Planning Organization Locally Administered Projects Program) projects and why they are delayed. Some of the things we also talked about included the budget, the hotel occupancy and meal tax, and the council's roles in representing the town.
Later that evening I participated in a meeting of the Wake County Mayors Association. Mayors from Apex, Fuquay-Varina, Garner, Holly Springs, Morrisville, Rolesville, Wake Forest, Wendell, and Zebulon were in attendance. Most of the meeting was spent talking about our each of the towns' budgets. Most of the mayors reported that they will increase taxes, some by large amounts. For example, Zebulon will increase taxes by ten cents. And in case you are wondering, Cary is proposing to reduce taxes by two cents to be revenue neutral with the property reevaluation. Our meeting concluded after about two and a half hours.
Tuesday – French Sister City
Tuesday my wife and I had dinner with an old friend from our sister city in Le Touquet, France. We first met her about 15 years ago as a chaperone for the students that visit as part of the culinary exchange program with Wake Tech. We hosted students several times and we became friends during that time. Now she is retired and we stay in touch. My wife and I plan to visit Paris and Le Touquet next year. What a great side benefit of our sister city program.
Wednesday – Work Session on Budget
Wednesday started with calls to council members to hear concerns and questions about council's last regularly scheduled council meeting of the month. This meeting will be on Monday, the 27th which is unusual since our meetings are usually on Thursday. I was able to contact all council members and they only expressed concern about an item that was withdrawn by staff.
Wednesday night the council held a work session on three items: technical changes to the proposed budget, design goals for the downtown library and parking structure, and advocacy goals for the North Carolina League of Municipalities (NCLM).
The budget's technical changes were designed to be a review. However a council member made a motion to fund the master planning of the Cameron Pond Park. This motion was already denied at our last work session since Morris Branch will serve twice as many people with over a million dollars less in cost. It is not the practice of this council to review items that have already been decided but it is allowed since it is not violating any rules or policy. Once again the motion failed. Council agreed on the technical changes in the budget and we will vote on it at our meeting on the 27th.
Our second item at the work session was to provide design goals for the downtown library and parking structure. Here is some of the direction given:
The basement should be used. Options will be brought back that will include restrooms and space for commercial and other things.
The library should have a strong presence in the area but not necessarily look like the surrounding structures. As the architect put it the buildings "They should talk with each other not scream at each other."
The materials for the exterior should make the library and the deck look like they belong together.
The library should have an extended day presence (into the evening) but not conflict with lighting from the deck. The lighting should be warm and inviting.
Stairs should be inviting and maybe have walls of glass.
Consider options of a catwalk into the deck.
The consultant will bring back options to the council in about a month. The project is on schedule with construction beginning in August of next year with a completion date of November 2018.
Our last work session item was on the NCLM advocacy principles. The town was given an option to present addition principles before July 1st. After much discussion we decided that what we offered were currently covered under existing NCLM principles. So we will just support their core principles.
After the work session the council held the annual performance review of the town attorney in a closed session with the town attorney. Since this is a closed session item I can't divulge any information.
Thursday – Construction Hearing
Thursday the council held a quasi-judicial hearing for two church projects. The White Oak Baptist Church was seeking a special use permit to build a 12,000 square foot building across the street from the church. No one spoke in opposition to this request and it was approved by council. The second was a request from White Plains Methodist Church on Maynard Road to build a parking lot. Several people raised concerns about traffic, noise, lights, and flooding. Most of these were addressed by the developer and some were unsubstantiated. Council also approved this request. The quasi-judicial hearings ended after about an hour and a half.
Afterwards the council did the annual review for the town clerk. We also reviewed the interim town manager position. Like the town attorney's closed session, I am not allowed to give any information. I can say that our session lasted about an hour and a half.
Friday – State Legislature
Friday I participated in the weekly legislative update for the North Carolina Metro Mayors. It is getting close to the end of the short session so a lot of things are happening, some I consider unethical. For example, only non-controversial bills are supposed to be introduced in a short session but a local bill was introduced at the last minute to change the Asheville council districting and called non-controversial which is ridiculous. It seems the legislative majority can't get enough of screwing local governments. Another strategy being used at the end of session is to take bills that have crossed from one chamber to another and strip them and fill them with unrelated stuff. Our legislature is in a sad state. We really need ethical leadership that will stand up for citizens and their local governments instead of special interests. I am very glad that Cary has former council member Gale Adcock defending our interests.
Sunday – Melba Sparrow
Sunday I attended the funeral for formal council member Melba Sparrow. She served on the council for 12 years in the late 80s and 90s. While I never served with her I do remember watching her as I got involved in 1997. From that observation I can tell you she was involved and committed to making her community the best it could possibly be. What a great public servant. We are all better off for her service. RIP Melba.
Other News
Cary received another accolade this week. Zippia ranked Cary as #2 in the nation for most successful cities in America. Their criteria included poverty level, median household income, and unemployment rate. They looked at over 289 cities. Here is what they said about Cary:
"There's a reason Cary is one of the fastest growing communities in the country. It's safe, it's beautiful, the people are friendly… Okay, there are a lot of reasons. But more than anything, this place is SUCCESSFUL. And by that, we mean, these guys are makin' money: $91,481 per year, to be precise (median income). Other than that, though, Cary also has the ninth lowest poverty rank and the 10th lowest unemployment rank. Ku-dos."
To look at the entire report go to https://www.zippia.com/advice/most-successful-cities-in-america/.
Emails From Citizens
Emails from citizens this week included:
A complaint that we are paying too much for town employee insurance.
About a half a dozen requests for help with various issues.
A request for a traffic light study at High House Road and Castalia Drive.
A question about a proposal for a garage.
A question about a Morrisville rezoning.
Comments about moving the Ivey-Ellington House.
Next week will be busy with a regularly scheduled council meeting, a taping of the first Generation 2 Cary Matters, and an Economic Development Committee meeting.
Get In Touch
Well, that is all for this week. My next post will be on Sunday, July 3rd.  Although I have Facebook and Twitter accounts those are not the best means of communications with me. Please send all Town of Cary questions or comments to Harold.Weinbrecht@townofcary.org and email personal comments to augustanat@mindspring.com.
---
From the blog of Cary Mayor Harold Weinbrecht. Photo by Jessica Patrick.
https://carycitizenarchive.com/wp-content/uploads/2016/06/HaroldsBlog-June27.jpg
436
800
Harold Weinbrecht
https://carycitizenarchive.com/wp-content/uploads/2020/03/cc-archive-logo-450-v3.png
Harold Weinbrecht
2016-06-27 10:37:47
2016-06-27 09:50:49
Harold's Blog: Mayors, Budgets and the Legislature