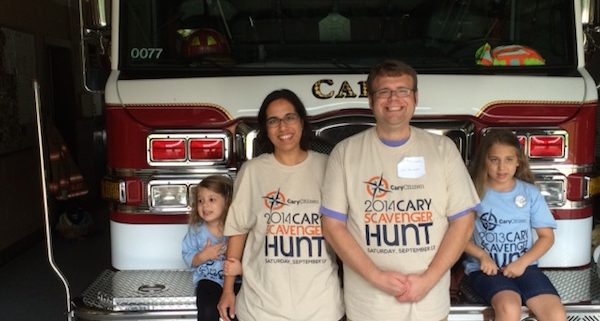 Cary, NC- While everyone is enjoying their summer vacation, our CaryCitizen team is hard at work dreaming up new clues to stump our The Cary Scavenger Hunt teams. It's a tough job but someone's gotta do it! Because you are reading this, you may now have a leg up on the competition. Read on!
60+ Questions
Every year our CaryCitizen staff comes up with over 60 Cary-centric questions that registered teams must discover around our fair town. The questions might ask them to visit a historic marker, or take a photo with a statue, or locate a little known fact hidden somewhere in Downtown. There will be more questions than anyone can conceivably answer in the allotted four-hour time period, but folks come mighty close! Last year's winners scored over 11,000 points.
Every team gets one official Clue Book at 9:30 AM and they must come back to Page-Walker Arts & History Center by 1:30 PM to have their answers verified and points tallied by our celebrity judges (more about them in a future post).
Clue Bombs Coming
A few years ago we decided to start dropping some hints to get folks excited in the weeks leading up to the event. These became known as Cluebombs (we made that up!)
As we scour the town for clue ideas, we post photos and teasers throughout the weeks of July and August. For those paying attention, these hints are useful to save for their journey. Our advice? Follow CaryCitizen on Facebook and Twitter (@carycitizen) because that's where we drop the Cluebombs. And look for a hashtag!
Why a Hashtag? You can use hashtags to search for words that are used in social media. That means if we drop a cluebomb in July on Twitter, you can actually still find it months later by searching #Cluebomb. That search will give you a list of all the posts in Twitter or Facebook (you have to separately search each app) that have used the term #Cluebomb. That's why I love hashtags. You can also look for hashtag #CARYHUNT which is how we are tagging everything we post about the Cary Scavenger Hunt.

Here's your First
Cary's newest park will be dedicated in the fall and has some interesting public art. Find these sheep to help win it all! #Cluebomb
More Hints to Come
We will also post other hints in future stories, so START PAYING ATTENTION! Our sponsors are an important part of our event. We love them because they help us pay for all the bells and whistles. Our teams love them because they know many are clue locations during the day. That's right: clue locations. Visit our sponsor page and learn a bit about each one and where they are located. It can help you win. It won't tell you what you have to do, but at least you'll know where to go.
Teams Return
Every year we see many teams that have competed with us in the past. The Riddle E Racers (pictured above) have competed every year and are back in 2016 to try to win back their 2014 title (last year they placed second). The Piggly Wiggly Princesses have inspired us to consider having an award for best costume. And the Blue Whales are back after their first foray in 2015. Maybe they learned some tricks and will place in the top three for 2016?
Event Info
The Cary Scavenger Hunt
Saturday September 17, 2016
Page-Walker Arts & History Center, 119 Ambassador Loop, Downtown Cary
Check-in 8:30 AM – 9:15 AM, teams leave at 9:30 AM
Return 1:30 PM, winners announced at 3:00 PM
Prizes: Cash Prizes for 1st, 2nd and 3rd place in each of three team categories
Register now!
https://carycitizenarchive.com/wp-content/uploads/2016/07/Blue-Whales-firetruck.jpg
600
600
Lindsey Chester
https://carycitizenarchive.com/wp-content/uploads/2020/03/cc-archive-logo-450-v3.png
Lindsey Chester
2016-07-08 09:39:46
2016-09-06 11:38:45
Cary Scavenger Hunt: Dropping Clue Bombs