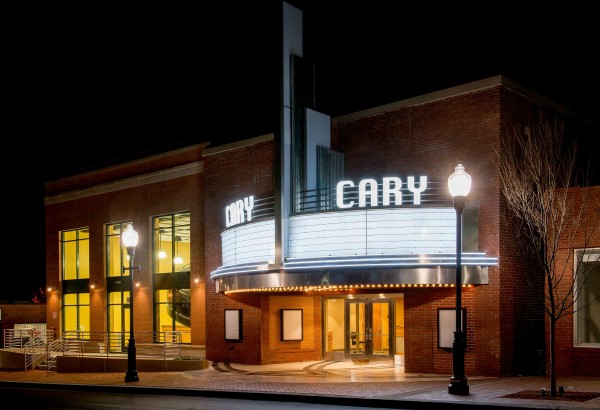 Cary, NC – With the Summer movie season almost over, it's the perfect time to get as much in as you can. The Cary Theater has lots of movies this August for you to watch and enjoy.

Olympics Series
With the Olympics starting this week, the Cary Theater will have free screenings of the Opening and Closing Ceremonies, at 7 PM both times on Friday, August 5 and Sunday, August 21, and coverage of the games on Wednesday, August 17, 2016, also at 7 PM.
In addition to the actual Olympics, the Cary Theater will be playing Olympics-themed films throughout August.
Film Noir Series
The Cary Theater is also screening a series of classic noir films, following detectives and members of the criminal underworld through dim and morally ambiguous stories.
Documentaries
The Cary Theater has long been a destination for local residents to come and see acclaimed documentaries and this month is no different.
First is Norman Lear: Just Another Version of You, a documentary following the career Norman Lear, the producer who created famous sitcoms such as "All In The Family," "The Jeffersons," "Sandford and Son" and more. The documentary is playing Thursday, August 25 at 7 PM and Friday, August 26, 2016 at 9:30 PM.
Also, the Cary Theater is playing a double feature for the documentary Raiders! The Story of the Greatest Fan Film Ever Made and the fan film it is based on, Raiders of the Lost Ark: The Adaptation. After both screenings of the documentary, on Saturday, August 27 at 7 PM and Sunday, August 28, 2016 at 2 PM, the fan film itself will play at 9 PM and 4 PM respectively. Tickets need to be purchased separately for the documentary and the fan film.
Finally, on Saturday, August 27, 2016, there will be a free screening of the documentary Bugs Bunny: Superstar, which features clips and shorts of the classic character as well as interviews with artists and directors such as Tex Avery and Friz Freleng. The documentary is playing at 10 AM and 2 PM.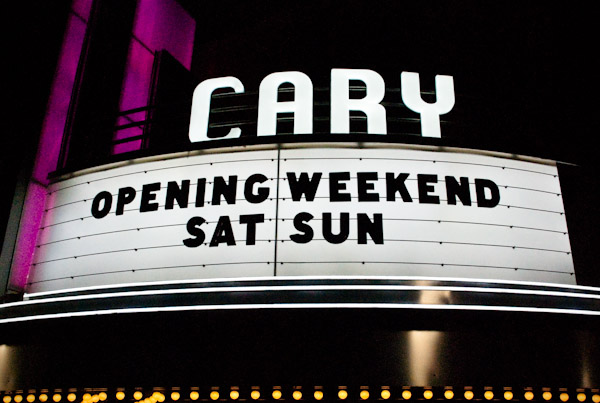 Children's Films
There are two films playing as part of "Film Day-Fun Day," which allows kids to play with toys and walk around and talk during the screening. The first is a classic cartoon, Mr. Bug Goes to Town from 1941 playing Saturday, August 16 at 10 AM.
Then it's the modern adaptation of the Dr. Seuss story Horton Hears a Who, playing Saturday, August 30, 2016 also at 10 AM.
Other Films
The Secret Life of Bees is playing Thursday, August 4, 2016 at 7 PM. This film about beekeeping will be followed by a discussion led by the Wake County Beekeepers Association who will discuss the science behind the decline in bee populations.
Playing this month at the Cary Theater is the highly acclaimed new comedy, Hunt for the Wilderpeople, telling the story of a rambunctious young boy and his grumpy foster father as they inadvertently get lost in the New Zealand wild while avoiding law enforcement. The film plays Thursday, August 11 at 7 PM; Friday, August 12 at 9 PM; Thursday, August 18 at 2 PM and 9:30 PM and Friday, August 19 at 9 PM.
Genius is playing on Thursday, August 25 and Friday, August 26, 2016 at 9 PM and 7 PM respectively. It is the story of New York publisher Maxwell Perkins as he works with Thomas Wolfe and edits his masterpieces.
Music at the Cary Theater
Performing on stage on Saturday, August 6, 2016 is Jon Shain and Walter Parks. Shain has been playing a variety of styles of acoustic music for years and his latest album, Crow the Dawn, is a duet with Joe Newberry. Walter Parks is a guitarist with three decades of experience under his belt, including time as lead guitarist for Richie Havens. Their show begins at 8 PM.
On Saturday, August 20, 2016, Asheville's The Honeycutters will be performing their country music with a touch of soul. That show starts at 8 PM.
Both performances are presented by Six String.
Other Events
On Monday, August 29, 2016 at 6 PM, Ted Boyd, Cary's Downtown Development Manager, is holding an information session at the Cary Theater to discuss, among other things, construction on Academy Street, new businesses and developments in downtown and more. There will also be a Q&A with residents. The event is free and open to the public.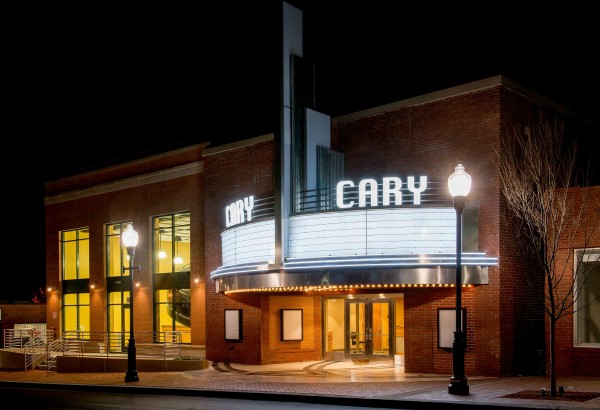 ---
Story by staff reports. Photos by the Town of Cary, Peter Burgess and Hal Goodtree.
https://carycitizenarchive.com/wp-content/uploads/2014/02/TheCary_Exterior-e1392906897913.jpg
410
600
Staff
https://carycitizenarchive.com/wp-content/uploads/2020/03/cc-archive-logo-450-v3.png
Staff
2016-08-01 14:29:38
2016-08-01 09:56:50
Coming Films to the Cary Theater – August