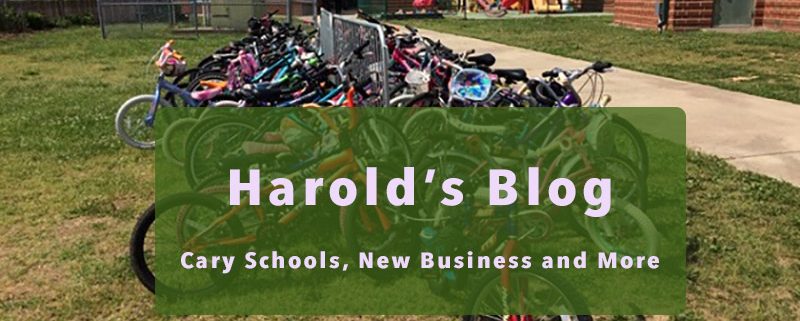 Cary, NC – This week consisted of a council meeting, a ribbon cutting, and a meeting with a school board member.
Monday – Town Council Meeting
Monday was the second regularly scheduled council meeting of the month which is unusual. Normally, council meetings fall on the 2nd and 4th Thursdays with quasi-judicial meetings on the 1st Thursday. This meeting had 10 consent items, 7 public hearings, and 5 discussion items. The item that drew the most speakers was the Northwoods rezoning proposal to allow a filling station/convenience store. Residents complained about pretty much everything with this proposal including traffic, light, noise, and property values. The representative for the developer asked that we send this back for another review by the Planning and Zoning board so that they could continue to make changes. However, when council discussed it we felt it was not the right use and that sending it back for another review was delaying the inevitable. Council unanimously denied the proposal.
The council also spent time discussing Round 34 of the Land Development Ordinance amendments. Council member Yerha made a passionate plea against one amendment that would allow gum ball trees to be excluded from champion trees. This exclusion would allow developers to remove them without penalty. Most of council felt that these types of trees are a nuisance and voted for the amendment.
Other decisions included approval to sublease of portions of the WakeMed Soccer Park to for a new private middle school referred to as the "soccer school". This lease will be reevaluated after 10 months. Council also approved a request by the Historic Preservation Commission to prepare a historic landmark nomination report for the Cary Arts Center (former Cary High School), the Jones House on Academy Street, and the Nathaniel Jones Cemetery on Tolliver Court in the Maynard Oaks Subdivision. The council meeting concluded after about 2 hours and 15 minutes.
Tuesday – Ribbon Cutting
Tuesday I attended a ribbon cutting for the grand opening of the third location of Riccobenne Associates Family Dentistry in Cary. After greeting the owner I gave a few remarks to about 3 dozen in attendance. Then we all gathered outside in the heat (above 95 degrees) and cut the ribbon on the new facility. Afterwards I joined the owner inside (in the air conditioning) as we toured the facility. This facility is a one stop shop for anything and everything with your teeth. They even have specialists that focus on pediatric dentistry. You can get braces, have dental surgery, or just something as simple as have your teeth cleaned. What a great idea to have everything in one place. So if you are looking for a new dental place you probably ought to check this out.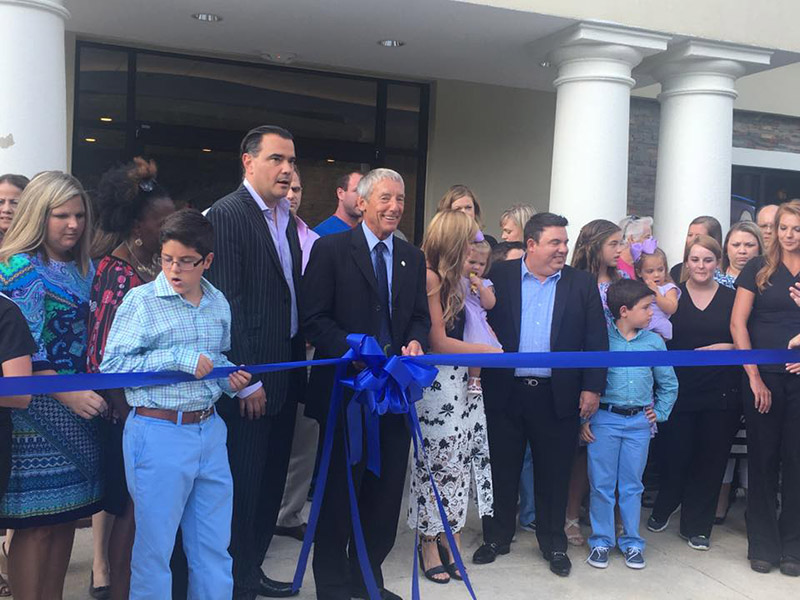 Wednesday – School Board
Wednesday I had a meeting with School Board member Bill Fletcher who covers most of Cary. We keep in touch when we can and this was meeting to update me on all the things going on related to schools. In our conversation the following points were made:
Merrill, the superintendent, wanted less reassignment and more focus on academics. (We have certainly seen less reassignments.)
Wake County's per student funding is less than it was in 2008.
Funding sources for schools: 59% state, 29% county, 8% federal, 4% other (fines and forfeitures, etc.)
Daily operations account for 80% of the budget.
The operating budget is $1.4 billion.
99% of teachers met the federal definition of highly qualified.
While Cary's schools are diverse by race, Cary does not have a school where the majority of students are economic minorities (poor).
Wake County has over 157,000 students enrolled for this year.
Wake County has 10,201 teachers and 18,950 employees.
Teacher turnover rate is over 13%.
There are 106 Elementary schools with 600 temporary classrooms.
There are 33 Middle schools with 185 temporary classrooms.
There are 25 High Schools with 367 temporary classrooms.
There are 825 school buses driving 83,000 miles per day.
In the seven year plan there are 11 elementary schools planned or under construction and 12 more with land purchased or targeted. All western wake elementary schools are under construction or land has been purchased.
Western Wake has Apex Middle school funded; a site acquired for another middle school near the Chatham County line, and is looking for a site for another middle school in Western Wake.
Western Wake has Green Level High School opening in 2019 and are looking for sites to add two additional high schools in Western Wake.
As available land dwindles future high schools may be looking at a different model that doesn't require 70 acres. In addition, future schools may share ball fields.
Our meeting concluded after about half an hour.
Emails From Staff
Emails from staff this week included the 2nd quarter report for 2016. Here are some interesting points from that report:
34 new development projects were approved in the quarter.
33 new plans were submitted.
Cary's population is estimated to be 157,259 as of July 1st which is a 2.2% increase over the last 12 months.
Permits issued 428 single family, 6 multi-family, and 158 non-residential.
Certificates of Occupancy issued 229 single family, 3 for 99 multi-family units, and non-residential.
Water demand was 18.6 million gallons as compared to 18.9 gallons during the same period last year.
Cary Water Treatment Facility was certified as the Director's Award by the Partnership for Safe Drinking Water for the 12th consecutive year.
Cary has 930 miles of sanitary sewer lines, 25,400 manholes, and 40 wastewater pump stations.
Cary violent crimes increased 70% compared to last year. Rape increased 43%, aggravated assault 48%, and robbery 200%. Several of the robberies were reported by victims attempting to purchase marijuana. Three incidents took place at one address known for criminal activity.
Cary property crimes decreased 6% compared to last year. Burglary was down 16% and arson was down 20%.
There was an 11.36% decrease in calls to the fire department compared to the same period last year.
Traffic signal software system is scheduled to be completed this summer.
Morrisville Parkway Extension and I540 interchange is scheduled to be completed in 2019.
Cary Parkway and High House intersection improvements are scheduled to be completed in the fall of 2017.
Carpenter Fire Station Road Bridge and intersection improvements are scheduled to be completed in the summer of 2019.
Walnut Street improvements near Crossroads are scheduled to be completed in the fall of this year.
Green Level West widening is scheduled to be completed in the winter of 2018.
White Oak Creek Greenway at the American Tobacco Trail is scheduled to be completed in 2018.
Jack Smith Park is scheduled to be completed later this summer.
Carpenter Park is scheduled to be completed later this summer.
The downtown park's first phase is scheduled to be completed this fall.
Sports turf fields are projected to be completed this fall.
Mills Park phase two is scheduled to be completed in 2018.
The Cary Tennis park expansion is scheduled to be completed in the summer of next year.
Cary's water treatment plant expansion should be completed later this year.
The town has posted an RFP for the Jones house and several prospective tenants have toured the property in advance of submitting a proposal.
Emails From Citizens
Emails from citizens this week include:
A complaint about the Eastern Gateway plan.
A complaint about the proposal to move the Ivey-Ellington house.
A complaint about the proposed 24 hour convenience store at Maynard and Reedy Creek.
A question about the proposed second Wegmans in Cary.
A request to bring back red light cameras.
A concern about the Gulen movement at the Triangle Math and Science Academy.
A concern about birds flying into the glass and the proposed new library.
A complaint that the town clocks are never keeping the right time.
A complaint about the seats in the Cary Theater.
Next week the new town manager starts as I swear him in at 7:30 AM on August 4th. Other activities include a meeting with a business owner, an on camera interview at the Cary Tennis Center, a meeting about minor league women's basketball, a meeting about USA diving, a quasi-judicial hearing, and a work session on the council calendar for next year.
Get In Touch
Well, that is all for this week. My next post will be on Sunday, August 7th.  Although I have Facebook and Twitter accounts those are not the best means of communications with me. Please send all Town of Cary questions or comments to Harold.Weinbrecht@townofcary.org and email personal comments to augustanat@mindspring.com.
---
From the blog of Cary Mayor Harold Weinbrecht. Photos by Jessica Patrick and Lindsey Chester.
https://carycitizenarchive.com/wp-content/uploads/2016/08/HaroldsBlog-August1.jpg
532
800
Harold Weinbrecht
https://carycitizenarchive.com/wp-content/uploads/2020/03/cc-archive-logo-450-v3.png
Harold Weinbrecht
2016-08-01 10:34:07
2016-08-01 09:53:30
Harold's Blog: Cary Schools, New Businesses and More