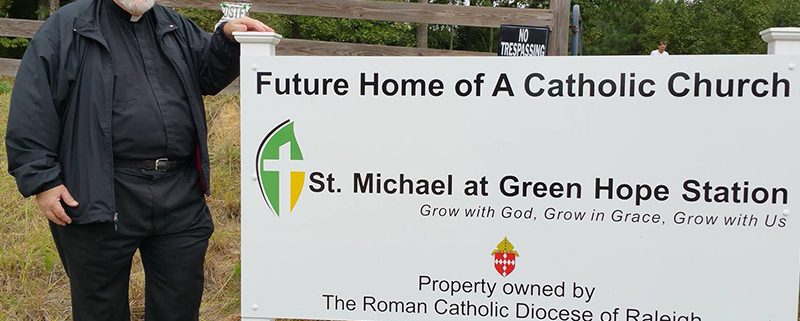 Cary, NC – Some 16 years ago, just a few years after the new St. Michael Roman Catholic Church on High House Road was built in Cary, Monsignor John Wall (the pastor at the time) and the Catholic Diocese of Raleigh realized that the population of Western Cary was growing so rapidly that an additional site would be needed in order to accommodate the expanding number of parishioners.

A Family
A handful of volunteers, led by Jean Fuccella, made arrangements to rent the Green Hope High School auditorium on Sundays. The first Mass at Green Hope High drew a dozen people. However, the congregation soon grew into the hundreds and with ongoing support from St. Michael Church, this became known as the "Green Hope Community."
"The Diocese then purchased land on Yates Store Road for a future church and presented that land to St. Michael. This site will become a gift to the new parish from St. Michael," said Monsignor Douglas P. Reed, the current pastor of St. Michael. "The St. Michael Parish will assist the growing community as a sister community until it can establish itself."
The founding parishioners of the Green Hope Community have fond memories of its beginning. The organizers anticipated a large crowd during their first Christmas so they ordered 500 chairs for the Christmas Eve Mass. Much to everyone's surprise, more than 1000 people came to Mass services that evening.
A strong spirit of community developed as the parishioners pulled together to organize events and everyone had a role to play. Members of the community built the altar and crucifixes, volunteers made tablecloths and sewed the altar servers' robes and the ushers coordinated volunteers for each Mass. At Christmas, the children present a Nativity play and wear handmade costumes.
Today, parishioners enjoy traditions such as "Doughnut Sundays," "May Mary Crownings," "Soup-er Bowl Sunday Cook-offs" and other community activities after Mass. People remain after services to visit with one another even on the rare Sunday when there is no special event planned.
"We think of the last 16 years as a labor of love. So many people pitched in to make services, events and acts of charity possible. Often we did what we could do with what we had," Fuccella said. "It was a long time getting to becoming a Mission. But sometimes God's greatest gift is unanswered prayers. Clearly, the time is right."
Newcomers to the community are welcomed with open arms and it seems that everyone knows each other. There are a large number of families with children, always a strong sign of a healthy faith community.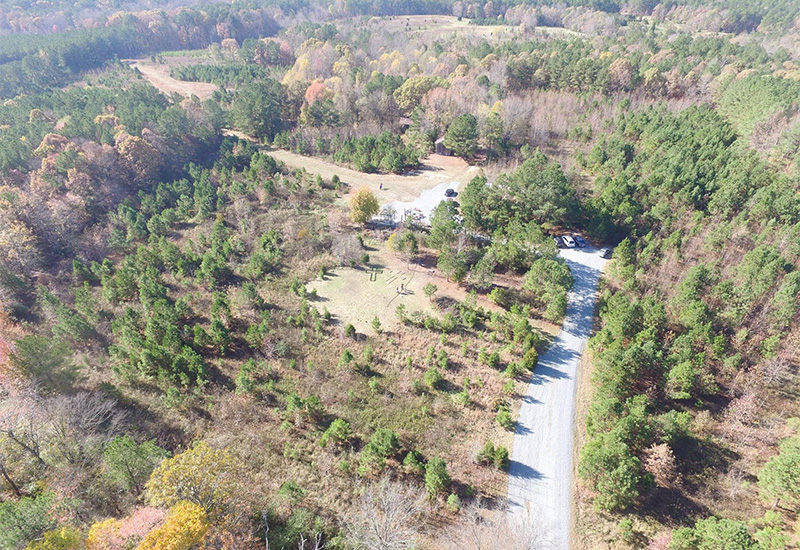 Mother Teresa Mission Today
This summer, the Green Hope Community was renamed the "Mother Teresa Catholic Mission" after the future Saint and humanitarian. At the same time, the Mission was given 20 acres of beautiful wooded land on Yates Store Road on which to build their future church and where they often have picnics and prayer services.
One day, this Mission is to become a full-fledged parish in its own right. Bishop Michael F. Burbidge has assigned Father Daniel Oschwald, who has formerly served as a priest at St. Michael the Archangel Parish and Sacred Heart Cathedral in Raleigh, to lead the Mission. 
"How blessed we are to see so much growth in Western Wake/East Chatham Counties and to be named after a woman whose example of such recent memory inspires so many who come to worship each week in this vibrant community," Oschwald said.
Mother Teresa will be canonized a Saint by Pope Francis on Sunday, September 4, 2016 in Rome. Mother Teresa founded the Order of the Missionaries of Charity, a congregation of women dedicated to helping the poor. Her order established centers for the elderly and disabled, hospices for the dying and a leper colony. Mother Teresa was awarded a Nobel Prize in 1979 for her humanitarian endeavors.
Every year parishioners support biannual fundraisers to assist with community projects for the St. Matia Mulumba Roman Catholic Church in Mityana, Uganda through donation and installation of water tanks, solar panels, buildings, plumbing and provision of school supplies for the local school children. Delegates from the community regularly visit the parish in Uganda and they plan to continue these mission trips.
In addition, as a tribute to Mother Teresa's dedication to serve those who are suffering, the community is assisting Haven House Services and their Street Outreach Program. Through this program, Street Outreach Case Managers connect with homeless youth in the Raleigh area.
"Through our outreach, our community truly exemplifies what our patron saint's legacy is all about, reaching out to our brothers and sisters in need, putting our faith into action," said Judy Adkins, mission coordinator.
The Mission is planning a celebration on Sunday, September 4, 2016. Bishop Burbidge will preside at the 10:30 AM Mass at Green Hope High School in the auditorium. Afterward, there will be fellowship, games for the children and a cookout at 11:30 AM.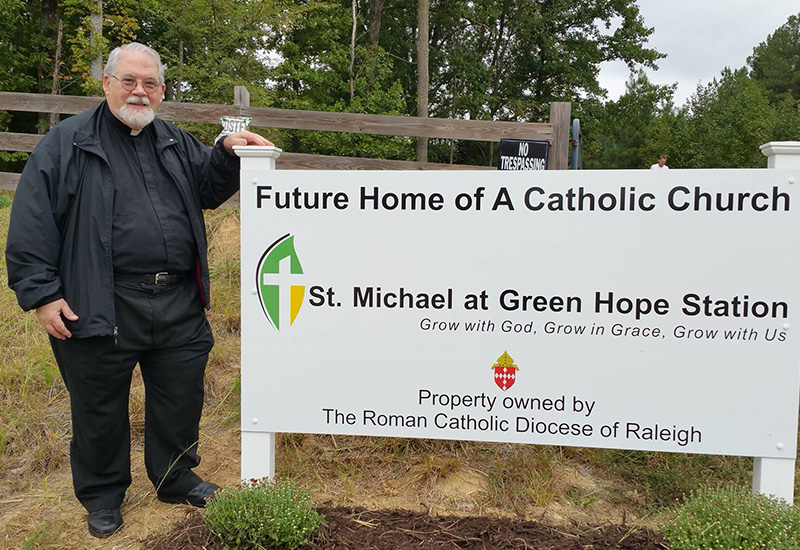 ---
Story by Matt Young. Photos courtesy of Matt Young. Community coverage on CaryCitizen is sponsored in part by Waverly Place.
https://carycitizenarchive.com/wp-content/uploads/2016/08/NewChurch.jpg
550
800
Matt Young
https://carycitizenarchive.com/wp-content/uploads/2020/03/cc-archive-logo-450-v3.png
Matt Young
2016-08-31 09:15:51
2019-12-08 10:30:47
New Church Coming to West Cary