Cary, NC – The latest meeting of the Cary Town Council moved smoothly without much discussion or public comment as the council acted on several issues ranging from sanitation to road work to police dogs.
Paid Parental Leave
The final issue of the meeting also saw the most discussion as Councilmember-At-Large Lori Bush initiated an item for town staff to look into Cary having paid parental leave. Currently, Cary does not give its employees paid leave after the birth of a child, adoption or participation in a foster program. The item was seconded by Councilmember Jennifer Robinson and both said many private companies in the Cary area have this employee benefit.
"Finding ways to entice people here is one of the best ways to retain employees," Bush said.
The full scope of the benefit package, including number of weeks given and whether it would apply to both parents, would be something town staff would look into and Town Manager Sean Stegall said he would come back with multiple options for Town Council to consider, as was requested by Councilmember Don Frantz. Frantz also questioned whether the proposed six weeks of leave would be too much and also wondered if the town should be involved in paid parental leave at all.
"I'm not looking for the answer to this question now but having a child is 99 percent of the time a personal choice," Frantz said. "I don't know if taxpayers should be financially responsible for somebody else's personal choice."
Councilmember Jack Smith, who used to work in the field of employee benefits, said he thought paid parental leave was a good idea but also said now is the time to look into the entire benefit package Cary offers. Smith also said private companies that are offering paid parental leave are taking benefits away in other areas.
"They're shifting all the ingredients around," Smith said.
The item, which directed town staff to look into the matter, passed unanimously.
Public Hearing
As part of the public hearing portion of the Town Council meeting, Council voted unanimously in favor of two annexations: one in several plots near Ridgefield Drive and Green Level Church Road and one smaller property localed on Green Hope Church Road near NC-55. Both were requested by the property owners.
Another annexation went before Town Council at the Public Hearing for land located by Newcomb Street and Truelove Drive, also requested by the property owner, but was not taken up for a vote.
No one spoke up at any of these three public hearings.
Grants and Funding
Several other items on the agenda dealt with the town either accepting grant funding or approving work done in the town. Cary has received a Community Waste Reduction and Recycling Grant, which would expand Cary's trash/recycle containers in highly trafficked parts of town and a grant for Human Exploitation Rescue Operation/Internet Crimes Against Children equipment and training. Cary is currently working on boosting its cyber security presence and even has a police unit devoted to this.
"We are the only full-time unit in the county," said Randall Rhyne, captain in the Cary Police Department and the speaker on the issue.
Both grants passed unanimously.
Town Council also voted for approving a variety of streets in Cary as part of the FY2017 Street Improvements Project which aims to proactively repair roads to avoid damages later in their lifespan. Town Council also voted in favor of a request for reimbursement of fee credits to developers in the Yates Pond and Woodhall subdivision related to sanitary sewer facilities. This item had been tabled several times due to its relative complexity but was now passed unanimously without discussion.
Finally, there was one item where the Town Council had to approve a public hearing for SearStone and their application for financial assistance. The rules related to the application require SearStone to have a public hearing which the Town Council will facilitate but have no responsibility for as far as the fiscal responsibility of SearStone when it comes to the financial assistance.
Other Discussion Items
Councilmember Robinson brought forward the idea of starting an award for quality building and design in Cary that showed going above and beyond what the town asks of developers. The idea was seconded by Mayor Harold Weinbrecht.
Town Council voted unanimously for town staff to look into the matter and Councilmember Frantz wanted to make clear that while the Town Council would vote on finalists, it would be the apolitical town staff who selects the candidates.
"I'd hate for this over the years to turn into the 'reward your favorite developer' award," Frantz said.
Another discussion item got the entire council chambers very excited because it saw a dog enter the pit. A new state law authorizes cities and towns to transfer ownership of retired police dogs from the government to their handler or a specified other person. Town Council voted to allow the police chief or an assistant chief to exercise this authority.
To illustrate the issue, police dog Robbie went before Town Council and showed off some of his training. Weinbrecht also pointed out that the state law in question was introduced by Representative and former Cary Town Councilmember Gale Adcock.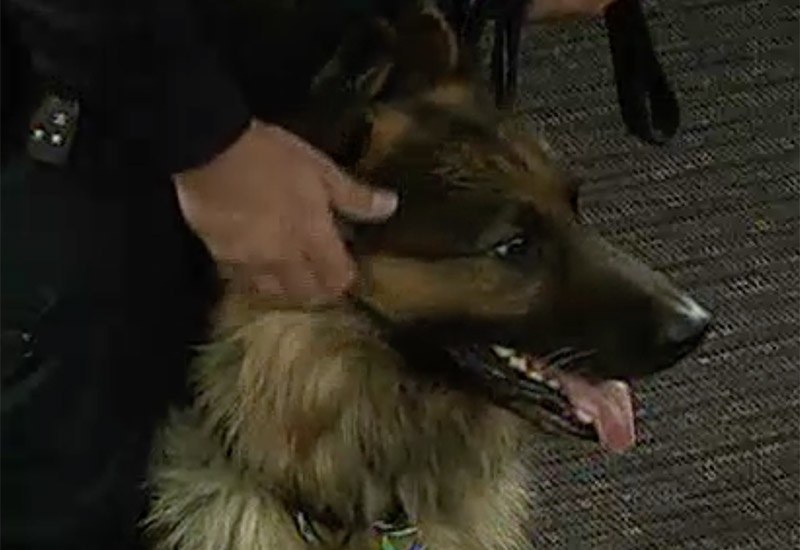 Public Speaks Out
Two different speakers at the Public Speaks Out portion, one of whom was Heart of Cary Association board member Tim DeVinney, thanked the town for the successes of the GoCary transition and the quality of the new buses. They urged everyone in attendance at the meeting to vote in favor of the ballot initiative to fund public transportation in Wake County in the November election.
The one other speaker thanked the town for a variety of issues, including Jack Smith park, their push against House Bill 2 and their decision not to take "purely political" actions. The speaker also asked the town to look into expanded the greenways to connect to the Northwest YMCA.

---
Story by Michael Papich. Photos by Michael Papich, Google Maps and the Town of Cary.
https://carycitizenarchive.com/wp-content/uploads/2016/10/TownCouncil-Oct13-3.jpg
292
800
Michael Papich
https://carycitizenarchive.com/wp-content/uploads/2020/03/cc-archive-logo-450-v3.png
Michael Papich
2016-10-18 09:25:04
2016-10-18 09:08:22
Cary Town Council: 10/13/16