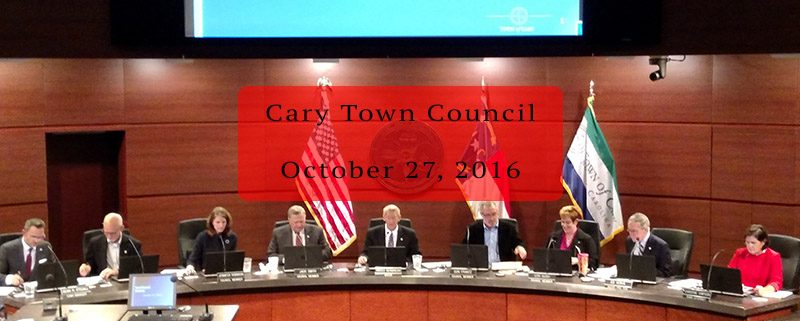 Cary, NC – The last Cary Town Council meeting of October saw several issues of construction and development bring out community members to voice their opinions and took Town Council into the long hours of the night to discuss.
Mills Rezoning
The issue that brought out the most discussion and debate was one of the last items of the night as Town Council was faced with a proposed rezoning for property between Carpenter Upchurch Road and Louis Stephens Drive. The plan was for the plan to be rezoned to bring in 40 units, likely townhomes. Part of the concerns was that this land bordered Green Hope High School.
During the "Public Speaks Out" portion of the meeting, speakers only talked about this topic. One nearby resident was worried more nearby homes would increase the traffic issues around the school during the carpool time. An employee with the builder, CalAtlantic, and a lawyer for the company both spoke and said the townhomes fit the area and is consistent with the land use plan. Also, the land's seller spoke to say he had offered the land to the Town of Cary to buy twice but was not taken up on it.
The Planning and Zoning Board recommended approval in a 6-1 vote and town staff said the number of crashes already occurring on Carpenter Upchurch Road was not abnormal. As Town Council discussed the issue, traffic did not come off as one of their concerns. As Councilmember Ken George put it, it would be up to the homebuyer if they want to live somewhere that would have carpool traffic early in the morning.
But what was a concern for some of the councilmembers was the density of the proposed development. The land in question has two stream buffers and it was not clear how much of it was developable and some on the Council, such as Councilmember Jennifer Robinson and Mayor Harold Weinbrecht, said they thought this limited land would make it even denser. By having so many homes in such a small space, Robinson said she worried there would not be a sense of community.
Councilmember Jack Smith said he did not expect the concerns of his colleagues and felt the development was a good fit for that land and said the town had planned for this kind of development here. Councilmember Don Frantz said the proposed development would be appropriate and said the Town Council had approved similar dense neighborhoods before.
When it seemed like Town Council was split on the issue, they asked whether the developers could make some changes based on their discussion and bring back a better plan. The lawyer for the developer said he was not given guidance by the discussion and said he did not know how to create a "sense of place" as the Town Council saw it, to which Robinson said it is the developer's job to come up that plan.
In the end, Town Council tabled the issue to give the developer a chance to present some other options while the lawyer for the developer said he would bring evidence of the Town Council approving similar plans in the past.
Other Discussion Items
There were a few other discussion items on the agenda. One other topic that brought out a lot of discussion from Town Council was an amendment to the planned Carpenter Village, which passed Town Council several weeks back. The amendment would allow for a townhome and detatched-residential development in a part of the plan currently zoned for office use. While councilmembers had some questions about specific details, they largely agreed and the amendment passed unanimously.
Town Council also unanimously passed the 2016 Management Plan and Budget for Koka Booth Amphitheater, which ran a surplus for the first time since 2001, largely thanks to its five sell-out concerts and the Chinese Lantern Festival. Frantz asked about the amphitheater adding screens to project the performances for people in the back and Lyman Collins, cultural arts division manager, explained that some of the bands they bring will not allow the screens while some bring their own but would look further into it.
Also on the discussion item agenda was establishing a program for people to donate money for a tree or bench to be dedicated to a loved one. While this already exists in some form at Cary, it is currently an informal process. This also passed unanimously.
Closing Wilson Road
With work being done in the neighborhood between NW Cary Parkway and Chapel Hill Road, CalAtlantic Homes needs part of Wilson Road to be closed so it can build a new neighborhood with internal roads. This process was projected to take eight to nine months. Five residents spoke out during this Public Hearing, saying it would limit their ways out of the neighborhood and would increase traffic going through them.
Instead, they asked for the town to wait until Morrisville connects Wilson Road to NW Cary Parkway but Town Council said that did not seem likely.
"We reached out to Morrisville and there's nothing else we can do," Robinson said.
While many councilmembers said it was not an idea situation, they voted unanimously to continue the process. Now, the plan goes to the NC DOT to vote on the closure, then it will go back to the Cary Town Council to vote on.
Public Hearings
Another public hearing that brought up a lot of discussion from the Town Council was a new sign ordinance amendment. A Supreme Court ruling, Reed v. Town of Gilbert, said content-based restrictions on signs were unconstitutional so now Cary is trying to change their ordinance to avoid future legal action. The plan put forward had uniform rules as far as size, distance apart and the number of signs someone could have on various pieces of property.
This ordinance dealt with temporary signs, which referred to their materials and not now long they were in the ground. So for instance, this ordinance would mean political signs would not have to be removed after the election. Frantz was concerned about the limits currently in the ordinance, namely when it came to how many signs a person could have on their property, and wondered if that would open the town up to a new lawsuit even though it is a content-neutral ordinance.
As Town Manager Sean Stegall put it, this Supreme Court case has created an issue for towns and cities around the country and everyone is trying to figure out the new plan.
"This is not going to resolve itself for several years," Stegall said.
The ordinance amendment went onto the Planning and Zoning Board for review.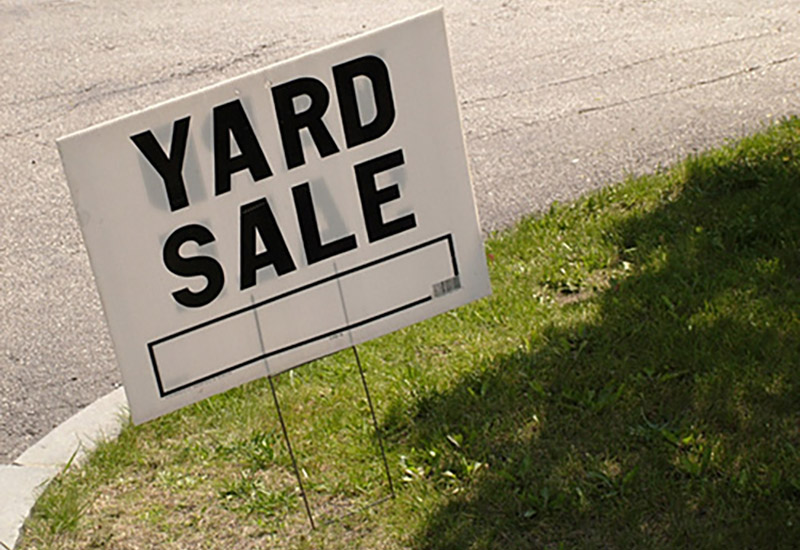 Also on the Public Hearing agenda was a rezoning request for a clubhouse at Arbors at Cary on Wrenn Drive. While Town Council did not vote on the issue and it still has to go to the Planning and Zoning Board, councilmembers said they were happy with how far along the Arbors community has come and were excited for the clubhouse.
Another ordinance amendment came up to allow staff action on development plans that involved drive-throughs and create a conforming status for detatched dwellings that added right-of-ways. While no one expressed concerns about the second part of the amendment, some councilmembers worried about "worst case scenarios" with the first part and would want some level of control in those cases, though they said it was hard to talk about hypotheticals. The amendment went to the Planning and Zoning Board.
And finally, Town Council had to hold a public hearing for the SearStone Retirement Community to apply for tax-exempt bonds. This would not affect Cary's debt or credit and would double the number of beds at SearStone. It passed unanimously.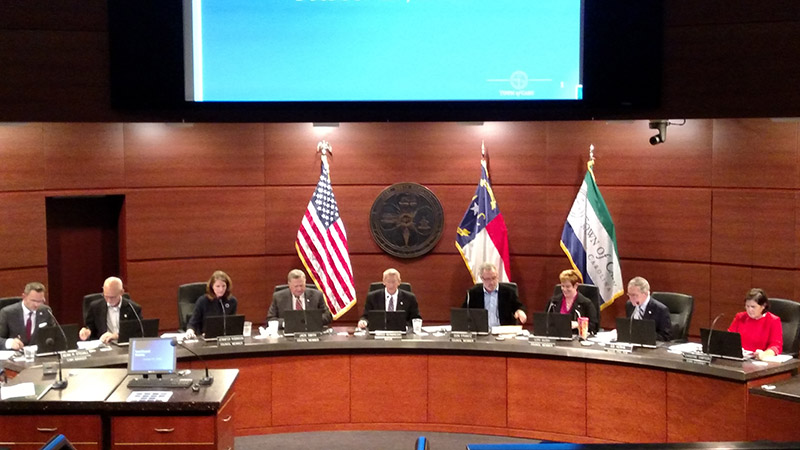 ---
Story by Michael Papich. Photos by Michael Papich, Mark Goebel and Google Maps.
https://carycitizenarchive.com/wp-content/uploads/2016/10/TownCouncil-Oct27-Featured.jpg
450
800
Michael Papich
https://carycitizenarchive.com/wp-content/uploads/2020/03/cc-archive-logo-450-v3.png
Michael Papich
2016-11-01 13:45:40
2019-12-08 10:31:12
Cary Town Council: 10/27/16