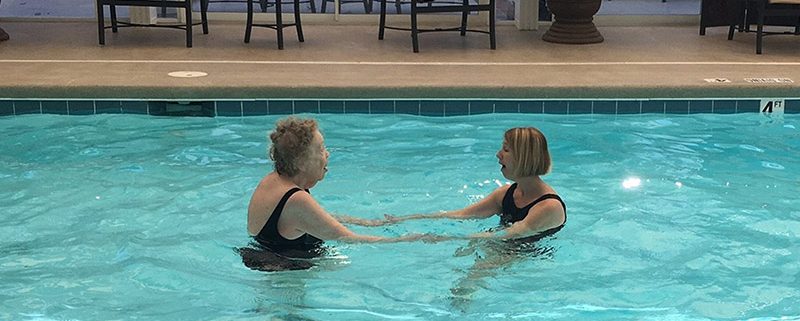 Cary, NC – Staying active later in life can be a good way to stave off memory loss and remain in shape and one local program is finding particular success with aquatic training.

Moving Freely
Teresa Sawyer, wellness director at Woodland Terrace on Kildaire Woods Drive, said she has found residents with Alzheimer's and other forms of dementia see improvements from getting into the pool.
"What I've learned from doing this is if you loved the water before you had dementia, you'll love the water after you have dementia," Sawyer said.
Sawyer, who has worked with everyone in the water from seniors with Alzheimer's to triathletes, said residents don't have to do much more than stand in the pool to get results.
"Studies show that hydrostatic pressure improves blood flow to everyone. And for people with dementia, when they're chest deep, there's more blood flow to the brain and there's also more oxidation," Sawyer said.
In addition to the science of blood flow, Sawyer said the pool brings out a more relaxed personality from the aquatic therapy participants.
"Everyone is more social and more playful," she said. "They're able to speak in more fluid sentences and more more freely."
While Sawyer said the effects of the therapy only last about two to three hours after they leave the water, she said the residents are more receptive to instructions, show better performance at Woodland Terrace's memory center and families often come to visit with their loved ones around the time of the aquatic therapy.
"The person in the pool personifies the person they used to be," she said.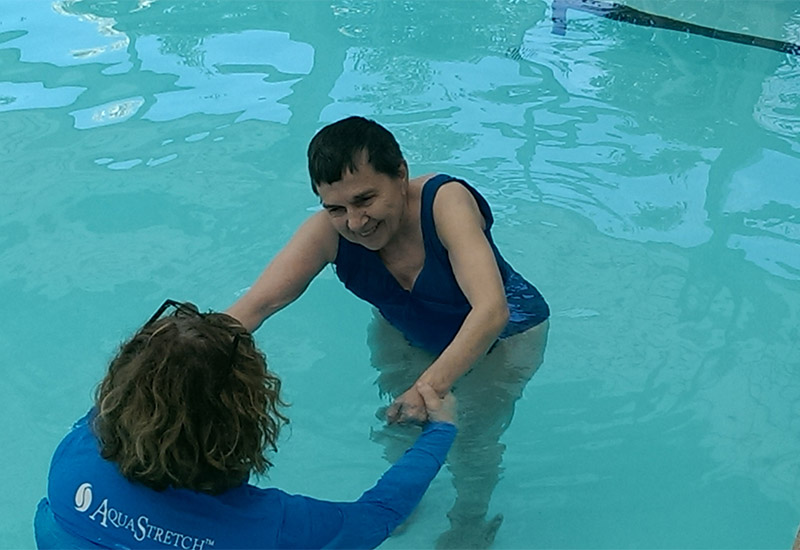 Safer Exercise Location
Sawyer said she got involved in aquatic therapy "by accident," starting with personal training and then moving into aquatic training before working with people in physical rehab or people with Parkinson's. Over time, Sawyer began working with people with dementia.
"I saw that people with dementia became my favorite people to work with," she said. "I became enamored with who they are and the lives they lived."
From there, Sawyer began reading about the work of Stacy Lynch and Bruce Decker who both studied swimming and water therapy as a method of rehabilitation.
As Sawyer began to use aquatic therapy, she found it could also be useful in working with seniors because there is no risk of falling down, although she does not work with patients who are ataxic or otherwise cannot stand on the pool bottom.
"For athletic residents who used to work out and have a lot of energy, a pool is a safe venue for someone to exercise," she said. "And with gait training, there's a fear of falling but in the water we can work on their gait and their joints."
While getting a resident with dementia into a swimsuit and into the pool can be difficult, Sawyer said the benefits are clear.
"I want to educate the public that seniors deserve to get into the pool," she said. "It just takes more work."
Woodland Terrace is located on 300 Kildaire Woods Dr. in Cary.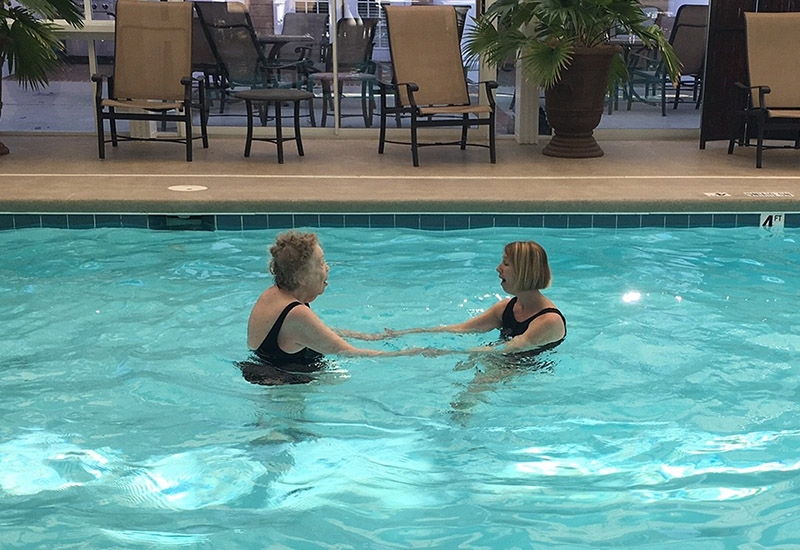 ---
Story by Michael Papich. Photos courtesy of Woodland Terrace.
https://carycitizenarchive.com/wp-content/uploads/2016/12/AquaTherapy2.jpg
550
800
Michael Papich
https://carycitizenarchive.com/wp-content/uploads/2020/03/cc-archive-logo-450-v3.png
Michael Papich
2016-12-12 09:34:23
2016-12-12 09:34:23
Water Helps Memory Retention for Local Seniors