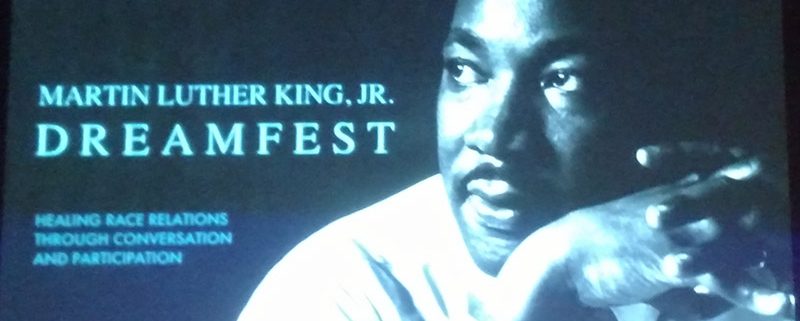 Cary, NC – Dreamfest in Cary is a culmination of different parts of Martin Luther King Jr.'s legacy. There's a Day of Service, an event for children to learn about the civil rights leader and a poetry festival for self-expression. But one of the central event is the Diversity Summit, which brought leaders and thinkers from around Wake County and the country to talk about race and racism in today's society.

Race and Religion
The panel that kicked off the Diversity Summit on Saturday, January 14, 2017 brought seven pastors from around Cary and the county together to discuss the question, "How does racial reconciliation come into play in the church?" with moderator Joel Brown from ABC News 11. And as pastor Andy Thompson with World Overcomers Christian Church said, there is still a lot of work to be done.
"When it comes to businesses and schools and communities, we are coming together but on Sunday morning, it's still a very segregated hour," Thompson said.
The seven pastors on the panel came from a variety of backgrounds and included religious leaders who were black, white and Latino and while they all said they had diverse staff and congregates, they all agreed that multicultural churches tend to be led by white pastors, with white church-goers rarely attending churches led by black people.
"Culturally, we're used to going along with white people but a white person can live their whole lives and never even see a black person," Thompson said.
Many of the pastors felt there was not enough of a push to talk about race and racism in churches, with Classy Preston of Pleasant Grove Church saying churches are in denial.
"It can't just be during February and on Martin Luther King Day. We want to talk about what keeps us up at night," Preston said.
Preston shared her experiences trying to reach out to white parishioners to have dialogues about race but said it has not always been successful and for a long time, she had trouble even having white people attend her church services. Preston shared a story of a meeting she held the day after the 2016 election and was disheartened when none of her white parishioners attended. Brown asked Preston why and, after thinking for a moment, she gave her answer.
"They didn't lose," Preston said, also adding that white people are less likely to go to a black-run church and "give up their power."
Thompson echoed the struggle getting white people to attend his church, adding that this is a time when all pastors are fighting to keep attendance up as Americans increasingly do not go to church.
"If white people come to my church, how much am I really going to challenge them?" Thompson said.
Gary Vet and Mike Lee, two white pastors from Hope Community Church, gave their assessment, with Vet saying it is important to meet people where they are and talk through race from that point. He also said pastors cannot ignore people's background when discussing the subject.
"If I'm 'colorblind,' that means I don't care about your experience or heritage," Vet said.
Lee said white Protestant churches had not "historically" been a friend to the African-American community and said white pastors need to not only be welcoming to black people but work to understand what they are going through. But additionally, Lee said racism and racist attitudes need to be called out and described accurately.
"Racism isn't 'just how they were raised' or 'being old-fashioned.' It's a sin," Lee said.
Several pastors also said during bad periods of race relations, they are comforted by their faith and their belief in a higher authority and an eventual life in heaven, what they called a "kingdom mindset," but the same pastors also said it is important to try and tackle issues now.
"I believe Jesus can fix it but we have to talk about what he's fixing," Thompson said.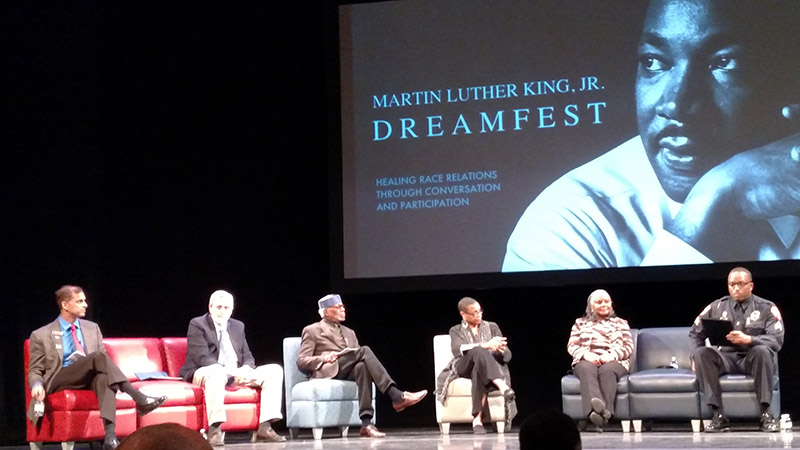 Racism in North Carolina and America
The second panel had a looser topic with Brown asking the panel, made up of authors, activists, elected officials and law enforcement, about racism both in the United States at large and specifically in the local communities of Cary and the Triangle. And author and journalist Herb Boyd started things off with a strong statement.
"Institutionalized racism is as American as apple pie," Boyd said, going on to describe his own encounters with police brutality in New York City and Detroit, while adding his pleasant experience with police in Cary.
Steve Rao, mayor pro tem of Morrisville, took a different approach, saying that racism is antithetical to the goal and spirit of America and drew on his own experience as the son of immigrants.
"Almost every race and culture is here in Cary and Morrisville," Rao said, saying the mindset of the community should be that everyone is on the same team working toward a common cause. "Racism just holds us back."
Questions about law enforcement and the justice system came up repeatedly and Brown asked Durham County District Court Judge Pat Evans about how her identity as a black woman and her job as a judge come together.
"On the bench, I try to be fair but I bring my experience," Evans said, saying she listens for coded language from both police officers and black men and women who come before her.
Sgt. Robert Cary with the Cary Police Department shared how the department tries to be sensitive to different cultures and that he, as an African-American man, share experiences and stories with officers of different backgrounds to help them each understand one another.
"I worked for a chief who recognized the police were used to oppress black people and wanted to change that," Cary said. "This is a special organization."
The question of how law enforcement sees black people, specifically black men, was also brought up by author Terrie Williams, who has a background in psychology. She said black men have the "hardest job" because they are seen as intimidating and said that creates "psychic trauma."
"It's about what happens on a day-to-day basis and these mental health questions are not being taken up," Williams said.
As the discussion moved to solutions for modern race relations, the panelists discussed a need for honesty and Evans addressed this further in an audience question about historically black colleges and universities and whether black students should still attend them. Evans said these schools can help young black people learn "who they are."
"If you don't know who you are, you don't have enough to bring to the table," Evans said.
Al McSurely with the NAACP also said schools need to do a better job teaching African-American history.
The final question of the panel dealt with how to bring white people into discussions about racism, with attendees and panelists pointing out how the event was largely black residents. McSurely said people such as Martin Luther King Jr. need to be discussed not as "black leaders" but as "human rights leaders."
"Also, King based his nonviolence strategy and message off of the works of Gandhi so talking about him in these ways is a good way to bring in Indians and other Asians," Rao said. "But sometimes we do events like this and then go back into our lives so we need to find a way to make it stick."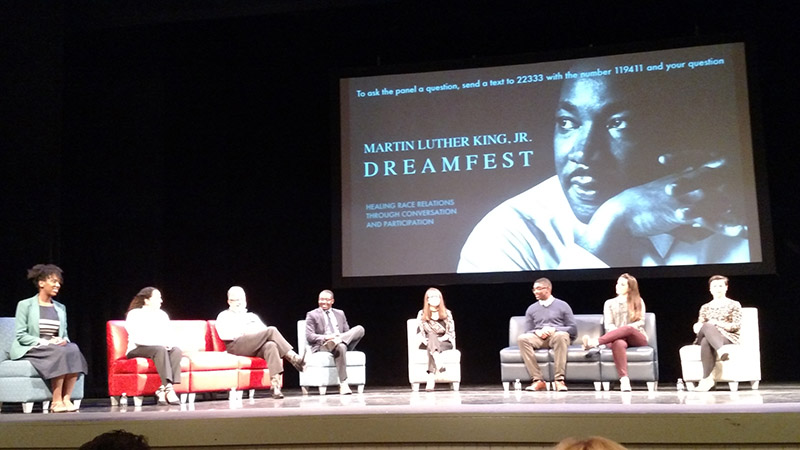 Millennial Panel
At the end of the previous panel, McSurely also said getting young people involved in the community and with voting will spur them to have more discussions like this. Building off of that, the diversity summit ended with a brief "millennial" panel featuring teachers, students and recent graduates.
A big topic for the panel was how "millennials," or the generation that reached adulthood in the 21st Century, organize and talk about race and racism differently. A large part of that was how social media is being used as an organizing tool, with one NC State student saying it can bring thousands of people into a discussion when previously you had a much smaller pool to work with.
However, some panelists such as recent NC State graduate and Joanne Woodard Leadership Award-winner Marcus Zeigler pointed out the flaws in organizing through social media, describing Twitter as "hot and cold."
"I think that's why millennials get a bad rap," Zeigler said. "There are times when we could have made a change if we stick with the issues instead of moving on to something else."
Jon Powell, a law professor at Campbell University, said he sees the usefulness in young activists using social media but said it cannot be the only thing.
"If we rely totally on social media, we lose human interaction," Powell said.
Jalileh Garcia, a student at Garner Magnet High School, said the larger problem young people are facing when it comes to race relations is the same one faced by past generations and in the summit's other panels.
"There's not enough honest discussion," Garcia said.
The Diversity Summit was organized by the Jireh Management Group and Al Cohen.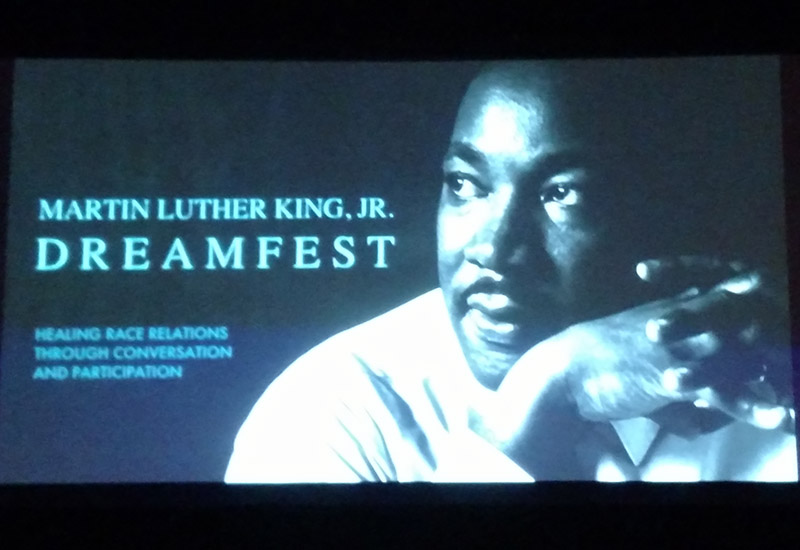 ---
Story and photos by Michael Papich.
https://carycitizenarchive.com/wp-content/uploads/2017/01/DiversitySummit-Featured.jpg
550
800
Michael Papich
https://carycitizenarchive.com/wp-content/uploads/2020/03/cc-archive-logo-450-v3.png
Michael Papich
2017-01-16 13:30:47
2017-01-16 10:50:16
Diversity Summit Tackles Race, Religion and Politics