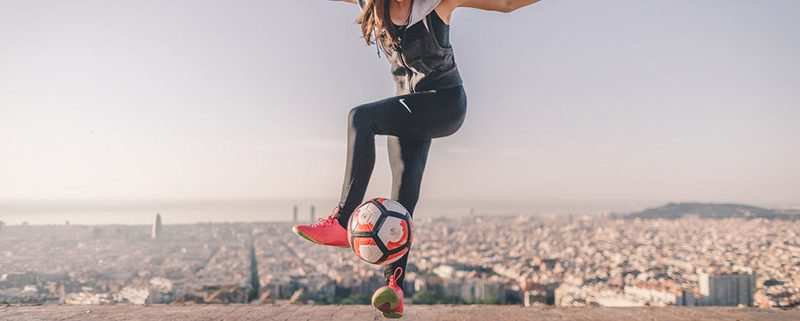 Cary, NC – Many people watch sports for the spirit of competition but there is much more than can be done with athletics. For proof, just look at Indi Cowie, a Cary resident who is making a career off her ability to perform amazing feats with a soccer ball.
Soccer Freestyling
Indi Cowie, a Green Hope High School graduate, is making a name for herself through "freestyle soccer," which involves performing feats and tricks with just your feet and a soccer ball. With her skills, Cowie has gotten sponsorships from Nike, has had clients such as Disney, AT&T, Microsoft and more and has performed in front of tens of thousands of soccer fans at a halftime game between Manchester United and Chelsea.
Cowie said her interest in soccer started ever since she was little, with her father and grandfather both playing, but it wasn't until she was 12 and saw some soccer freestyling at a Brazilian soccer school that she got the urge to try it out.
"I was blown away. I had no idea you could do tricks and moves like this," Cowie said.
After that, she went home and began to practice. Cowie said as soon as she pulled off an "Around the World," a quick juggling technique with the foot, she was hooked.
Now, Cowie is trying to spread not only her own talents as a soccer freestyler but is trying to spread the sport as a whole since it is relatively new. Mainly, Cowie tries to get the word out through videos and posts through social media.
"Each platform reaches a different group of people so I need to tailor everything carefully. How I tag it, what audience I'm reaching, how I get it out," Cowie said. "If my videos are getting seen, then that's more people who know about freestyling."
Cowie was nominated for a 2017 Shorty Award, which recognizes significant social media accounts and users.
Reaching the Next Level
Now that Cowie is out of college, she is focusing on soccer freestyling full time and is working to get more eyes on her abilities. In the meantime, Cowie said her goals are on improving.
"There are no limits with the tricks. I keep pushing myself to see what I can do," she said. "It's so new that I always see people inventing tricks I have never seen before and I'm always impressed."
Cowie's other goal is to expose more people to freestyling, possibly being a banner-holder for the sport.
"I want to inspire people in some way, even if they don't pick up a soccer ball," she said.
Other changes in soccer are the addition of the North Carolina Courage to Cary as they set to play at WakeMed Soccer Park in the coming April season. Cowie said she is very excited for a professional women's team to play locally.
"I remember when the Carolina Courage played when Mia [Hamm] was in the league," she said. "I'm excited to see games locally. I know some of the players from traveling and training."
And, Cowie said, it all means more soccer to watch.
---
Story by Michael Papich. Photos and videos courtesy of Indi Cowie.
https://carycitizenarchive.com/wp-content/uploads/2017/01/IndiCowie.jpg
550
800
Michael Papich
https://carycitizenarchive.com/wp-content/uploads/2020/03/cc-archive-logo-450-v3.png
Michael Papich
2017-01-17 13:19:11
2017-01-18 09:05:17
Cary's Freestyle Soccer Star: Indi Cowie