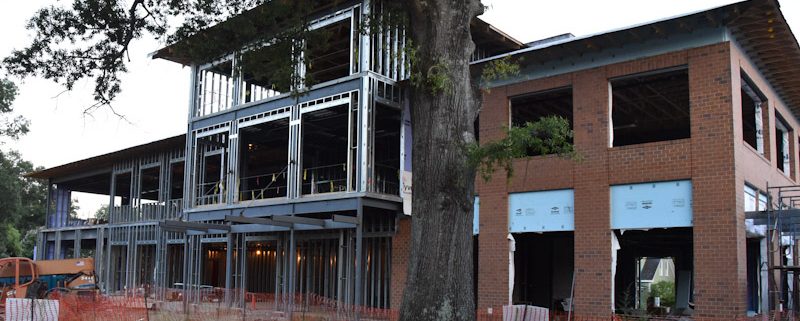 Cary, NC – Downtown Cary is one of the most rapidly growing parts of the town, if not the most. So to better understand the area, Cary's Downtown Manager Ted Boyd laid out piece by piece what is happening downtown and what could happen in the future.
Note: The train stop delayed this reporter from hearing the entirety of the meeting so some details may be left out.

New to Downtown
With much of Downtown Cary, the challenge for developers and the town is the emphasis redevelopment and infill. And as Boyd put it at the Wednesday, February 1, 2017 meeting, understanding how to pull this off will help guide Cary, given that so much of the town is already developed.
"The future of downtown is the future of Cary," Boyd said. "What we can learn here can help Cary as a whole."
Some of the newer announcements for businesses coming in or redeveloping existing buildings are LaFarm Bakery, which Boyd said is not only set to open by the end of May but will be making changes to the 220 West Chatham St. location to make it look like multiple buildings as it contains both a commercial and a retail bakery.
Also, businesses around that area are starting to come in, with Annelore's German Bakery being constructed and changes coming to the low-laying buildings along that road. But Boyd also said the entry point to this section of town, the Harrison/Chatham intersection, needs to become more walkable.
"Right now, it feels like a stop," Boyd said.
Boyd also revealed the town has selected a restaurant to for the Jones House out of five applicants. He did not say the name of the business but said they are asking for some changes, such as the addition of a walk-in and some altercations to doors.
"If you've been in, the bathroom door goes into the dining room, which isn't great for a restaurant," Boyd said.
But another big addition to Downtown Cary is the new library, located across the street from the new Downtown Park currently under construction. There will also be a parking deck associated with it but Boyd pointed to three spots around the library by Walnut Street and East Park Street as key development opportunities.
"These are the most interesting development parcels the town owns," Boyd said.
Mid-Town Square and the Northwoods Associate Project are still progressing. At Northwoods, this will include the 55,000-to-75,000 square foot office as well as multi-family apartments wrapped around it and a parking deck paid for by the town. To build it, Boyd said part of the land is owned by the nearby First Baptist Church so those negotiations are ongoing.
"I'm learning about the government structure of the First Baptist Church and everyone gets a say," he said.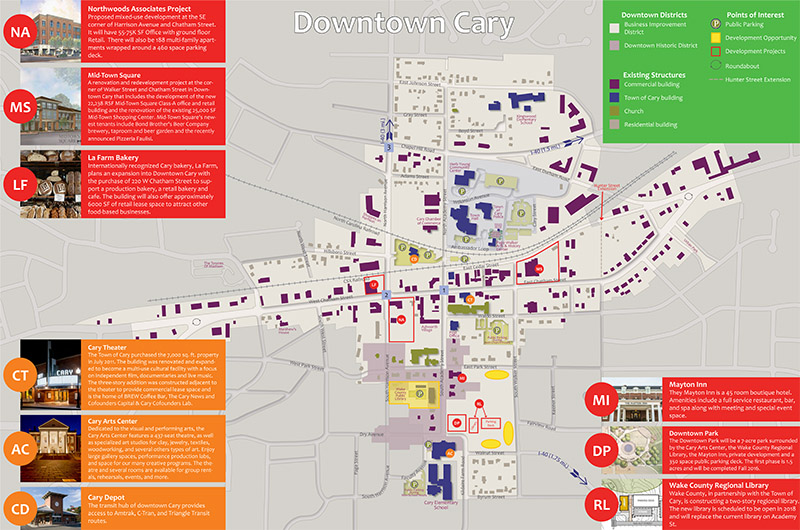 Possibilities for the Future
Much of Downtown Cary's future, Boyd said, would revolve around the availability of both housing and parking. For housing, Boyd pointed to a few possible locations. North of Park Street was one, as well as the space between Cedar Street and East Chatham Street when Hunter Street is extended through it.
"That area has a lot of momentum," he said.
Hillsboro Street may also be extended, which Boyd said could open up some opportunities for residential redevelopment.
One area Boyd said gets a lot of foot traffic at the patch of stores across from the Cary Theater, with businesses such as Taipei 101. Boyd said those businesses do "good numbers" and said it would be unlikely any of them would redevelop or sell in the next five years.
"A lot of those are family owned and passed down, they don't have any debt and they haven't done any tenant improvements," he said. "We don't want to rock the boat."
Another part of downtown that poses a problem is the train tracks, which Boyd said creates a division and hinders travel.
"For six years, the town has applied for funding for a tunnel and been denied," he said.
Now, Boyd said they are looking into putting a bridge over the tracks. That would still be a difficult project but with the transit plan passing in November and more funding available, Boyd said more possibilities are open. But as the future of solutions to crossing the tracks remains uncertain, property owners are leery about getting tenants near there because they do not know what will happen, he said.
Some of those businesses cut off from the Academy/Chatham center of downtown by the train tracks are those along Chapel Hill Road, such as Maximillian's and Woody's and the coming Jordan Lake Brewery. Boyd said the opening date for the brewery is still unknown but as for the other shopping plazas in that Durham Road area, a lack of accessibility has hampered its development.
"It's very car centric so you can't walk it," he said. "We need to be viewing that area as a node and getting more residential around it would make it feel more connected to downtown."
And back to transit, Boyd talked about where the bus routes could eventually come through, suggesting East Durham Road as a good entry point as opposed to Chapel Hill Road.
"Chapel Hill could get so wide, it could become a noose," he said. "It could be a new train track."
Overall, Boyd's talk focused on how new development should focus on making Downtown Cary a "walkable community," with an emphasis on adding residential space and parking decks. And Boyd also talked about finding a balance between practical designs for decks and the public artwork that has been proposed.
"People need to look at it and know they can park there," he said.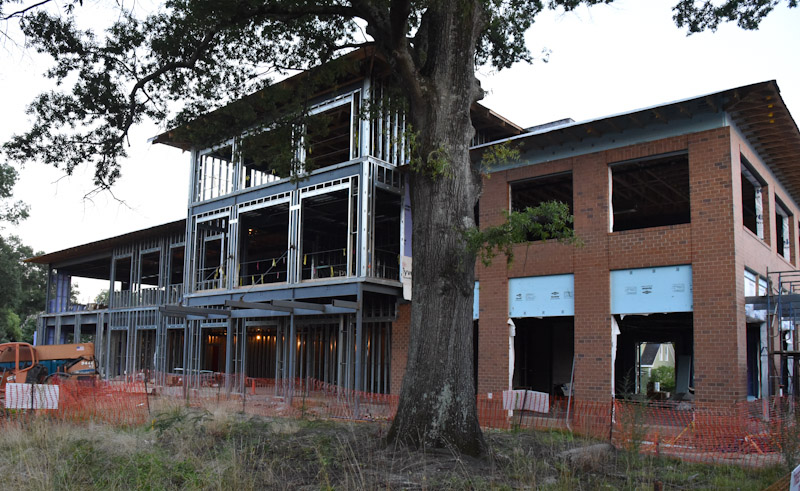 ---
Story by Michael Papich. Map courtesy of Ted Boyd. Photos courtesy of Hal Goodtree and Michael Papich.
https://carycitizenarchive.com/wp-content/uploads/2016/07/friday-night-downtown-cary-4552.jpg
491
800
Michael Papich
https://carycitizenarchive.com/wp-content/uploads/2020/03/cc-archive-logo-450-v3.png
Michael Papich
2017-02-02 13:26:52
2017-05-23 11:11:09
Looking at the Near and Far Future of Downtown Cary