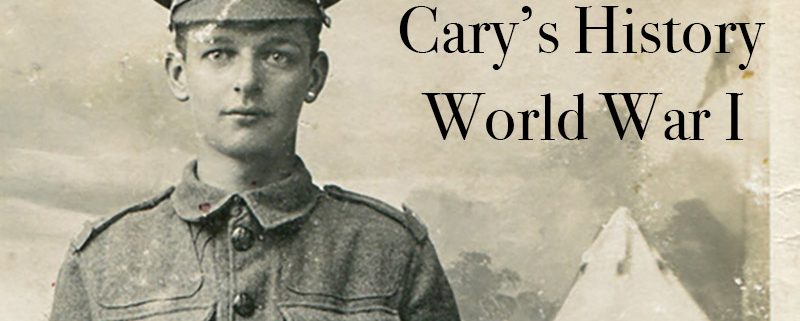 Cary, NC – On the 100th anniversary year of when the United States declared war on Germany during World War I, three local ladies personally remember that war and shared their memories.
Esther Ivey
Ms. Ivey was born in 1890.
I remember during World War I, the trains were always going through Cary with soldiers. We went down to the corner to watch our boys go off to service. Then we always hung around to wave at them as they were going off. We rang the church bell daily for five minutes at 12 o'clock, and people were supposed to stop and pray during that five minutes, no matter where they were. That was for the service boys.
Elva Templeton
Ms. Templeton was born in 1898. Her father was Dr. James M. Templeton who was Cary's country doctor from 1880 to 1932.
When my father, Dr. Templeton, was in his sixties, he volunteered for service as an army doctor during World War I. He said that they offered him the job of being the captain, but he said he didn't know enough about it, so he wouldn't accept it.
When he got to camp, he found out he knew more than those who were captain. He served at Camp Oglethorpe in Georgia and Camp Severe in Florida. And then he examined soldiers in Durham, and I went with him to help out.
Ruby Merritt
Ms. Merritt was born in 1905.
I have counted up how many wars I lived through. I can barely remember World War I. It broke out when I was nine years old. My grandfather and grandmother came down from Virginia on the Chatham Wiggler train to visit us in Chapel Hill one summer during the war. They stayed maybe a month. My father always took the newspaper which was delivered when the mail came. As it was in the summer, my grandparents would be sitting on our back porch.
My father would bring the paper out to them when it came. The newspaper was the only way to learn the news about the war. There was no other way of knowing what was happening. My grandparents knew so many people in World War I, so they carefully read the paper, about the deaths and what had just happened in Europe, and they would sit there and cry. That really impressed me as a child and why I remember it so well. I also remember when they declared the armistice. Everybody in the whole community was ringing dinner bells. Everybody was so happy about it.
---
Story by Peggy Van Scoyoc. Much of Cary's Heritage is taken from her book, "Just a Horse-Stopping Place, an Oral History of Cary, North Carolina," published in August, 2006. The book is a collection of oral history interviews conducted between local citizens and Friends of the Page-Walker Hotel. The rest comes from later oral history interviews with local citizens. Photo by Tim Green.
https://carycitizenarchive.com/wp-content/uploads/2017/05/CaryHistory-WWI.jpg
549
800
Peggy Van Scoyoc
https://carycitizenarchive.com/wp-content/uploads/2020/03/cc-archive-logo-450-v3.png
Peggy Van Scoyoc
2017-05-17 10:46:21
2017-05-17 10:46:21
Cary's Heritage: World War I