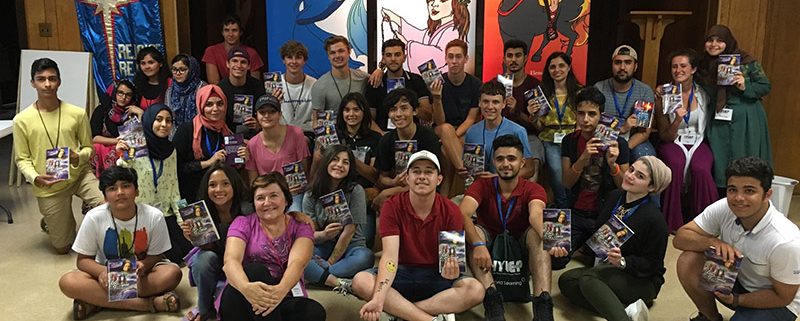 Cary, NC – The Triangle is known for its history and hospitality, and over the past two weeks, students from across Iraq have stayed Cary, Raleigh and Apex as they explore the area and learn about peace-building and reconciliation to take back home.

Making A Change
The Iraqi Young Leaders Exchange Program (IYLEP) is a U.S. State Department-funded program to bring high school-aged students from Iraq to the United States to learn both about America and to learn about peace-building programs.
"Our theme is peace-building and we lack this in our own community," said Hasan Akram Ameen, one of the students in the IYLEP program. "We want to take these skills back and make change."
IYLEP is administered by the Washington, D.C.-based World Learning, who have learning programs between countries all over the world. But while the students are in the Triangle, their curriculum, agenda, chaperones and teachers are set by Raleigh-based International Focus.
"This is our sixth program with Iraqi students," said Heena Patel, International Focus' executive director. "Service programs are not established in Iraq so to see how the community works together here is important and they can draw from the tools they learn here."
The students, who were in the Triangle from Tuesday, August 1 to 15, 2017, said in addition to learning peace-building skills from the program, they wanted to interact with more Americans to enlighten them to what Iraqi people are like.
"What we see in the media is only Iraq as a warzone. We want to change that," said Nwa Abdullah Karim.
And students such as Ruqayah Mustafa Jawad Saeedi saw IYLEP as way to make that change.
"This is the first step to making a change and making a difference in our country," Ruqayah said.
Through the curriculum run by International Focus, Patel said it showed the uniqueness of the Triangle area.
"It has such great diversity in not just the community but also in businesses and how it is organized," Patel said.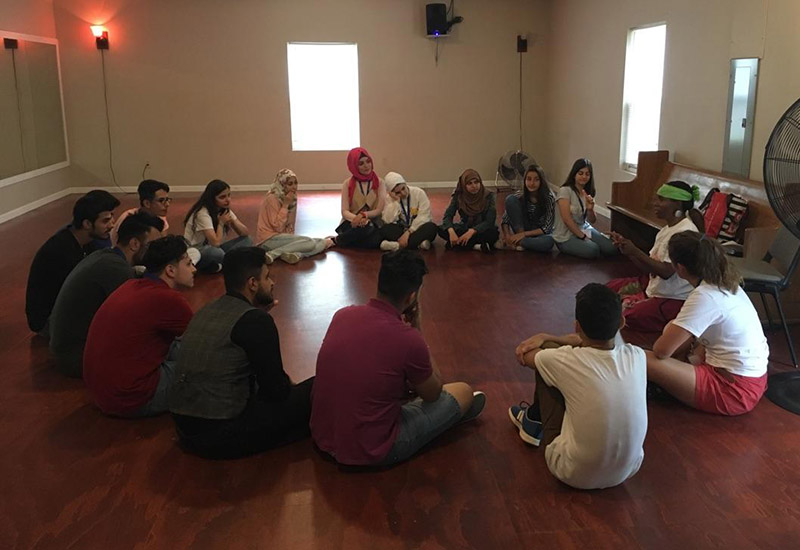 Over the course of their two weeks here, students visited everywhere from NC State University to the LGBT Center of Raleigh to participating in Wake County's Teen Court for misdemeanor offenses to seeing a performance by the African-American Dance Ensemble. Maria Adoskina, International Focus' special projects director, said some destinations, such as Haven House in Raleigh, were chosen to dispel American stereotypes some Iraqis may hold.
"The view they get of America is either the war or this picture of America as this rich place, so on purpose, we took them to Haven House to show them poverty in the U.S.," Adoskina said. "It shows them both that poverty exists here but also how they are trying to address it."
Patel said this component of the program is not only about learning about peace but also this cultural exchange, with the learning going both ways. The curriculum also made sure to have the 14 students interact with high school and college students in the Triangle as well.
"It's youth empowering youth," Patel said.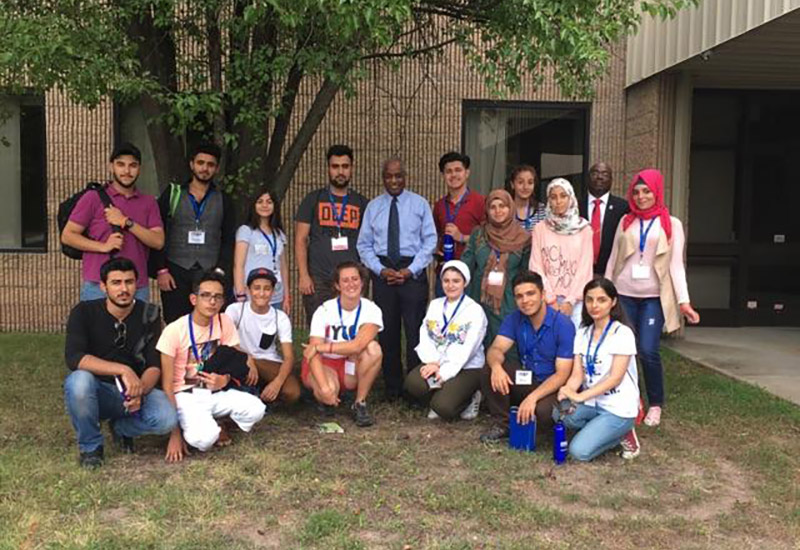 Coming Together
IYLEP started with around 60 students from Iraq gathering in Vermont before splitting off into smaller groups and going to different communities across the United States.
"We were all from different parts of Iraq. I didn't know anyone," said Lava Khalid Mohammed. "But the moment we got here, we got to interact with each other and got to know everyone closely."
The program intentionally put together students from all across Iraq, both Arabic and Kurdish regions, as well as students from a variety of economic backgrounds.
"They're the cream of the crop, not because of their wealth but because they're the brightest," Patel said. "They need to be able to hit the ground running on certain subjects."
At the end of their time in the Triangle, these students went to Washington D.C. and will work on a final project as they return to Iraq and continue to work with World Learning. But like any teenagers, they also spend time while they're here playing sports, checking make-up and getting social media contacts for the new American friends they have made here.
"We've been treated with a lot of love while we've been here," said Ahmed Hasan Oudah Al-Behadili. "My host family treated me like a son. It really affects you."
Patel said International Focus spent time finding the right host families from a variety of cultures and backgrounds – one family included an Iraq War veteran – and also looked for families with teenage children so the students could interact with people their own age. And students such as Noor Nazar Jihad said she got a good feeling from her family.
"They treated us like they were our own parents, not like we were strangers," Noor said.
Mariwan Hama Sur Pirot said this warm treatment was surprising because he had been told, both by other students and by people in Vermont, that Raleigh and the South was unwelcoming.
"I felt the complete opposite," Mariwan said. "I was nervous and scared at first to come but we've all felt that we are home. Tomorrow when we leave will be hard. There's going to be lots of tears."
---
Story by Michael Papich. Photos courtesy of Jana Moreno.
https://carycitizenarchive.com/wp-content/uploads/2017/08/Iraq1.jpg
550
800
Michael Papich
https://carycitizenarchive.com/wp-content/uploads/2020/03/cc-archive-logo-450-v3.png
Michael Papich
2017-08-17 13:30:50
2017-08-17 11:42:28
Iraqi Students Visit Triangle to Learn About Peace-Building