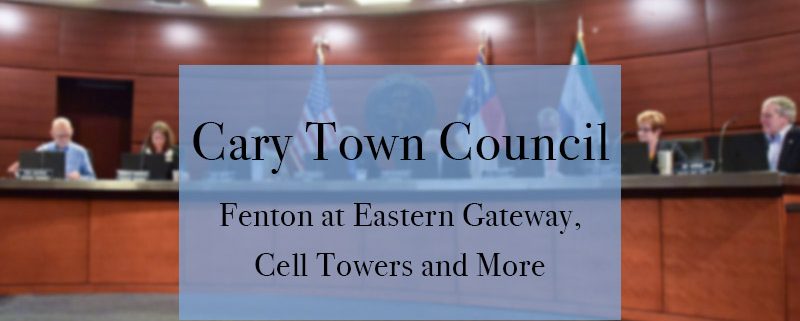 Cary, NC – The latest Cary Town Council meeting saw the beginning of a long public process to rezone part of the Eastern Gateway for the Fenton Development, as well as discussions about changing town ordinances and a new development on Airport Boulevard.
Fenton Development
There were only three Public Hearings and no Discussion Items at the Thursday, November 2, 2017 Town Council meeting. The item that saw the most discussion and public input was the rezoning for the Fenton Mixed Use development in the Eastern Gateway.
The project, proposed by Columbia Development, would be 92 acres and would have:
between 700,000 and 1.2 million square feet of office
between 400,000 and 575,000 square feet of commercial
between 600 and 920 residential units
a hotel with between 200 and 450 rooms
As a project near an interstate interchange, this project is of great interest to the town. Cary has only five such interchanges, and three are already developed. No mixed-use project like this currently exists in Cary or, as representatives from Columbia Development said, in North Carolina at all.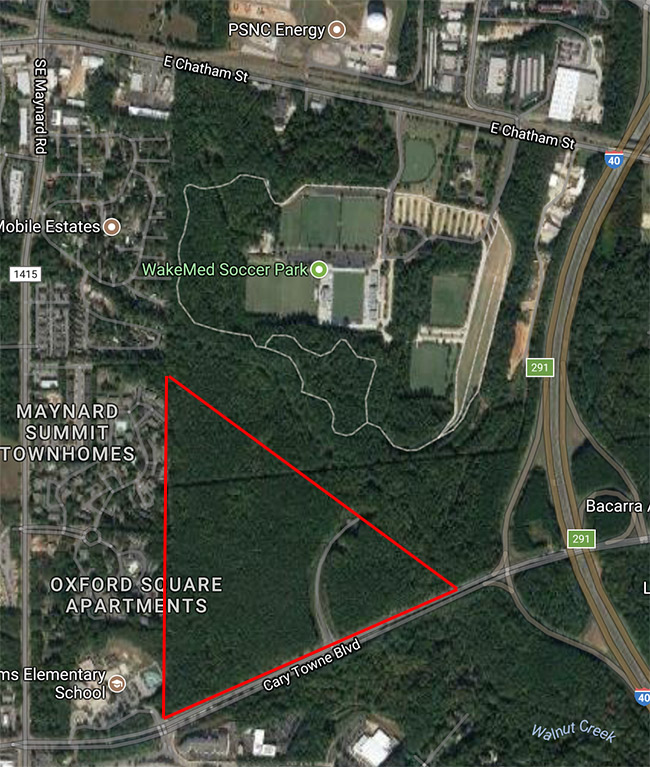 Because of the magnitude of this project, there will be a second Public Hearing on this project at the Thursday, November 16, 2017 Town Council meeting, with its own Town Council work session after that.
Ten residents spoke on the proposal in the Public Hearing. Many people were supportive of the plan, though there were some concerns they wanted to see addressed. Mainly these had to do with buffers between the property and nearby neighborhoods. Trees to be cut down and stormwater runoff were also repeated concerns. Some residents also asked that some of the residential units in this project be affordable housing. Council member Ken George noted all units would probably be high-end housing and priced accordingly.
Town Council made a number of statements and spoke to residents' concerns, urging them to continue communication with the developers. Mayor Pro Tem Ed Yerha said the rezoning would allow for institutional uses but the conditions did not show how much would be allowed.
"Adding up the office, commercial and residential, that's 100 percent of the land. Where is the room for institutional?" Yerha asked. Institutional could include schools, museums and convention centers.
Councilmember Jennifer Robinson said the current plan did not indicate connectivity between the Fenton project and Cary Towne Center, which is in the process of remodeling. Also, Robinson said this would be a good opportunity for looking at low-impact design input from volunteers, which she said should become a regular part of Cary planning.
The plan will go to the second Public Hearing on November 16 before it goes to the Planning and Zoning Board.
Airport Boulevard Proposal
Another rezoning Public Hearing looked at 3.55 acres on Airport Boulevard, near the Morrisville border and across from the proposed Wegmans site on Davis Drive. It would rezone from Office/Research and Development to General Commercial Conditional Use. This would limit uses to restaurants, general/small shopping centers, retail stores, ABC stores, convenience stores, car washes, filling stations and small theaters.
Two speakers came to this Public Hearing. One is a nearby resident on the Morrisville side who indicated he would like sewage and road connections stubbed to his property. The other speaker is a nearby property owner who is supportive and said this region is not considered Office/Research and Development by the other property owners and it is already treated as General Commercial.
Traffic mitigations were not offered because of a matter of timing with the proposal but it was suggested these would come forward later. Some councilmembers expressed concerns this would become a row of fast food chains and also wanted to make sure questions about the road between Cary and Morrisville would go smoothly.
The project was sent to the Planning and Zoning Board for their recommendations and input.
Parking and Cell Tower Ordinances
The only other Public Hearing was on changes to Cary's Land Development Ordinances (LDO) around parking lots and small cell towers, as well as some small changes to rezoning application procedures.
The parking changes were meant to "incentivize structural parking," as town staff said, and would make it so when building a parking deck on property, this would not count toward the maximum number of parking spots allowed. The idea is to have more parking decks and less surface parking, which means less impervious surface area which can contribute to stormwater.
The small cell tower changes were due to a new North Carolina state law that restricts municipalities' ability to regulate them. Cary can no longer do anything about small cell towers on DOT roads and have other restrictions on height requirements for other cell towers. These small cell towers involve attaching equipment to existing poles or streetlights to expand cell and Internet coverage.
The new rules say that, on Cary and private property, there will be no new poles for small cell towers. On existing poles, they must be 50 feet maximum height or 40 feet on single family properties. Also, they must be concealed or stealthy in some way.
Councilmember Don Frantz expressed concern that Cary would have to pay for some of these small cell updates and then be reimbursed at a later date.
"Given that we're giving up our authority, the least they could do is pay for it," Frantz said.
These LDO changes went to the Planning and Zoning Board for their recommendations and input.
---
Story by Michael Papich. Photos by Hal Goodtree and Google Maps.
https://carycitizenarchive.com/wp-content/uploads/2017/11/TownCouncil-Nov2-Featured.jpg
483
800
Michael Papich
https://carycitizenarchive.com/wp-content/uploads/2020/03/cc-archive-logo-450-v3.png
Michael Papich
2017-11-03 13:10:11
2018-02-08 11:16:18
Cary Town Council: Fenton at Eastern Gateway, Cell Towers and More