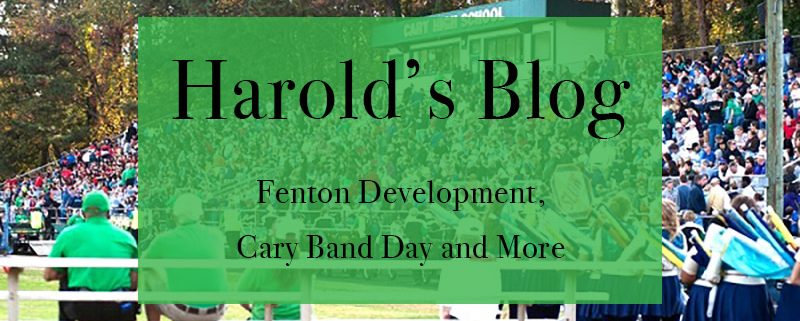 Cary, NC – This week was my last busy week before it slows down next week. The reason for the slowdown next week is that my baby girl is getting married on Veterans Day… gulp.
Monday – Traffic in Cary and Development Plans
Monday started with contacting council members to hear of concerns and questions for the regularly scheduled council meeting on Thursday. I was able to contact four of them and there were no major concerns or questions. They were interested in what plans would be shown for the Columbia Development Public Hearing (across Cary Town Boulevard from the mall). Later in the day I met with staff and we went over the agenda items. At the time we estimated that there would not be a lot of speakers and that the meeting would be relatively short.
After the meeting I met briefly with the town manager and Mayor Pro-Tem Yerha. We were updated on several items including the traffic accident involving the little girl at Laurel Park elementary. The manager assured us that safety was our highest priority and that the police chief had this as his highest priority. We will work with NCDOT, Apex, and the WCPSS, who are the decision makers for change, to come up with ideas to make things safer.
My next meeting was with two engineers with Kimley-Horn. One of them I taught in Sunday School several years ago. The purpose of the meeting was to make me aware of the work they were doing in town and to let me know what a good job our staff was doing. In our conversation they let me know that our proactive approach of replacing sewer lines was going very well. They said that much of what they were replacing was still in good shape.
Next I met with Dr. Blake Livingood and his assistant. We talked about ideas and initiatives to help make Cary a fitter community. I offered to join him in a yearlong fitness initiative. I asked him first to meet with our parks director to talk about what the town is already doing and what would be a good fit. I am excited to see what he comes up with.
My last meeting of the day was with the mother of someone who has been working in Japan for a few years and now has the opportunity to work for the ambassador in Japan. Unfortunately, he was having difficulty getting a security clearance. We talked about ways to help with that process which is becoming more and more difficult these days.
Thursday – Town Council Meeting
Thursday was the first regularly scheduled council meeting of November. On the agenda were one consent item, three public hearings, and a closed session. The first public hearing was on three Land Development ordinances amendments commercial parking maximums, small wireless telecommunications facilities (small cell), and technical changes. While there were no speakers the council was very interested in the small cell changes that are required as result of legislative changes. There remain a lot of unknowns with the legislation.
Our second public hearing was on the Fenton mixed use development which is across Cary Town Boulevard from the mall. This hearing had several speakers with most of them being from the neighboring Village Green townhomes. All speakers were in favor of the project and agree that it will transform this area of Cary. We continued this public hearing until our November 16th meeting to provide other opportunities for citizens to speak since this is such a massive project.
Our last public hearing was a rezoning proposal at the corner of Davis Drive and Airport Boulevard across from the development that will include a Wegmans. The applicant for this rezoning provided a list of things it would not be but did not list what it could be. So at this point it could be fast food, a gas station, both, or something else. It will be interesting to see how this one might change as it goes through the process. After a closed session the council adjourned after about two and a half hours.
Saturday – Cary Band Day
Saturday I had the honor and pleasure of attending the 59th annual Cary Band Day at Cary High School. In addition to Cary High's great exhibition we were all treated to an exhibition by the UNC band. After the 1A through 3A competition I provided welcome remarks to those in attendance. As usual I really enjoyed my time there. It is my hope that in Cary Band Day's 60th anniversary that they would bring back the parade. We'll see.
Town Manager's Report
The town manager's report for this week included the following:
Cary Hosts DHS & Community Partners In Forum About Resiliency, Engagement

On Wednesday, Cary hosted a meeting with Department of Homeland Security (DHS) staff as part of their 'Flood Apex Program – Rethinking Americas Costliest Disaster.' This event is part of the DHS National conversation on Community Flood Resilience. The meeting championed by Dan Ault, included community stakeholders from SAS, Trilliant, Wake County, and Cary Chamber of Commerce along with Town staff from a broad spectrum of departments. Dr. David Alexander from DHS and G&H International Services led the participants in a productive discussion. This public/private partnership group brainstormed on community resilience to flooding and ideas to bring the community together to rally around this important issue. Looking forward to continuing this conversation and building community involvement.

Laura Duncan Dr. Crosswalk Efforts Update

As an interim solution, Cary Police has set up traffic control measures along the shoulder of Laura Duncan Drive, adjacent to the school, to deter parents from dropping off and picking up children along the street instead of using the carpool line.  Additionally, I have been in communication with Apex Town Manager, Drew Havens, about a comprehensive review and coordinating any improvements identified

Small Business Day Proclaimed in Cary

On Wednesday, Council Members Smith, Robinson and George read a proclamation recognizing Saturday, November 25 as "Small Business Day" in Cary. The proclamation encourages "Cary residents to recognize and support small businesses within our community by shopping at these establishments on the Saturday following Thanksgiving as a way to boost our local economy and strengthen our business community." This proclamation was presented to the joint Economic Development and Governmental Relations Committee during the Chamber's Eye Opener. At the Eye Opener, Ted Abernathy also presented on Cary's growth, economy and future prospects.

Wake Transit Open Houses Seek Feedback From Public

Last fall, Wake County voters approved a half-cent sales tax dedicated to public transit improvements. Now it's time to decide what happens next. Do we add more frequent service to existing routes, or do we expand coverage to areas without any service? Do we add more bus stops, or do we improve our technology options?

Over the next few weeks, citizens will have an opportunity to provide feedback to these questions, and others like them, during a series of "open house" style public meetings. Ten meetings are scheduled throughout Wake County, with a wide variety of dates, times and locations available (see schedule below). Citizens are encouraged to stop by for a few minutes to learn more about Wake Transit's 10-year vision, including plans for bus service enhancements, as well as the addition of Bus Rapid Transit (BRT) and Commuter Rail. If citizens are unable to attend the meetings, surveys are available online:  Take a quick survey to let us know what you think we should do first. If you can't attend a meeting, you can still participate! The survey is also available online.

Cary Public Meetings:

Tuesday, November 14th

5:30 PM – 7:30 PM

Cary Senior Center at Bond Park (accessible via GoCary Route 4)

Thursday, November 16th

1:00 PM – 3:00 PM

Cary Arts Center (accessible via GoCary Route 5)

Good Hope Farm Project Receives More Support

We are pleased to announce that western Cary's new Whole Foods Market has signed on to support our Good Hope Farm project in two exciting ways. First, they are hosting a benefit concert, the evening of November 4, with local band Chatham County Line and all proceeds from ticket sale will be donated to the farm. Second, at their grand opening on November 7, they are donating 5% of their total sales to the farm. We are grateful for their support and are already making plans for future collaborations that support our efforts with local organic farming. Ticket information is available online.

Jordan Lake Levels Below Normal

The lake level is down approximately 3.35 ft. below its normal pool elevation and is currently at 212.65 ft as of November 2. Staff from Cary/Apex Water Treatment Facility has two intakes that can be used to access raw water from Jordan Lake, an upper intake and a lower intake. As the lake has been slowly declining for several weeks, staff has proactively prepared the lower intake, which is now in service. In fact, both upper and lower intakes are currently operating. If the lake level declines to 212 ft, plant staff will switch to use only the lower intake, which can fully supply our water demand for the entire system. At this time of year, the lake is completely mixed and there are no treatment impacts resulting from using the lower intake. The lowest lake level experienced during the last 15 years was 209.9 ft. during the 2002 drought.

Solid Waste Rebalancing Begins Monday

This week, Public Works staff placed 26,000 reminder notices on the carts of all homes affected by next week's solid waste collection schedule change. This is the final leg in our communications to inform households of the new route changes. Other reminders included BUD teasers, a direct mailing and recent inserts in the annual mailer. The largest component of this schedule change is the discontinuance of Friday collections. All solid waste services will now be collected on Monday through Thursday, as opposed to the existing Tuesday through Friday.

Cary Hosts Smart Cities Gathering

On Tuesday, approximately 100 outside agency and staff members gathered at the Cary Art's Center to learn more about making smart communities a reality. The event focused on how relationships between graphical information systems (GIS) and the Internet of Things (IoT) can create more insight into an agency's citizen base while increasing efficiencies. Terry Yates provided a presentation on Cary's Smart City efforts as part of the seminar.

Fall Median Plantings Underway

Plants have arrived for our upcoming fall median planting project. Medians to be planted this year include: Green Level Church Road (Phase 2), West Lake Road, Ten-Ten Road, O'Kelly Chapel Road, Louis Stephens Road, Yates Store Road, Kit Creek Road.

Pumpkin Flotilla Returns to Bond Park

For the second year, over 1,000 participants enjoyed the Pumpkin Flotilla and the final Bands, Bites and Boats event of the season at Bond Park on Monday evening. This is the first year of the Bands, Bites and Boats event that has been held on the final Friday between April and October. Throughout the season, over 2,500 visitors enjoyed the series.

Pill Takeback Event Successful 

A pill takeback event was held this past weekend. We collected 473.6 pounds of prescription's pills to push our 2017 total amount to 805.6 pounds. Detective Whitney Hall did an outstanding job coordinating CAP Team members, detectives, pick up locations, and media. This was another very successful operation due to all the hard work and dedication that was displayed.

Recognitions

The 2017 Employee of the Year nominees have been announced! Eleven deserving employees were nominated by either their coworkers or Cary citizens for their outstanding contributions to the Town on a consistent basis. Our 2017 nominees are: Mary Beerman (Planning), Jim Bridges (Utilities), Jarrod Buchanan (Water Resources), Marie Cefalo (Water Resources), Wilson Farrell (IT), Vicki Hayes (IT), Billy Lee (Water Resources), Charles Massey (Police), Rachel Monschein (Utilities), Pamela Simons (T&F), and Rob Wilson (Planning). Congratulations!
Emails From Citizens
Emails from citizens this week included the following:
A complaint that the town was destroying the American Tobacco Trail (Not true, that is the last thing we would do)
Concerns about safety on Laura Duncan Road.
A complaint about a proposed rezoning in Regency.
A complaint that seniors do not get enough softball games.
A complaint about speeding on Walnut Street.
A request to mandate restaurant hours (we don't have that authority).
A request to allow more chickens than is currently allowed in our backyard chicken ordinance (you're asking the wrong person).
A request to have recycling weekly (much more capital and operating cost, ie taxpayer dollars. Residents can order multiple recycling bins).
A complaint about Cary's lack of empathy (I disagree).
A request to have more food drives (these are private food drives not town initiated food drives)
A request to have a mini Carowinds at the mall site (that site is not owned by the town but by CBL).
A request to build a recreation center.
A request to build more animal shelters (this is currently a county function).
A request to have a club for kids (we do! Cary teen council).
A request to create a car track for people to race.
A request for crossing guards at middle and high schools.
A request for more community programs for the elderly.
A request to use more school buses (school buses are a function of the WCPSS).
A request to build a soccer park in downtown Cary.
A request for schools to start an hour earlier (school schedules are a function of the WCPSS).
A request to put surveillance cameras in all alleys and streets.
A complaint about the intersection at Green Hope School Road and Alamosa Place.
Next week will include staff meetings and an economic development meeting. It will also be a big week for me as my youngest daughter is getting married.
Get In Touch
Well, that is all for this week. My next post will be on Sunday, November 12th.  Although I have Facebook and Twitter accounts those are not the best means of communications with me. Please send all Town of Cary questions or comments to Harold.Weinbrecht@townofcary.org and email personal comments to augustanat@mindspring.com.
---
From the blog of Cary Mayor Harold Weinbrecht. Photos by Google Maps and Cary High Band.
https://carycitizenarchive.com/wp-content/uploads/2017/11/HaroldBlog-Nov6-Featured.jpg
468
800
Harold Weinbrecht
https://carycitizenarchive.com/wp-content/uploads/2020/03/cc-archive-logo-450-v3.png
Harold Weinbrecht
2017-11-06 10:25:24
2018-02-08 11:16:31
Harold's Blog: Fenton Development, Cary Band Day and More