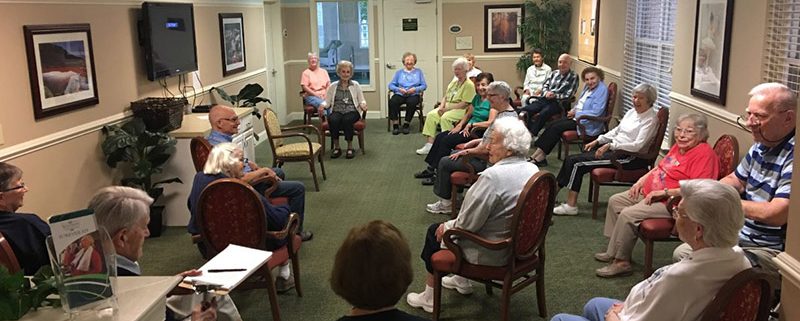 Cary, NC – As we age, we tend to walk less and have difficult with our full range of motion. But at Waltonwood Cary Parkway, new Forever Fit Manager Anthony Beaudry is helping residents through exercise and routine.
Mobility, Flexibility and Stability
Beaudry has brought a number of fitness and exercise routines to Waltonwood, with the most popular being the morning chair fitness classes.
"It gives a good boost of energy to get the day started," Beaudry said.
These classes are held for all residents – those in independent living, assisted living and memory care – and Beaudry said he has seen improvements in all participants but particularly with assisted living residents.
"With residents that stay with the classes more consistently, they end up not only having more energy but they use that energy for the other activities offered at Waltonwood," Beaudry said.
Additionally, Beaudry said since starting the classes, he has seen cognitive function improving in the residents in memory care, as well as more familiarity with the routines and with him.
Beaudry said one of the most important classes he teaches is fall prevention.
"Many residents may not be walking as much so that makes you lose muscle in your legs and joints, which affects balance," Beaudry said. "Helping with range of motion is huge. As you get older, stuff as simple as raising your arm over your head and reaching top shelves gets more difficult so this makes day-to-day living easier."
Benefit to Residents
The classes have been popular with Waltonwood's various residents. Janet Bozarth broke her shoulder and has been taking chair fitness to regain strength, getting back to the point where she can comb her hair and lift her arm.
"My mobility is improving each day, and I have Tony to thank. He really does have a passion for helping us stay fit. He is a motivator, and there's no question about that. He understands what we can and cannot do, and he doesn't push us too hard," Bozarth said. "He cares about each one of us and offers individualized help. It's nice to see someone as young as Tony taking the time to improve our health."
Beaudry said he learned to work with people of various ages through his experience in the Air Force, which he said gave him a high maturity level.
"I grew up fast and was working with people in their 50s so I learned to relate to people regardless of age," Beaudry said.
In the Air Force, Beaudry worked as a firefighter and had experience helping seniors during emergencies.
"That's where I got my interest in working with seniors. I wnated to help them before they need to call 911," Beaudry said.
Together with fitness classes and the activities offered at Waltonwood, Beaudry said he thing it results in huge benefits for residents.
"It has a close-knit family feel and makes people feel more comfortable," Beaudry said.
Waltonwood Cary Parkway is located at 750 SE Cary Pkwy.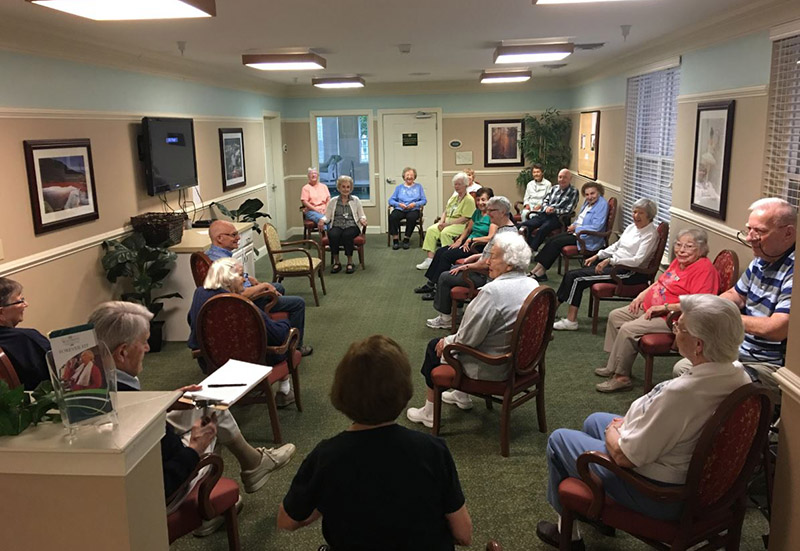 ---
Story by Michael Papich. Photos courtesy of Waltonwood Cary Parkway.
https://carycitizenarchive.com/wp-content/uploads/2018/01/Waltonwood-Fitness.jpg
551
800
Michael Papich
https://carycitizenarchive.com/wp-content/uploads/2020/03/cc-archive-logo-450-v3.png
Michael Papich
2018-01-24 10:32:26
2018-01-24 10:32:26
Waltonwood Fitness Programs Create Energy, Balance and Motivation