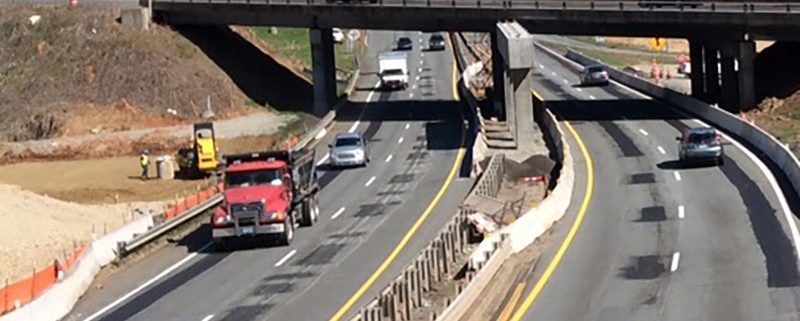 Cary, NC – As Wake County works on expanding public transportation, the other side of traffic mitigation is road infrastructure. At a recent meeting, an NC Department of Transportation (NCDOT) engineer laid out the coming highway improvements that are currently funded.
Roads Coming Soon
Joey Hopkins, NCDOT division engineer for Division Five, spoke to the Cary Chamber of Commerce on Wednesday, March 28, 2018 to give local business owners updates on what is happening with major road projects in the area.
One of the most extensive projects will be changes to I-40, which will change in several sections. Between the beltline and NC-42, I-40 will be widened to eight lanes of traffic. Nearby, Aviation Parkway will be widened between I-40 to NC-54.
The bridges on I-40 at Aviation Parkway and Airport Boulevard will also be replaced. In the Aviation Parkway stretch, there will be loops added so drivers can go immediately toward Cary and Morrisville when coming off of the highway. At Airport Boulevard, NCDOT is considering adding a divergent diamond interchange, which is a type of road where drivers temporarily cross to the other side on the bridge.
"It's easier to drive on than it is to explain but it's already in place across North Carolina, but not in the Triangle yet," Hopkins said.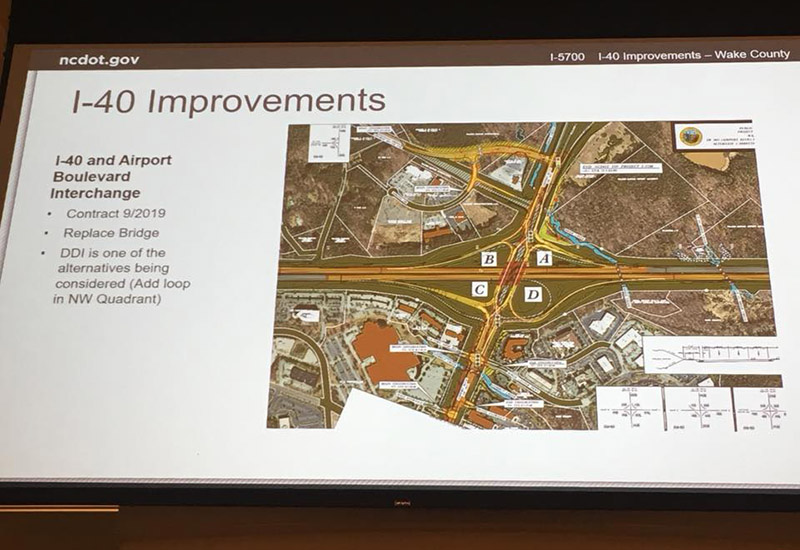 Another big project is the completion of NC-540, which would stretch from Holly Springs to US-401. Hopkins said they plan to advertise the first stretch of the project by the end of the year.
"It will provide an alternative route around the Triangle to get to RTP," Hopkins said.
When completed, NC-540 will be a toll road.
"Toll roads help us get these projects funded," Hopkins said, adding that the alternative would be a higher gas tax. "Compared to other Southeast states, we spend less on our roads so we need to keep up."
Closer to Cary, other projects include widening Ten-Ten Road from Apex Peakway to Kildaire Farm Road. Whether this will widen to four or six lanes is not determined yet. Another project in the works is the Morrisville Parkway extension and that completed gap will be a two-lane road. Hopkins said it should complete by 2020.
In both Cary and Morrisville, Louis Stephens Drive is being extended from O'Kelly Chapel Hill Road to Poplar Pike Lane in order to link the two towns.
On US-64, there will be two interchanges added at Laura Duncan Road and Lake Pine Drive. The traffic volume there is currently between 40,000 and 50,000 cars a day and Hopkins said they expect for that to increase by 40 percent in the coming years, which is why it is being targeted for interchanges.
And while not a road improvement per say, there will be two grade separations on the train tracks on Harrison Avenue and Maynard Road, which will either have the roads go over or under the tracks.
"It could help with the high speed rail project but it is not directly for that purpose," Hopkins said. "It's mainly for general track time."
The Need for Infrastructure
All of this money and time devoted to highway improvements, not even taking into account smaller roadwork around Cary and the Triangle, is all to support the region when traffic needs get even higher. As Hopkins showed the gathered audience, North Carolina is expected to be the eighth most populous state by 2040 with 12.5 million people.
"That's a 32 percent increase from where we were in 2010," he said.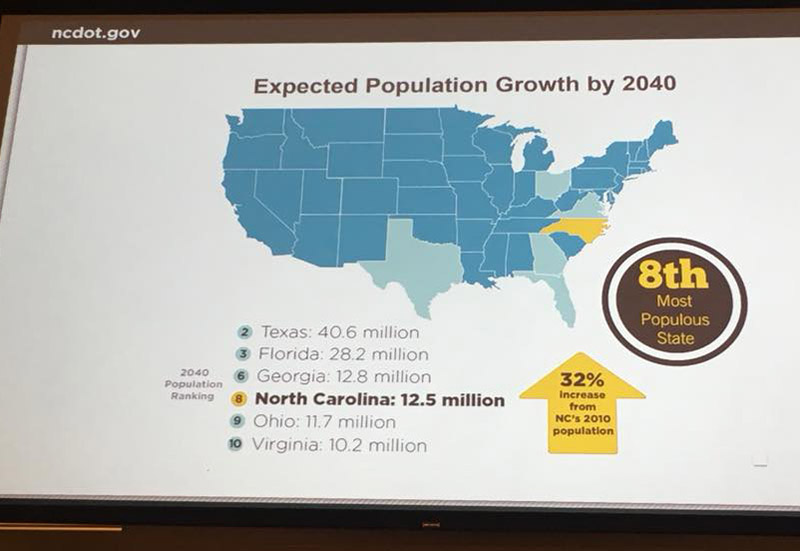 The Triangle specifically is the 16th fastest growing metropolitan area in the country and two-thirds of all North Carolina growth is in the Triangle and Charlotte.
Hopkins did point to some reassuring factors. Overall commuter delay is 18 hours per year – that is, the average person in the Triangle spends 18 hours a year stuck in traffic. Compared to the country at large, that is comparatively low (Atlanta is closer to 70 hours a year) and Hopkins also said that figure is down from 2016.
But all of the projects Hopkins discussed at this Chamber meeting are only a piece of what their overall goal is as he only talked about funded projects. The map of projects NCDOT wants done by 2045 shows the full scale of what changes may come in and around Cary.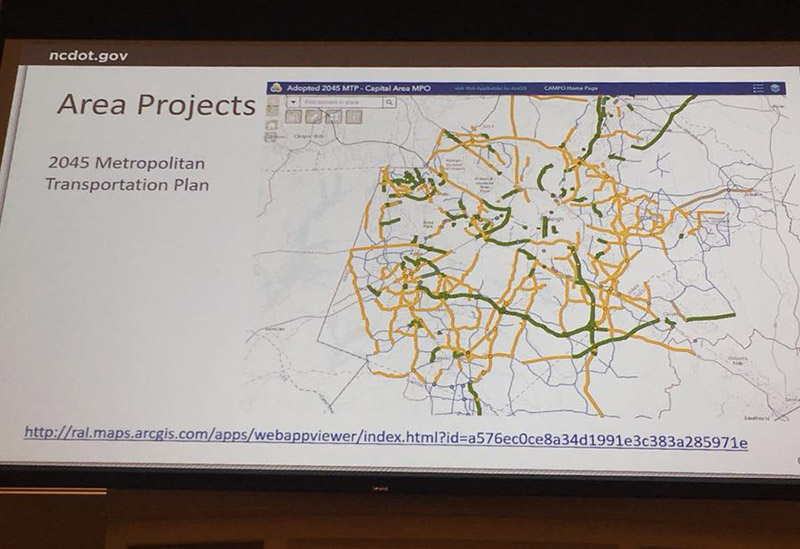 ---
Story by Michael Papich. Photos by Lindsey Chester and NCDOT.
https://carycitizenarchive.com/wp-content/uploads/2018/03/Transportation-Mar28-Featured.jpg
549
800
Michael Papich
https://carycitizenarchive.com/wp-content/uploads/2020/03/cc-archive-logo-450-v3.png
Michael Papich
2018-03-29 13:02:27
2018-03-29 09:20:21
The Next 10 Years of Highway Improvements