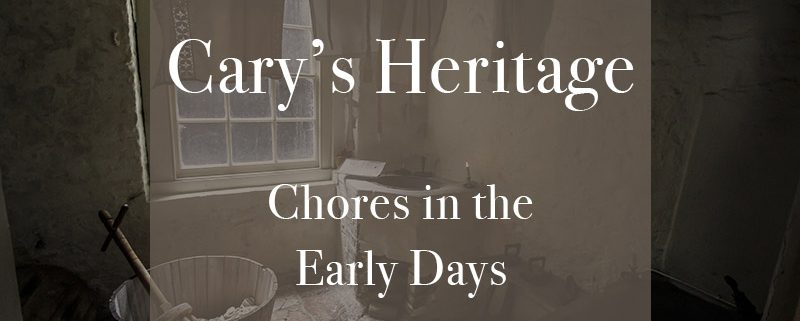 Cary, NC – Cary women remember doing chores in the early days.
Mary Belle Phillips
For laundry, my daddy built a washhouse behind our house. First, you had to draw water from the well into two tubs and heat it up. Then you scrubbed the clothes on a washboard, then boiled them, then rinsed them, then you'd wring them out by hand before hanging them on a clothesline to dry.
Hard work, you're not kidding. We ironed everything − sheets, towels, underwear – yes.
Elva Templeton
Early on to iron clothes, we used a flat-iron that we heated on the stove. Then a new model came out that you put hot coals into it. I spent the summer after high school in 1915 hand-sewing clothes to take to college in the fall. You couldn't get as many ready-made clothes then. We had to go to Raleigh to get fabrics.
Everybody had sewing machines, except me. My father, Dr. Templeton, wouldn't let me have one because he said too many women ruined themselves peddling the old type sewing machine. It was too hard on their legs, he thought. So I worked myself about to death, hand-sewing all those clothes for college.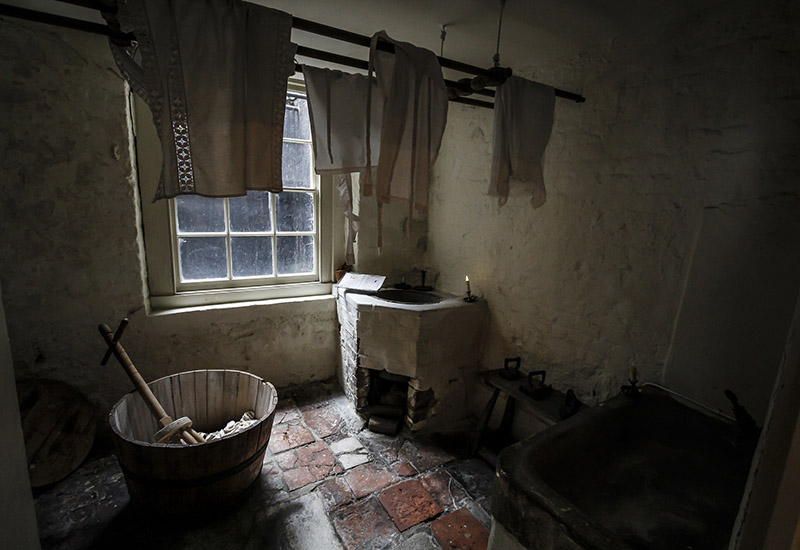 Margaret Travis
Back in those days, women only ever wore dresses. If anybody wore anything other than a dress, we thought there was something wrong with that lady. Men wore bib overalls, no waist-britches.
It didn't change here until the 1960s. Even in the fields, women wore dresses, aprons with big pockets and straw hats. My mama could get half the garden in those big pockets. We had both Sunday clothes and everyday clothes.
To wash the dishes, we heated water in a kettle on the wood-burning stove, and our stove had a reservoir full of warm water too. We'd put a big dishpan full of water on the kitchen table and wash the dishes there, then carry the pan outside to dump it.
A Saturday morning job was sweeping the dirt yard. You would go into the woods, cut branches from a dogwood tree, always a dogwood. You tied four or five little branches together to make a broom, then go out and sweep one way across the yard. You'd turn and come back the other way from top to bottom. Everybody had a wept yard on Saturday mornings except Mr. Vic Council who had grass in his yard that he cut with a push lawnmower. It was the only grass yard I had ever seen growing up.
The other Saturday job was washing your kerosene lampshades. Kerosene lamps were the only light you had in your house. You had to trim your wicks and get all the smoke off the inside of the glass lamp chimneys. We had a Rayo lamp too, that had a round wick. It gave a brighter light than just a one-wick lamp. So, on Saturday morning, you swept your yard, then cleaned all your lampshades.
---
Story by Peggy Van Scoyoc. Much of Cary's Heritage is taken from her book, "Just a Horse-Stopping Place, an Oral History of Cary, North Carolina," published in August, 2006. The book is a collection of oral history interviews conducted between local citizens and Friends of the Page-Walker Hotel. The rest comes from later oral history interviews with local citizens. Photos by Robert Moranelli.
https://carycitizenarchive.com/wp-content/uploads/2018/04/CaryHeritage-Apr2018-Featured.jpg
550
800
Peggy Van Scoyoc
https://carycitizenarchive.com/wp-content/uploads/2020/03/cc-archive-logo-450-v3.png
Peggy Van Scoyoc
2018-04-11 09:30:21
2018-04-11 09:16:12
Cary's Heritage: Chores in the Early Days