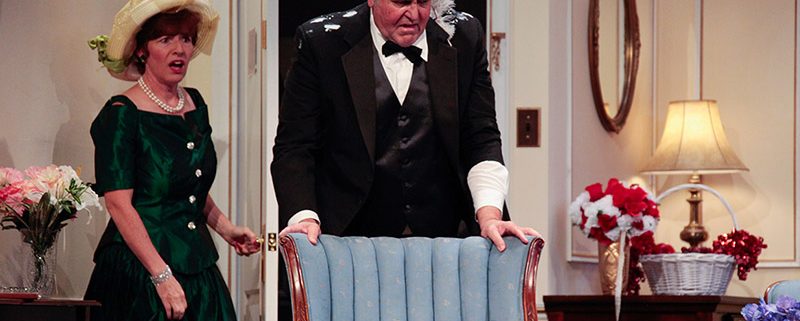 Cary, NC – Neil Simon's "Plaza Suite" has long been a celebrated play and movie for its comedic look at dysfunctional relationships. In the Cary Players' new production, that same comedy and message comes through, even after 50 years.
To Have And To Hold
In the Cary Players' "Plaza Suite," which starts this Friday, April 27, 2018 at the Cary Arts Center, audiences get to see three different relationships that director Bruce Ackerman described as "dysfunctional in their own ways."
"In each of these relationships, they have different decisions to make about themselves and if they want to continue," Ackerman said.
While "Plaza Suite" was originally premiered in 1968, Ackerman said the dynamics and relationships will still ring true.
"It's very relatable. Who among us haven't been in a relationship and thought at one point, 'Do I want to stay with this person?'" Ackerman said. "Everyone who is in a relationship will see themselves in this play in some way."
And while "Plaza Suite" is a comedy and can get very slapstick and physical, particularly when it comes to the final act with Mimsey Hubley being coaxed out of the bathroom, Ackerman said the messages about relationships are no less genuine for it.
"The interesting thing for me is Neil Simon is a very funny writer but he doesn't shy away from serious moments," Ackerman said. "When I looked at the central theme of the play, I arrived at 'To have and to hold' and that runs through each act."
Learning About The Characters
"Plaza Suite" is broken up into three parts where audiences get a glimpse of three different couples and their troubles before moving on to another couple. Ackerman said, even though each character is on screen for a limited amount of time compared to a traditional play, this made it easier to ensure audiences could connect with them.
"Since each act has fewer characters, we could dedicate an entire rehearsal to each individual scene," he said. "You get to drill down into these characters' lives and personalities and the actors get to bring that out on stage."
The play is also a product of its time. Simon was very clear to production companies that no changes should ever be made to the script so it is filled with 1960s references, which Ackerman said they followed.
"Our first inclination was to modernize but we wanted to be authentic to the script," he said. "So there will be some pop culture references that will go over audiences' heads, especially younger audiences. But most names referenced are big enough that people can pick up on them by context."
Ackerman said that dedication to keeping the play in the original time period extends to the set, with costumes, props and more all authentic to the period.
"Things audiences would never even see are filled with references to the period," he said. "There are also lots of logos for the Plaza everywhere."
Event Details
Cary Players present "Plaza Suite"
Cary Arts Center, 101 Dry Ave.
Friday and Saturday, April 27 and 28, May 4 and 5, 2018 at 7:30 PM
Sunday, April 29, May 6 at 3 PM
---
Story by Michael Papich. Photos by Scott M. Peters Photography.
https://carycitizenarchive.com/wp-content/uploads/2018/04/PlazaSuite.jpg
550
800
Michael Papich
https://carycitizenarchive.com/wp-content/uploads/2020/03/cc-archive-logo-450-v3.png
Michael Papich
2018-04-26 13:53:40
2018-04-26 16:01:42
Cary Players' Plaza Suite Blends Relatable Couples with Comedy