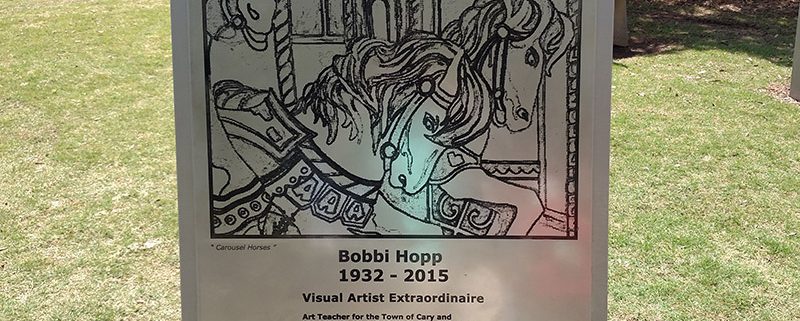 Cary, NC – Only two Cary artists are remembered with plaques in the artist's circle in front of the Cary Arts Center. This Thursday, April 26, 2018, that second plaque was unveiled as Bobbi Hopp was honored for her service to the Cary arts community.
A Lifetime of Art
Hopp, the founder of the Cary Photographic Artists (CPA), died in 2015 and since then CPA Vice President Bernette Blakeley has been working to secure a plaque for her, which now sits across from the only other plaque in the circle honoring Cary Players board member and actor Wilson Pietzsch.
The plaque is designed to look like an easel with sketches from one of Hopp's photographs of the Pullen Park carousel, which Blakeley said speaks to her artistic style.
"What Bobbi did best was take a photo, then sketch based on the photo, then make a drawing and turn that into a painting," Blakeley said.
Hopp got a degree in arts education from Temple University and started off as strictly a painting teacher until photography came along.
"She volunteered to be a teacher of photography, though she didn't know how to do it at the time," Blakeley said.
Hopp's son, Jeff Hopp, also spoke at the dedication and gave an insight into where that interest in photography might have come from.
"My mom inspired a lot of people but one person who inspired her was her father, who was a portrait photographer," Jeff Hopp said. "She was very proud of the CPA and what it grew into."
Joann Hopp, Jeff's wife and Bobbi Hopp's daughter-in-law, said this dedication with her friends and students gathered is how she would want to have been remembered.
"We can't do anything better than what we're doing right now," Joann Hopp said. "Cary was her canvas until the end."
Teaching the Arts to Cary
Hopp started CPA in 2007 when, according to CPA President Don Ducey, she split off from the Fine Arts League of Cary to create a group dedicated to photography specifically. And as fellow CPA members remember about her, Hopp was determined to make this new organization a success.
"When she had an idea, she pushed through. With anything new, there are going to be a lot of naysayers but she didn't listen to them," said Jack Leavell with CPA. "She was very instrumental in getting the CPA name out there. She organized shows everywhere: Cary Town Hall, the Raleigh convention center, even the airport. I thought that was the most impressive."
Leavell said he first realized CPA would be a success when they had their first show in the Summer of 2007 in the Cameron Village library.
"Bobbi was adamant about how the photographs should be displayed and how professional it should all look. For her, presentation was equally as important as the artwork itself," Leavell said. "I saw she had a serious attitude and that when I knew it would work."
Two of Hopp's students also gave a talk at the dedication. Nancy Petrillo, one of those two students, said she always had two rules: always use tracing paper to prevent smearing and no erasing.
"She was a teacher, an artist and most of all a friend," Petrillo said. "Without reservation, she is the one true friend I made in North Carolina."
Bill Moore, another of Hopp's students, described her as a dedicated teacher who showed him a number of techniques for drawing and was always happy to talk about travels and trips they had been on.
"She always wanted to see our photos from trips," Moore said. "And she was always teaching us, even when we were just chatting."
Moore also said that, as Hopp became more reliant on her wheelchair, she still made the time to come out to arts events and classes. Lyman Collins, cultural arts manager for the Town of Cary, said this was another of her contributions to the town.
"In addition to being a proponent of the arts, she helped us understand the needs of people in wheelchairs and similar needs around town," Collins said. "She was a passionate proponent of the arts and when she had a thought or an idea, she didn't let it go. She captured so many images with her camera and was so generous to share them with the town."
Hopp's plaque can be seen in the artist's circle on the Kildaire Farm Road side of the Cary Arts Center in Downtown Cary.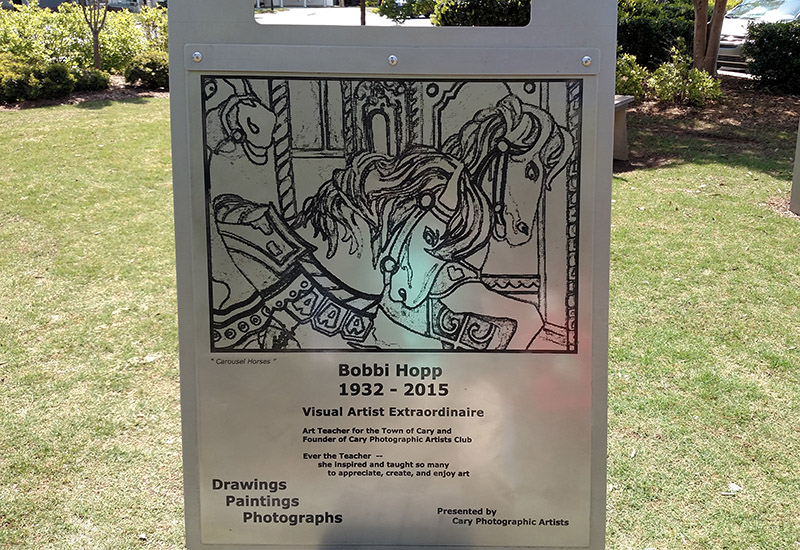 ---
Story by Michael Papich. Photos by Michael Papich.
https://carycitizenarchive.com/wp-content/uploads/2018/04/BobbiHopp2.jpg
550
800
Michael Papich
https://carycitizenarchive.com/wp-content/uploads/2020/03/cc-archive-logo-450-v3.png
Michael Papich
2018-04-27 13:02:25
2018-04-27 12:43:02
Cary Photographic Artists Founder Honored with Plaque