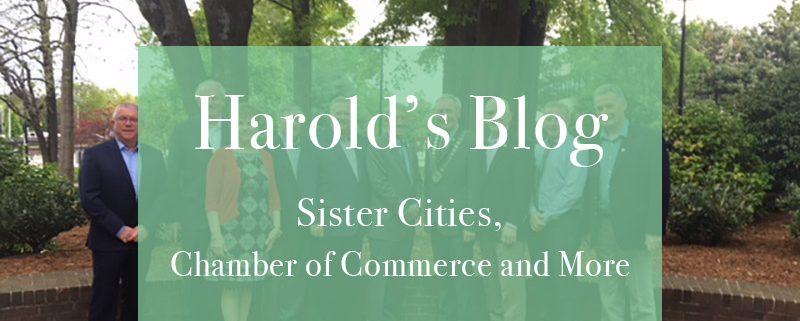 Cary, NC – This week was slower than expected with a few cancelled meetings.
Tuesday – Cary Chamber of Commerce
Monday's meeting with the town manager was cancelled since we had no new information to share.
Tuesday I spoke to the Cary Chamber Leadership group about the council, our role, my role, and the importance of intergovernmental and inner governmental relationships. My talk with questions lasted about 15 to 20 minutes.
Tuesday evening I attended the expansion opening celebration of Pacific Nails in the shopping center at Walnut Street and Tryon Road. I congratulated the owners and took a few pictures with them.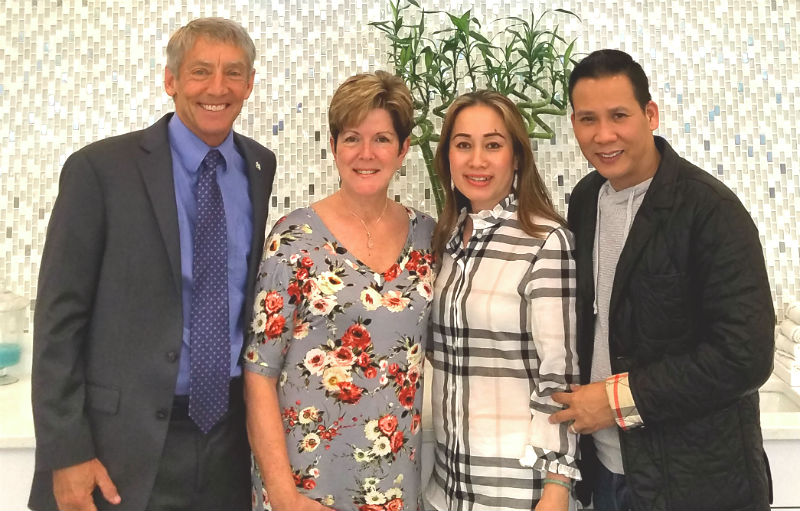 Wednesday – Wedding Anniversary
Wednesday was my 31st wedding anniversary so staff blocked my calendar so that I could spend it with my wife. We had a wonderful evening together which included a fabulous dinner at Maximillans on Chapel Hill Road in Cary.
Thursday – Sister Cities
Thursday I joined council members Smith, Yerha, and George in a reception for delegations from two of our sister cities, Le Touquet, France and County Meath, Ireland. I provided opening remarks and talked about my visits to each of these sister cities and the relationships that have formed.
The delegation from Le Touquet, France was made up of students studying culinary arts as part of their overall training. This is part of an exchange between Wake Tech and the school in Le Touquet which has been ongoing for many years. In fact, my wife and I have hosted several students over the years with our first being in 2001.
The delegation from County Meath, Ireland was made up mostly of elected officials including their mayor equivalent called Cathaoirleach (which is pronounced something like Ka Hair Lick). We had a great discussion and talked about many of the similarities between our two communities. They mentioned how much downtown Cary has changed since their last visit. They also talked about many commerce opportunities. Early in the day they were introduced to our sister city in Markham, Canada via a teleconference call.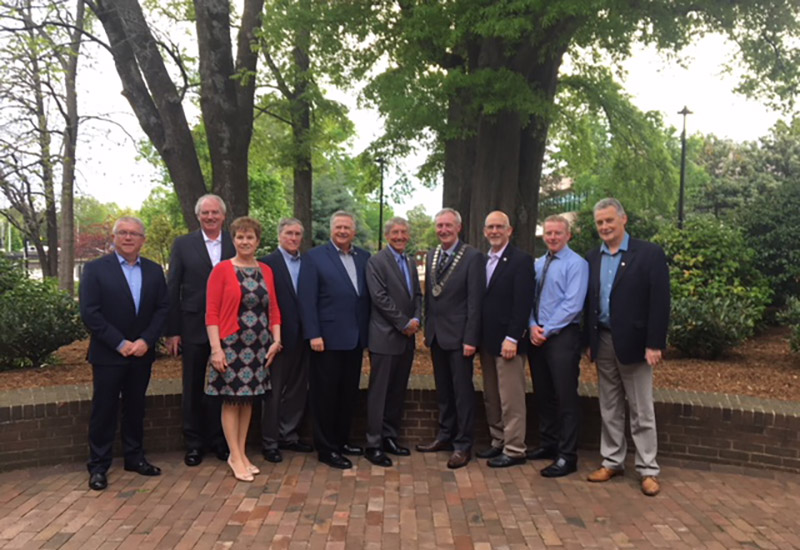 Friday – Irish Delegation
Friday the Cary Chamber sponsored a dinner with the Irish delegation and I was able to have more in depth conversations. One interesting note is that while they don't have state governments to deal with they do deal with the national government more often. In fact, a significant portion of their revenue comes from the national government which, according to them, sometimes makes decisions based on a political need rather than the most pressing need (I totally understand that). We also talked about affordable housing and how they have the ability to require inclusionary zoning (require developers to include more affordable, integrated housing in proposals). Unfortunately, we don't have that ability in North Carolina. Our dinner and conversations ended with the exchange of gifts and parting words after about three hours. I thoroughly enjoyed my time with the Irish delegation and look forward to my next visit to Ireland.
Town Manager's Report
The town manager's report for this week included:
Cary Council & Staff Visit Seattle

Council Members Lori Bush, Ken George, Jennifer Robinson and Jack Smith, along with staff members, traveled to Seattle on the Raleigh Chamber Inter-City visit this week. The trip highlighted the challenges and opportunities of a rapidly growing major metropolitan area. Seattle leaders shared their insights into housing, transportation, leadership and the economics of their region.

Stormwater Working Group Tours Downtown

In our continuing engagement with downtown stormwater stakeholders, staff gave a guided tour to about 10 citizens, including developers and downtown homeowners, to see real-life examples of stormwater management in practice and public-private opportunities. Dr. Alex Hunt, the NCSU professor, was in attendance and provided valuable insights. In addition to the walking tour, the citizens were able to see the new truck that is cleaning out stormwater drains in our pilot area, part of our proactive approach to maintenance.

The tour infused technology, using a storymap accessible by iPad devices to supplement the talking points at each spot along the tour. The storymap is publicly accessible, and we encouraged the tour group to share the walking tour and storymap with their social circles.

May is National Bike Month

May is the perfect time to grab your bike and see Cary on two wheels! To celebrate Bike Month, the Town and regional partners are planning a full month of events, rides, and classes.

To kick-off Bike Month, Cary Town Council will deliver a proclamation officially designating May as Bike Month. This proclamation will also recognize Cary's dedication to Complete Streets, a concept that recognizes streets should be designed to enable safe access for all users, regardless of the mode of transportation.

There are numerous rides and events scheduled throughout the month. To learn more, about these events, sign up for classes, and get recommendations for greenways to explore in Cary, visit www.townofcary.org/bikecary.

Proposed Historic Marker for Harrison Wagon Works

Town staff and the Hamilton Family are in discussions about installing a historic marker in recognition of Robert J. Harrison, mayor of Cary, inventor, manufacturer and owner of Harrison Wagon Works, the wagon manufacturing facility that was at the corner of Chatham Street and Harrison Avenue. The proposed marker would be similar in look to the marker at the Cary Arts Center recognizing Cary High School. If Council has any questions about moving forward with this proposed historic marker, please let me know by next Friday, May 4.

Sister Cities Visit Cary

Town of Cary's sister cities, Le Touquet, France, and County Meath, Ireland, are visiting this week. County Meath's visit included tours of local businesses and our parks. Le Touquet delegation is comprised of culinary students who are interning at local restaurants and bakeries.

Bloomberg Challenge Workshop

As part of the ongoing Bloomberg Mayors Challenge, we hosted a discussion and workshop with many community partners that included people from SAS, RTI, the Poe Center and members of Wake County Human Services, including Wake County's Public Health Director, among others. For two hours, we discussed the project that will sample wastewater for opioids and how it could fight the epidemic. The group was engaged and positive and provided extremely useful feedback. All of the attendees indicated they were excited about continuing to work on this project together. They even provided us with a list of additional partners we need to invite to the table in the future. This was a major step in not only securing the next round of the Mayors Challenge, but making for a stronger, healthier community.

Staff Continues Working with Concerned Citizens of NW Cary

Staff continues to maintain regular contact with the Concerned Citizens of Northwest Cary, the group that formed during the fall of 2017 to work with the Town on understanding and mitigating concerns related to the Amberly C-Store development located at 355 Stonecroft Lane.

A meeting to discuss traffic calming was held on April 13 at the UNC Wellness Center in northwest Cary. The citizen group and staff talked about commercial traffic concerns, pedestrian safety, and options for traffic calming measures. A follow-up meeting is planned for May.
A meeting with the Amberly C-Store property owner/developer (Eagles Enterprise, LLC), nearby neighborhoods, and Town staff is being planned for late May or early June.

Happening in Downtown Cary

A couple items of note as they relate to downtown Cary this week. First, a familiar figure returned to downtown this week as "The Little Newsboy" took up his post next to the Town clock. For many years the statue stood in front of Kitchen & Bath. The Ladd Family recently donated the piece to the Town and it has been integrated into the new streetscape.

We're also happy to report that Postmaster restaurant has received a 4-star review from N&O food critic, Greg Cox. You can read the write-up here.

And another reminder that progress is underway on the downtown library site. Next week we expect some trees and vegetation to be removed for grading and clearing the site.

Wake Transit Public Outreach

As our community investment in public transit continues to build, it's time for you to help shape the next phase. Public outreach meetings and pop-up events begin this Saturday at Cary's Spring Daze festival and continue throughout the region until May 20. This will be the first opportunity for the public to view proposed alignments for four Bus Rapid Transit (BRT) corridors, as well as potential station locations for each. The community will also have a chance to weigh in on proposed bus network maps thru 2021, 2024 and 2027.  Feedback will be evaluated, and a revised set of plans will be made available for additional input later this summer.

Early Voting Taking Place

Early voting began at Herb Young Community Center on Thursday and continues through May 5 in advance of Election Day on May 8. Traffic will be managed with signs and barriers and attendants will be in place to direct voters to curbside voting spots. Please keep in mind that the first two levels of the parking deck will be reserved for voter parking.

Tax Assistance at Bond Park

Bond Park Community Center hosts the AARP Tax Assistance program annually from February through mid-April. This program provides free tax preparation assistance to the community, and the program is offered three times per week and is available first come, first served. AARP volunteers e-filed 1286 total returns this year. Approximately 750 shifts (4-6 hours each shift) were worked by the AARP volunteers. Historically the Bond Park site is top three in total returns prepared in North Carolina.

Raising Funds for Recreation

Two events were held on Saturday to benefit Cary's Recreation Scholarship Fund. At The Cary Theater, Cary Teen Council hosted the 3rd annual Triangle's Got Talent. Fifteen teen acts were showcased across the night as they sang, danced, shred on the guitar and more. Through admission sales and raffle tickets, $1,660 was raised and will be donated to the fund.

On the same day, the first-ever Cary Dodgeball Tournament was held at Bond Park Community Center. A total of 12 adult coed teams registered to compete for 1st, 2nd, and 3rd place, plus best-dressed. FRESH Local Ice Cream was in on the action, selling "Chocolate Curveball" and "Strawberry Stinger" flavors with proceeds benefiting the fund. Despite signing up on the final day of registration, LMT (Last Minute Team) took home the first place prize after beating Oak City Dodgeball in the final match. This exciting new event raised a total of $3,235 for the scholarship fund!

WakeMed Cary's Leapfrog Score

Earlier this week we shared with you a news story about the hospital's latest ranking. We also asked Andi Curtis for any relevant information WakeMed might want to provide. You can read their response at https://carync.my.salesforce.com/sfc/p/#36000000uIdK/a/360000000sYy/KncAqMjuo2rCG_.sSbFMSN.i0DnFj5zt1yJPnFYjWUI

Recognitions

We'd like to recognize the efforts of Justin Oliver, Tyler Waring and Michael Mazanek for stepping up and empowering the staff team and citizen group working on an adaptive approach to stormwater. Justin, Tyler and Michael quickly assisted in providing the tools, training and resources necessary for the team to develop an storymap to guide the downtown walking tour.

Supplemental Information Provided to Council

Staff provided information to Council Member George related to the progress of the Trimble Avenue Plan that was submitted last week. The plan is on a four week review cycle, so comments are scheduled to be returned to the applicant on or around May 14. If you are interested in taking a look at what was submitted, the site plan is attached. If you have questions, please contact Scot Berry (scot.berry@townofcary.org).
As an update on the two properties under consideration for drainage assistance, I spoke to both homeowners on April 13 and asked them to consider our offer and get back to me by April 20 if they continue to be interested in the offer. As of today, I have not heard back from either homeowner indicating any interest with moving forward.
Emails From Citizens
Emails from citizens were lighter than normal. They included:
A complaint about a sewer smell in Turkey Creek
A complaint about litter at Cary High School (I invited them to join me and others in a litter sweep to reduce litter – haven't heard back)
Next week's activities include staff meetings, the Cary Chamber's Elected Officials Reception, a town council meeting, a bike riding event, and Fest in the West acitivities.
Get In Touch
Well, that is all for this week. My next post will be on Sunday, May 6th.  Although I have Facebook and Twitter accounts those are not the best means of communications with me. Please send all Town of Cary questions or comments to Harold.Weinbrecht@townofcary.org and email personal comments to augustanat@mindspring.com.
---
From the blog of Cary Mayor Harold Weinbrecht. Photos courtesy of Harold Weinbrecht.
https://carycitizenarchive.com/wp-content/uploads/2018/04/HaroldBlog-Apr30-Featured.jpg
550
800
Harold Weinbrecht
https://carycitizenarchive.com/wp-content/uploads/2020/03/cc-archive-logo-450-v3.png
Harold Weinbrecht
2018-04-30 13:02:06
2019-12-11 19:13:50
Harold's Blog: Sister Cities, Chamber of Commerce and More