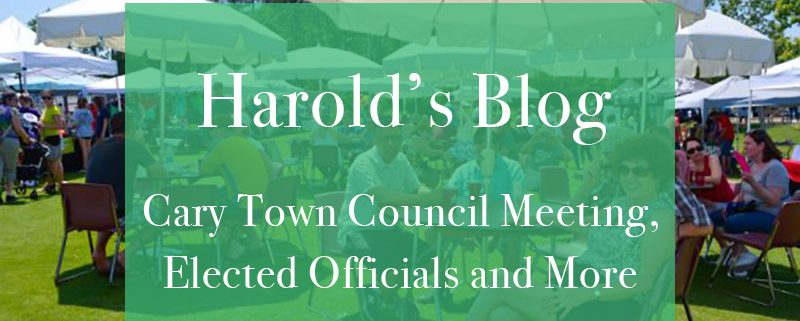 Cary, NC – This was a typical spring week with a regularly scheduled council meeting and several events.
Monday – Budget Preview
Monday I contacted council members to hear of questions and concerns they may have had about the agenda for Thursday's meeting. Later in the day I met key staff members and went over the agenda.
After the agenda meeting I met with staff to hear about a legal issue and to get a preview of the budget. The staff will present the budget on May 10th to the council at our quarterly meeting. That discussion will include what to do about the increasing costs of recycling, the need for more sidewalks, and the need for more road improvements. Property taxes will probably remain the same in this year's budget but that will be a council decision. After the May 10th work session other scheduled work sessions include June 7th, June 14th, and June 28th. It is likely that we will not need all of those work sessions.
Tuesday – State of Cary
Tuesday I presented the State of Cary address to the Fonville Morrisey sales team. This was very similar to the address I presented to the Prestonwood seniors a couple of weeks ago and followed the outline of my original State of Cary address given in January. There were several dozen people in attendance. I enjoyed my time with them and hope they invite me back in the future.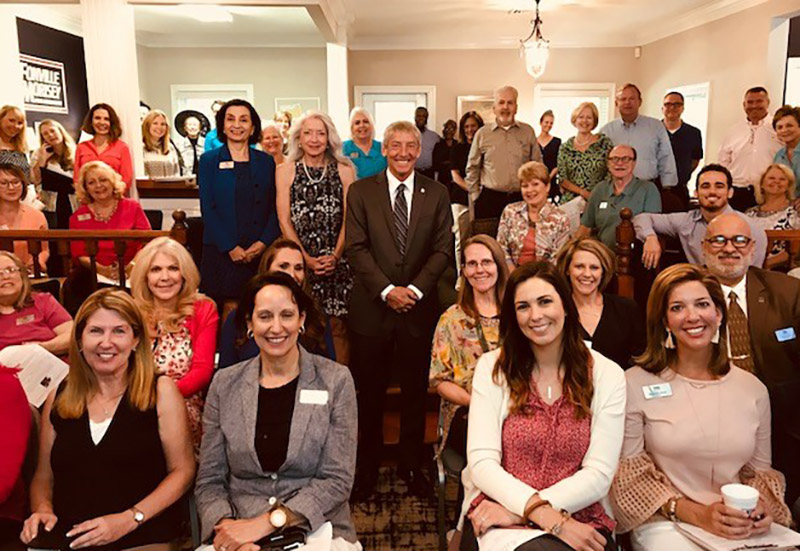 Wednesday – Cary Elected Officials
Wednesday I joined all but one of the council members at the Cary Chamber Elected Officials reception. In attendance were Congressman Price, NC Secretary of State, NC Senators, NC Representatives, Judges, the Sheriff, Wake County Commissioners, Wake County School Board members, and dozens of business leaders. I provided welcoming remarks. In my remarks I talked about ten years ago when I said we needed to work together to position ourselves to lead once the recession ended. Because of our partnership on all levels of government and the leadership of our businesses we are currently in a strong position. Our downtown and Eastern gateway are drawing lots of interest and the town as a whole is thriving. This would not have happened without everyone having the same goal. Thanks to all our elected leaders, our chamber, and our businesses. We look forward to our continued partnerships and making our community even better than it is today.
Thursday – Cary Town Council Meeting
Thursday the council held the only regularly scheduled meeting of the month. Mayor Pro-Tem Bush and council member Robinson were out of town on town business. The agenda included 11 consent items, 3 public hearings, and 5 discussion items. The Public Speaks Out portion of the meeting had several speakers for and against the discussion items for the gas station rezoning at Penny and Kildaire and the multi-family rezoning at Evans and Cary Parkway. The public hearing for the Glenaire proposal had a who's who of Cary including former council member Regina McLaurin, former Planning and Zoning Chairman Ed Clayton, and longtime business owner Ralph Ashworth. Under discussion the council unanimously approved an amendment to allow parking on Keisler Drive, the Swift Creek greenway construction, and the Black Creek greenway construction.
The rezoning proposal for a gas station at the corner of Kildaire Farm Road and Penny Road was tabled until the June meeting. After much discussion it was pointed out that several citizens became involved after the Planning and Zoning Board meeting and a great deal of misinformation was being spread on social media. So the council asked the applicant if he would be willing to hold another neighborhood meeting to hear concerns of those that became involved late in the process and so that they can receive correct information. It should be pointed out that the applicant has made several changes in the 15 months they have been working on this proposal so it is possible that no additional changes may result from the meeting. Nevertheless, it is important that all concerns be heard and addressed.
The final discussion item, a proposal to rezone office to multi-family residential at Evans Road and Cary Parkway, was denied by a 4 to 1 vote (council member George voted no). In the discussion it was pointed out that this was a tough decision but most felt that office in this area would serve the surrounding neighbors especially since Waltonwood is going to be developed across Evans Road.
The council meeting concluded after about 3 ½ hours.
Saturday – Biking in Cary
Saturday I joined Mayor Pro-Tem Bush and several others including two ECG (East Coast Greenway) members in a ride from White Oak Park to USA Baseball. Before the ride the ECG members presented a shirt and hat to Ms. Bush and me. The ride lasted about 30 minutes and the greenway views were beautiful. Most of the ride was on the greenway. Once a new greenway segment, now under construction, is complete then the entire ride will be on the greenway.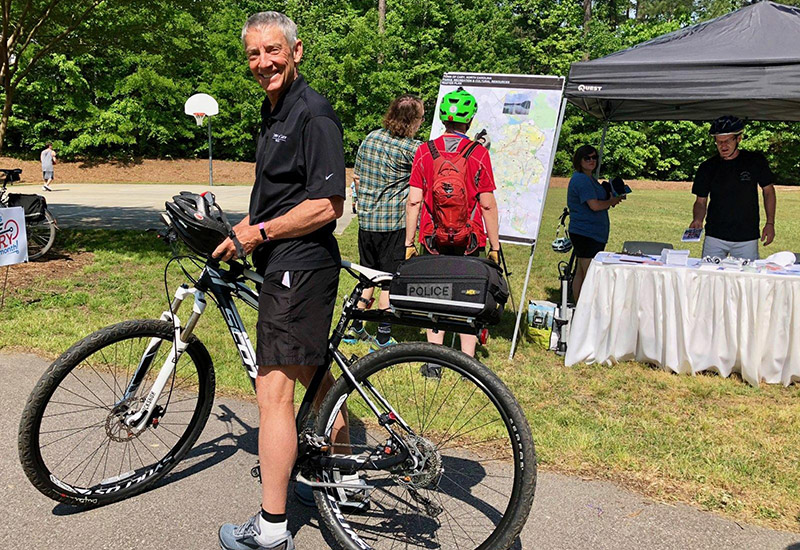 I had been scheduled to attend the Fest in the West festival but had to cancel due to a death and funeral of a neighbor. On the way to the funeral I was able to stop by the Herb festival which was held on the grounds of the Page-Walker Arts & History Center. Visitors were there learning how to start their own herb garden and had the opportunity to tour the Anne B. Kratzer Educational Garden, including a close-up look at the historic 1850s Page smokehouse.
Town Manager's Report
The town manager's report for this week included:
Third Quarter Meeting Thursday

Staff has been preparing for Thursday's Third Quarter meeting at the Matthews House in downtown Cary. We'll gather at noon and begin with lunch together. We look forward to getting Council's thoughts on the FY19 recommended budget, among other topics. We will provide the full agenda, as well as any supplemental materials, to Council late Monday.

Wake Transit Policies Update

Throughout 2017, Town staff participated in regional planning efforts related to Wake County Transit Plan (WCTP) implementation. This included the development of policies that will apply to all transit providers in Wake County. The first of these, Bus Service Guidelines and Performance Measures, is attached.

This policy outlines standards and measures that will apply to WCTP funded services. For example, the Service Level Standards section details things like bus stop spacing and amenities. Existing GoCary services, planned modifications to these services, and planned future services identified in the Cary Community Plan agree with the proposed standards. The Wake County Transit Planning Advisory Committee (TPAC) will meet next week to consider recommendation of this policy to the WCTP governing bodies of CAMPO and GoTriangle. Questions or comments related to this proposed policy should be directed to Kelly Blazey.

Don't forget, you can learn more about building the first bus rapid transit corridors and expanding the bus network in Wake County at a series of public meetings taking place now thru May 20. Cary's formal public meeting is on May 15 at the Cary Arts Center from 5:30-7:30 p.m.

Goddard School Plan Review Complete

The building plan review for the Goddard School located at 2385 Kildaire Farm Road has been completed and the building permit is ready to be issued on Monday, May 7th.  This property was rezoned in 2001 to allow commercial uses so a daycare is allowed by-right. With the zoning in place, the development plans were approved administratively late last year after seven rounds of development review for compliance with Town development standards. As another condition of the 2001 rezoning, the Lochmere HOA had to provide approval of the project, which they did in May of 2017. The approved daycare will be a 9,454 square foot, 2-story, state licensed daycare facility.  The building is unique in that few daycare facilities are multi-story so both Town of Cary building plan review staff and North Carolina Department of Insurance staff reviewed the building plans to verify building code compliance.  This structure will be the only 2-story daycare facility in Cary although; one was approved and issued a certificate of occupancy (CO) in Raleigh earlier this year.

Operation Medicine Drop Pill Take Back Event

Last Saturday, the Police department coordinated the pill take back operations for six locations around Town. In total, we collected 30 boxes with a total weight of over 719 pounds. As a point of comparison, the total weight collected from the national take back event in October was 473 pounds. One of the more successful locations on Saturday was at Bond Park in conjunction with Spring Daze.

It's interesting to note that the total amount collected so far in 2018 (1,013.8 pounds) already exceeds the total amount collected for all of 2017 (924 pounds).

OneCary Certificate For Employees

The first session of the OneCary Certificate Program, Development Review and Economic Development, was held on Tuesday. Staff from Development Services, Planning, Transportation and Facilities, Water Resources and Inspections and Permits provided an overview of the Rezoning and Development Review Processes as well as the process for Building Permits and Inspections. Attendees were taken on a walking tour of Downtown to highlight how development regulations look in the field. Staff highlighted architectural components of downtown buildings, Academy Street renovations and the redevelopment completed at Midtown Square. The OneCary Certificate Program newly developed program offered to staff and is designed to follow the same model as the Town of Cary School of Government. The program provides an innovative, hands-on opportunity to break down barriers between departments and functions and provide everyone with a chance to see the big picture of who and what we are as an organization, working toward becoming the local government that doesn't exist.

US-64 Improvements Update

NCDOT is moving forward with investigating options for improving US-64 from west of Laura Duncan Rd in Apex to US-1 in Cary. This project is included in the 2018-2027 State Transportation Improvement Program (STIP). US-64 is one of the projects being accelerated under the direction of Secretary Trogdon to speed up delivery of transportation projects statewide in an effort to compete economically with neighboring states. Here's what's happening next:

Business Owner Meeting – May 15
Public Meeting – second week in June
Small group/neighborhood meetings – late June

The project website has been updated with a survey about how the corridor is used and what safety concerns people may have.

Ten Ten Rd. Project Update

NCDOT recently mailed property owners along the Ten Ten Rd. study area corridor from Kildaire Farm Rd. in Cary to the Apex Peakway notifying them that the survey work will begin taking place. A public meeting was held March 1, 2018 to review preliminary alternatives for the corridor with a second public meeting tentatively set to take place this summer. Additional information on this project, as well as other NCDOT local projects in Cary, can be found on the website.

NC Railroad Encroachment

North Carolina Railroad (NCRR) believes that Ambassador Loop (including the parking along the railroad tracks and a portion of the planted area abutting Ambassador), portions of the Dixon Avenue Citizen's Convenience Center, and portions of the Page Walker House encroach into a 200-foot wide NCRR corridor. Last year, the Town signed an encroachment agreement with NCRR for the parking along the tracks and NCRR contributed funding for erecting the new fence. NCRR now wants encroachment agreements for the remaining areas. Staff have advised NCRR that the Town is willing to enter into NCRR's standard encroachment agreement for Ambassador Loop and the Convenience Center, provided NCRR agrees, among other amendments to the standard agreement, to increase the notice time if NCRR decides the Town must vacate any of the areas covered by the agreement. The Town is not willing to support an encroachment agreement for the Page Walker House, given its historical and community value. We hope to sign instead an agreement acknowledging Town liability for any portion of the Page Walker House that may be in the corridor.

Sharing Cary's Digital Transformation Journey

Mayor Pro Tem Bush and Nicole Raimundo presented Cary's digital transformation journey at the Interop conference in Las Vegas. There were over 3,000 attendees with a dedicated government track. The session invoked an engaging dialogue around how to launch an environment and culture of innovation in public sector while maintaining current systems and day to day operations. All were very impressed with what we have accomplished. Nicole was also on a panel with fellow NC CIO's, Jeff Stovall (Charlotte) and Jonathan Feldman(Asheville).

Smart Connected Cities Panel

On Friday, Council Member Robinson and Terry Yates served on a panel at Morrisville's Technology Summit. The summit and panel focused on Smart Connected Communities and Open Data. Panel members also included NC Secretary of Technology, Eric Boyett, and Wake County CIO, Bill Greeves.

Briefing on Alternative to NC-540 Extension

In lieu of a request to present to Council, staff met this week with representatives from the Southern Environmental Law Center to receive a summary briefing on ACCESS2040, an alternative to the proposed extension of the NC540 freeway in southern Wake County.

Kids Together Misting Garden

As work continues on the new misting garden at Marla Dorrel Park, this week artist Todd Frahm installed the stone benches that feature his bronze sculptures to include the table-top plaque as well as four chimera situated around the misting arches. The entire work, called "Chimerical" will be unveiled later this month.

Recognitions

We are excited to announce that the Town of Cary has been awarded the Certificate of Achievement for Excellence in Financial Reporting by the Government Finance Officers Association for its fiscal year 2017 Comprehensive Annual Financial Report (CAFR). This marks the 33rd consecutive year the Town has received this award. This is the highest recognition in governmental accounting and financial reporting, and obtaining it represents a significant accomplishment by the Town and its management. Thank you to the Finance team and Town staff for their contributions.

We'd also like to recognize the 44 Cary staff and family members that supported the Wake County Special Olympics Spring Games at Cary Academy on May 2-3. Over 900 athletes competed! Thanks for everyone for sharing their time to help make these games a success!
Emails From Citizens
Emails from citizens this week included:
Concerns about street improvements on Hunter Park Court.
Concerns about zoning violations on Dorton Road.
Opposition and support for the proposed gas station at Kildaire Farm and Penny Roads.
Concerns about a traffic pattern on Walker Street.
Praise for staff that was able to get someone's water turned on after a contractor accidentally cut it off.
A nasty email were I was called a terrible human being and that Cary should be ashamed to have me as mayor because of the gas station under review near Hortons Creek Elementary.
The story behind the gas station under review near Hortons Creek Elementary:
The zoning for the gas station was approved over 15 years ago before Hortons Creek Elementary was even being considered at its current site.
This commercial zoning allows dozens of possible things to be built. Just about anything you can think of that is commercial is allowed.
The zoning for Hortons Elementary was approved in 2016. The council did not discuss all the possible commercial build out scenarios next to the school but residents claim we should have discussed the possibility of a gas station at that time even though it wasn't proposed. Usually school rezoning discussions at council meetings mostly involve traffic concerns.
The owner for the property next to the elementary school, approved 15 years ago, submitted a site plans for a gas station.
Citizens demand we stop the gas station.
Site plans are not council decisions and are not reviewed by council. Instead they are reviewed by staff to make sure they comply with all guidelines.
In addition, we do not have the legal authority to overturn a zoning approved 15 years ago.
The Media runs stories about how community is in an uproar and the town will do nothing. CBS17 and WRAL do an incomplete job and make matters worse.
ABC11 does a complete job in reporting the situation. Thank you!
Misinformation is spread via social media. This also makes a bad situation worse.
Through the social media misinformation people do not understand that we do not have authority to stop the gas station, zoned 15 years ago, and are told to protest to us.
Then the name calling begins which is very unfortunate but is part of the job of being mayor.
Staff is doing everything they can to provide information and help citizens understand the facts related to this project.
Next week will be lighter than normal but will include a half-day session on the budget. Other activities include the Ritmo Latino event, meeting with the CAPRA accreditation team, and staff meetings.
Get In Touch
Well, that is all for this week. My next post will be on Sunday, May 13th.  Although I have Facebook and Twitter accounts those are not the best means of communications with me. Please send all Town of Cary questions or comments to Harold.Weinbrecht@townofcary.org and email personal comments to augustanat@mindspring.com.
---
From the blog of Cary Mayor Harold Weinbrecht. Photos courtesy of Karen Healy and Harold Weinbrecht.
https://carycitizenarchive.com/wp-content/uploads/2018/05/HaroldBlog-May7-Featured.jpg
550
800
Harold Weinbrecht
https://carycitizenarchive.com/wp-content/uploads/2020/03/cc-archive-logo-450-v3.png
Harold Weinbrecht
2018-05-07 10:30:37
2018-05-07 14:59:00
Harold's Blog: Cary Town Council, Elected Officials and More