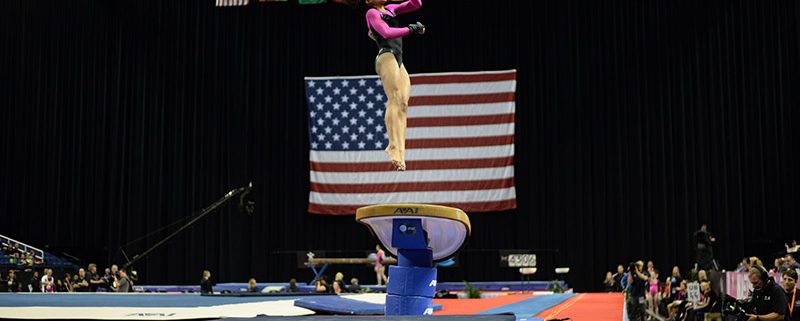 Cary, NC – Traditionally, national and international gymnastics competitions in the United States are held in the Northeast or on the West Coast. But Cary-based Sports & Properties, Inc. worked to bring not only the USA Gymnastic American Cup but also the  Nastia Liukin Cup to North Carolina.

International Competition in North Carolina
The USA Gymnastics American Cup, an international gymnastics invitational and part of the International Gymnastics Federation's World Cup series, will be at the Greensboro Coliseum on Saturday, March 2, 2019, with the Nastia Liukin Cup that focuses on artistic gymnastics on Friday, March 1, 2019.
These two events were first held in Greensboro in 2014 and Sports & Properties, Inc. CEO Hill Carrow said because so many gymnastics events were in the Northeast, West Coast and Texas instead of the South, it was a difficult hurdle to clear.
"It took four years of working with USA Gymnastics to bring one of their high-level events to North Carolina," Carrow said. "While we have very active gymnastics here, North Carolina was not on their radar and it took effort to bring them here."
This experience from 2014, Carrow said, helped the Cary-based sports marketing company bring the event back to North Carolina.
"Those two events did quite well here. We also made it a unique event because we paired with the local gymnastics invitational put on by the Greensboro group Flip Force for a grass-roots competition," Carrow said. "It helped drive additional fan attendance and helped with overall engagement."
The Greensboro invitation will also be back in 2019 around the same time as the USA Gymnastic American Cup and Nastia Liukin Cup.
"Having both regional and international competition just put it over the top," Carrow said.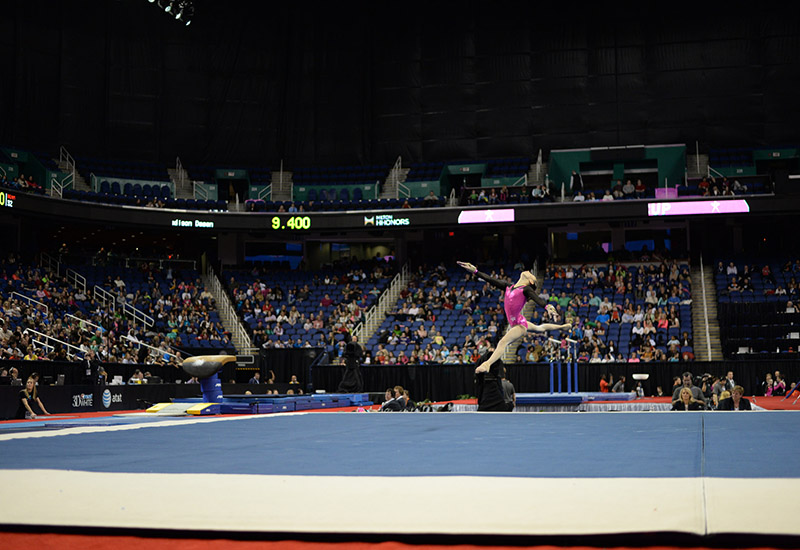 Bigger Event This Time
With this trio of gymnastics events coming five years after Carrow and his company first brought them to Greensboro, he said the event should be bigger as the Greensboro invitational is now a qualifying competition.
"Having that as the last event, it's swelled participation. It's gotten really big, with 3,000 gymnasts competing," Carrow said.
Additionally, the Greensboro Coliseum has also undergone upgrades since 2014 which Carrow said will make it more appealing for spectators.
The competitions also come not long after the highly publicized trial of Larry Nasser and Carrow said there is now "a lot of publicity surrounding gymnastics."
"We still see a positive opportunity with this sports and the athletes competing are world-class," Carrow said. "Also USA Gymnastics has been working hard to make sure this doesn't happen again. At the competition in Greensboro, there will be many protocols in place for athletes' safety and we'll all be working hard with those in place."
Carrow also said this competition may see stars from the 2016 American gymnastics team who have gone back to competition, including multi Gold Medalist Simone Biles. And with the success of these events, Carrow said bringing more high-level gymnastics events to North Carolina is possible.
"We want to be in line for national championships or Olympic trials," Carrow said. "It's a long process and one where you have to earn your dues."
Greensboro will also be hosting the USA Gymnastics National Championships this July.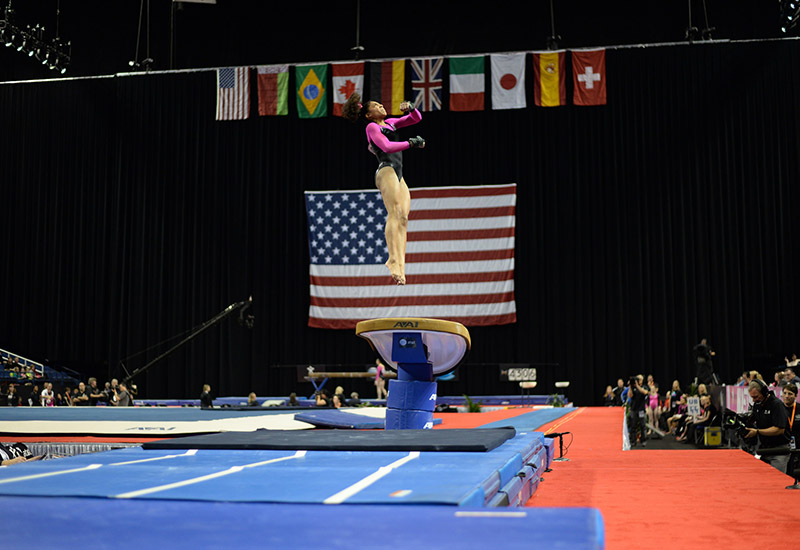 ---
Story by Michael Papich. Photos courtesy of Sports & Properties, Inc.
https://carycitizenarchive.com/wp-content/uploads/2018/05/Gymnastics2.jpg
550
800
Michael Papich
https://carycitizenarchive.com/wp-content/uploads/2020/03/cc-archive-logo-450-v3.png
Michael Papich
2018-05-09 13:07:42
2018-05-09 13:07:42
Cary-Based Company Secures USA Gymnastics Cup in NC