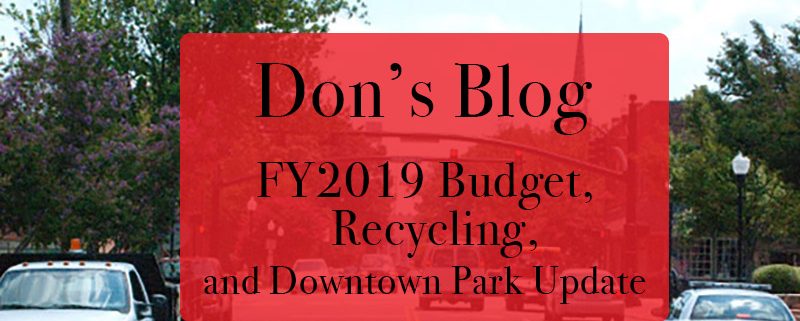 Cary, NC – The council and town staff held our third quarter meeting this past Thursday at the Matthews House in Downtown Cary. Our quarterly meetings are basically a mini council retreat where we reflect on noteworthy projects or initiatives over the last three months and discuss other important items while looking to the future.
Blogworthy discussion items included the budget, recycling and the downtown park.
Budget
We are still early on in the budget process and by "we" I mean the council. Town staff – especially those in finance – never really leave the budget process. As soon as one fiscal year's budget is adopted they begin working on the next one. Who knew that collecting and spending $340 million was so complicated? ; ) Well, it is and we are blessed to have such talented folks working on it – even more so this year. This is the first year that our department directors; rather than simply submitting independent department requests to the Town Manager, worked collaboratively to identify the organization's overall needs to submit a unified recommendation to our Town Manager. The result is a budget that more closely aligns the organization's resources with our community's priorities.
Proposed budget highlights include:
The addition of 12 new firefighters and a new ladder truck
$7.1 Million in street resurfacing
$1.75 Million in new sidewalks
$3.1 Million for Phase III of the Higgins Greenway
Master Plan Phase II of the downtown Park
$1.8 Million for Stormwater initiatives
$6.7 Million for Reedy Creek Road Widening
NO TAX INCREASE
Proposed budget lowlights include:
Sanitation fees will increase $1 per month to help move the system closer to cost recovery
The Annual Vehicle License fee will increase $15.00 to help cover the costs of road improvements and sidewalks
Utility rates will increase 3% per household.
Recycling is becoming more expensive
This was a very interesting part of the budget discussion. While Cary's robust recycling program never came close to breaking even, historically we have been able to sell certain recyclables for about $10.00 a ton. Recent changes in the market however have resulted in us now paying $21.47 a ton to get rid of it. So what happened? Well nearly 40% of US recyclables are shipped to China. That is until China squashed that last year and announced that they would no longer be importing most recyclables. Supply and demand.
Cary delivers roughly 11,000 tons of recyclables to Sonoco Recycling in Raleigh each year. At $10 a ton that generated $110,000.00 in revenue. Paying nearly $22 to get rid of it equals a $220,000 expenditure – a $330,000.00 swing. That stinks, and I ain't talking about the trash.
In the end however it is a values decision. Does our community support recycling enough to invest another $330K to keep doing it? Is diverting recyclables away from the landfill worth it? I believe so. In fact, according to Cary's most recent biennial survey, 93.9% of Cary citizens support Cary's recycling program – It's the right thing to do.
Citizens can comment on the proposed budget at the Budget Public Hearing in Council Chambers on June 14th or via email at budgetinput@townofcary.org. Citizens can also contact council members at council@townofcary.org
Downtown Park Update
The council voted 6-1 to hire the Office of James Burnett (OJB) as the downtown park phase II master plan design consultant.
I had previously blogged about the selection process and firms competing for the job here. All four firms are world class and there is no question that any one of them would do a wonderful job if selected. They didn't get to where they are by being mediocre. After an extensive interview process however, the majority of our town staff and council believed OJB to be the best fit for Cary for a number of reasons.
What really resonated with me was their emphasis on programming, their understanding of the park as a driver for economic development and redevelopment and that Cary's own Withers and Ravenel are their civil engineers.
While it took a little longer to get here than I had hoped, I am very pleased with the end result and look forward to the real work getting started and working with the community to develop a remarkable master plan for the park so we can start building it. Git r done!
That's about it for now. As always thanks for reading and friend me on facebook or follow me on twitter for more town news and announcements.
---
From the blog of Cary Councilmember Don Frantz. Photos courtesy of Don Frantz and Hal Goodtree.
https://carycitizenarchive.com/wp-content/uploads/2018/05/DonBlog-May15-Featured.jpg
549
800
Don Frantz
https://carycitizenarchive.com/wp-content/uploads/2020/03/cc-archive-logo-450-v3.png
Don Frantz
2018-05-16 10:30:37
2018-05-16 09:49:49
Don's Blog: FY2019 Budget, Recycling and an Update on the Downtown Park