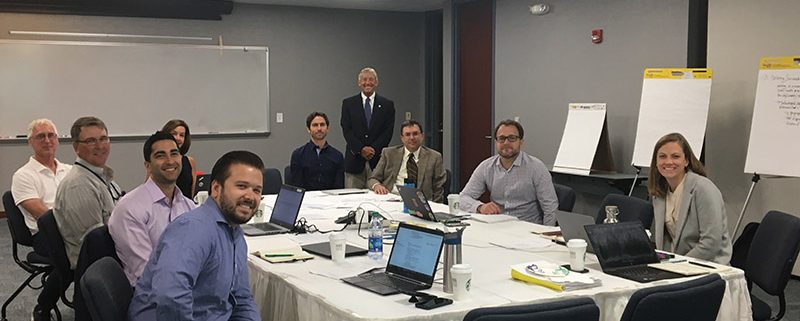 Cary, NC – This week's primary activity was the Cary Chamber Planning conference in Pinehurst.
The week started on Tuesday with an inquiry from a Triangle Business Journal reporter. They wanted to know about economic development investments in Cary.
Wednesday – Opioid Pilot Program
Wednesday I met briefly with a group working on Bloomberg Opioid pilot program. Visiting were coaches from Bloomberg Philanthropies and the Dean of Public Health from John Hopkins with two associates. This was a working meeting to help with the next grant application from Bloomberg.
In addition to the $100,000 we received for our pilot program of opioid wastewater sampling with BioBot Analytics, we could receive a grant of $1 million or the major grant of $5 million. I spoke to the group briefly about the importance of this project to Cary, how it allows us to be proactive rather than reactive, and how it can be used all across the nation.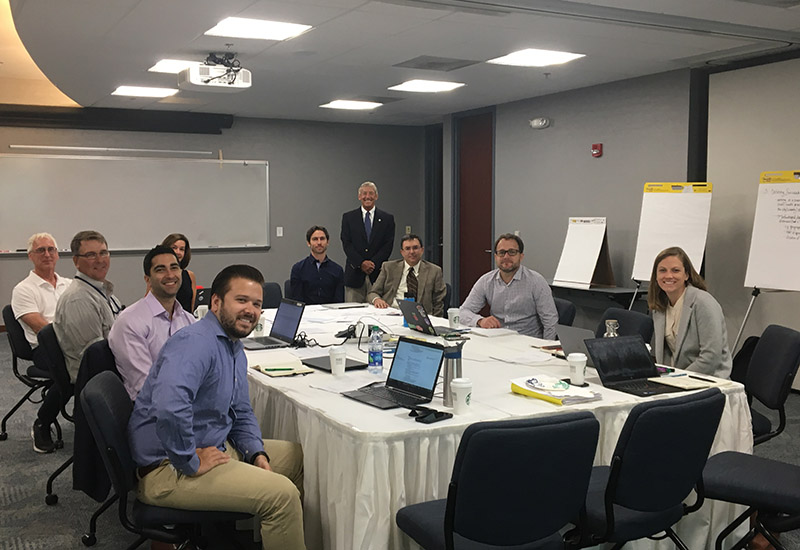 Our opioid pilot program has generated a lot of news lately most of which was incomplete and misleading. That left people speculating that we will use this wastewater project for drug enforcement or invading people's privacy. That couldn't be further from the truth. Actually the lowest granularity would be about a thousand homes. On our webpage it explains:
"…The pilot project will begin the development of a baseline data set that could replace overdoses as the standard metric used to gauge opioid consumption. Counting overdoses relies on damage control instead of the near-real time response wastewater monitoring could provide.
Cary will share aggregate data with public health officials and educators so that effective programs can be deployed and tailored to address those at risk.
The pilot is also expected to increase the public's awareness of local opioid usage trends and encourage discussions among families as a pathway to recovery from addiction.
This is an innovative approach as previous efforts around the world have included whole-city sampling at the headworks of water reclamation facilities. …"
To find out more go to the town's website at https://www.townofcary.org/projects-initiatives/project-updates/wastewater-projects/opioid-wastewater-monitoring.
Thursday and Friday – Planning Conference
Thursday and Friday I joined the entire council and several staff members at the annual Cary Chamber Planning conference in Pinehurst. I provided remarks about downtown businesses and the Eastern Gateway. There were several excellent speakers. Sean Stegall gave a brief update on the process of branding and introduced Don McEachern, President of NorthStar who we picked for our branding campaign. In his remarks Mr. McEachern made it very clear that branding is NOT about a slogan and a logo. He stated that his firm is still in the information gathering stage and will soon start interacting with the public.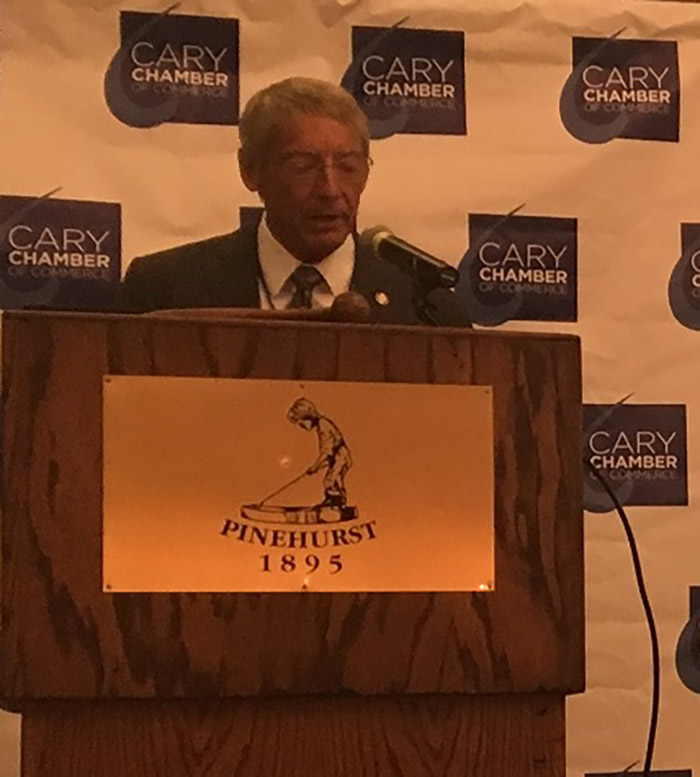 David Ellis, the Wake County Manager, provided an update on what the county is focusing on including data on the need for affordable housing and how that need is growing.
Cathy Moore, the Superintendent of Wake County Schools, presented challenges currently being faced by the school system. She said her philosophy can be summed up in four words: "Each child every day."
The President and CEO along with the Executive Vice President of the Greater Raleigh Convention and Visitors Bureau reported on tourism and visits to the area. When asked about why Cary isn't mentioned in the Raleigh brand the response was that there branding campaign showed Raleigh had more name recognition and just to go with Raleigh. This is despite the fact that Cary accounts for a large portion of visitors and events in the area.
Beth Wood, the North Carolina State Auditor, gave a fascinating report on the wasteful spending going on in North Carolina. She provided an example of Medicaid claims they investigated in ten counties. Nine out of ten of those counties had error rates from 5% to 21%. Wake County was around 5%, Wilkes County was around 1%, and a county near Charlotte was over 21%. In addition, none of them used the same process.
Jim Goodman, CEO of Capital Broadcasting, owner of the Durham Bulls, Wolfpack Sports Marketing, and minority owner of the Carolina Hurricanes was the keynote speaker for our dinner. He said in the beginning "I am going to talk about what is on my mind" and he did with prompts from his IPhone. One interesting topic was about media. He stated that journalists were not trained to handle comments like "I am not going to answer your questions because you are fake media." He believes that can be fixed by the media all agreeing to ask the ignored question until it is answered. He also believed the currently assault on the media is very dangerous to our democracy.
The last speaker was Ted Abernathy of Economic Leadership LLC. He provided very interesting slides about the local, state, and federal economies. He pointed out that over half the salaries in North Carolina are so low that over 1/3 of their income is used for housing which is problematic. He also talked briefly about the rural/urban job market showing that rural areas are losing jobs while urban areas are growing fast. He stated the reason was that rural areas essentially have "no product".
The conference was very informative and affirmed to me that Cary is positioned very well. We will still have to work hard and continue our strong partnership with the Cary Chamber if we are to remain a great place to live, work, and play.
Town Manager's Report
The town manager's report for this week included:
Cary Chamber Conference
At the Cary Chamber Planning Conference on Thursday, attendees received an update on the Town's branding initiative from our consultant, North Star. Don McEachern talked about beginning the research phase of the project as well as some things for the business community to expect going forward.
Additionally, the group also received a mid-year update on the state of our Town from Mayor Weinbrecht, who previewed some exciting things to come in downtown Cary.
Mayor's Challenge Update
On Monday, Stephen McNulty and Mike Bajorek hosted a Facebook Live event to reach out to citizens about the Mayors Challenge and opioid wastewater sampling in Cary. This was a great opportunity to receive and answer questions about the project. The Facebook Live event had 1,700 unique viewers who were interested in the project. Most of the questions were about how the project is funded, privacy issues with sampling the wastewater, and how the data will be used.
On Wednesday a workshop was held with the Bloomberg Mayors Challenge Team to help us develop a winning application for the next phase of the challenge. In addition to our Mayor Challenge Coaches, we were honored to be joined by several representatives from the Johns Hopkins University, Bloomberg School of Public Health. We were also excited to have Mayor Weinbrecht visit with us during our workshop. The Bloomberg Mayors Challenge Committee will select four $1 million-dollar and one $5 million-dollar winning cities to provide a grant funding to implement and expand their idea. Applications for the for the implementation phase are due August 20, 2018. Winners of the grant funding are expected to be announced late 2018.
US-64 Stakeholder/MacGregor Downs HOA Board Meeting
NCDOT held a stakeholder meeting with the MacGregor Downs HOA Board on the US-64 Improvements on Thursday, where the NCDOT project team shared the project history, project need and draft alternatives for public input. These alternatives are available at https://na01.safelinks.protection.outlook.com/?url=http%3A%2F%2Fclick.icptrack.com%2Ficp%2Frelay.php%3Fr%3D22655462%26msgid%3D127440%26act%3D1EHX%26c%3D1655857%26destination%3Dhttps%253A%252F%252Fpublicinput.com%252FU-5301-US64-Apex-Cary&data=02%7C01%7CHarold.Weinbrecht%40townofcary.org%7Cc637f48df5394cbc90eb08d5ee76d03f%7C23f98eb6c8ce4a93856244f005daf93f%7C0%7C0%7C636677116420899127&sdata=SuI%2FBh4W0v3WEN1Wpv5bO0%2B3BRpzadN0vfzxfG3Cc5w%3D&reserved=0.
Since the June 21st public meeting, the Edinburgh Dr. intersection has been revised to improve access at the request of several MacGregor Downs' residents. Two primary concerns were raised at Thursday's stakeholder meeting: aesthetics and noise. The HOA Board wants to participate and continue the dialogues to achieve an aesthetically pleasing roadway serving their neighborhood. Current roadway noise from US-64 is also a concern. NCDOT will initiate a noise survey this summer to help identify potential locations for noise walls. A second public meeting is anticipated in the fall of 2018.
Update: Traffic Calming in Northwest Cary
As a start to traffic calming solutions for the neighborhoods adjacent to the Amberly C-Store development site, a crosswalk was installed this week on Hortons Creek Road at Village Orchard Road connecting to the Nancy Branch Greenway. Members of the Concerned Citizens of Northwest Cary and their new group leader, Kari Balfanz, met with staff on June 25 to continue traffic calming discussions for Hortons Creek Road. Staff anticipates these discussions and activity to continue over the next several months.
Continued Reimagining of Stormwater Management
On Tuesday, the Downtown Stormwater Working Group met with staff to continue the ongoing discussion on adaptive stormwater. A staff member from each of the sub-groups (Maintenance, Modeling, Open Space & Ordinance) gave an update, answered questions, and sought feedback that led to great discussions about where we are and where we're going. Discussions about the Walnut Creek Basin Model and Open Space were particularly helpful in revealing perspectives that will help us continue to work together to build a leading stormwater program.
Western Cary Railroad Crossings Update
On July 11, Cary and CSX Railroad permanently closed Carpenter Fire Station Road at the existing railroad crossing just east of NC-55. Existing traffic signals along NC-55 at Morrisville-Carpenter Rd/Indian Wells Rd and at Carpenter Fire Station Road are being adjusted to address the new traffic pattern for the new route detour. This effort is required prior to bidding the new grade separation project and opening of a new at-grade railroad crossing. Town staff will continue to adjust traffic signal timing to address changes in traffic flow along the closure and alternate routes.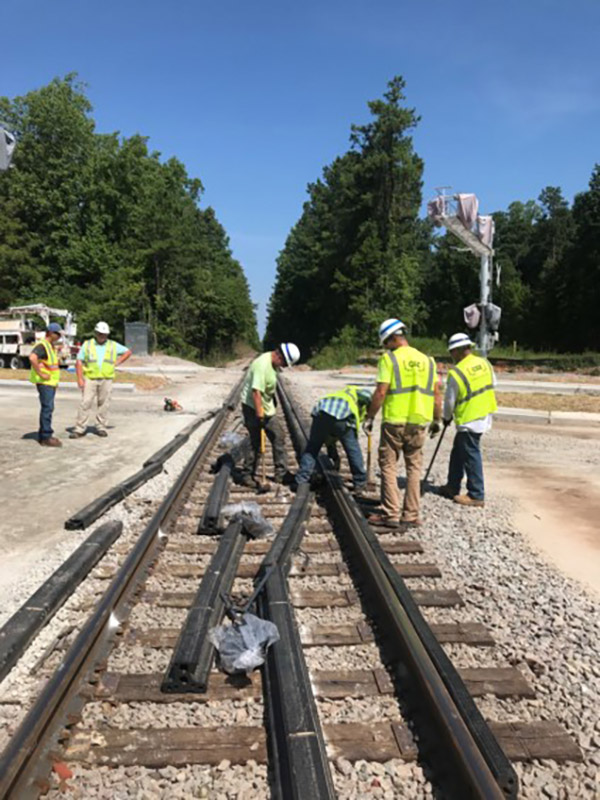 Additionally, at O'Kelly Chapel Road, CSX installed rubber flange materials to allow paving work to finish the new at-grade railroad crossing linking O'Kelly Chapel Road to Little Drive in Research Triangle Park. Staff anticipates work to be finished this fall and is working closely with the developer on the remaining work.
International Local Government Fellows
Duke University holds an annual 3-week course on Fiscal Decentralization and Local Government Financial Management for international government officials, policy-makers, program managers, and politicians. The course covers theory and practice of fiscal decentralization and the roles of central and local government in moving toward more autonomous, accountable and efficient governance. For more than 15 years these professionals have visited Cary as part of the program to learn about local government financial management. This year we had 17 participants from Ethiopia, India, Kenya, Myanmar, Nepal and Zambia.
Wake Transit Plan Meetings
The Towns of Cary, Apex, and Morrisville are refining the details of the GoForward: Wake Transit Plan with the Western Wake Comprehensive Operational Analysis (COA). This effort is designed to look at the specific details and needs of fixed-route bus and demand response services in the Towns of Apex, Cary, and Morrisville over the next few years. Consultants and staff will be on hand at the following open houses to talk about proposed recommendations for Western Wake County services. From feedback gathered through surveys and public meetings in May, we have developed new transit options and we need your input to finalize the proposed recommendations.
July 31 from 5:30 – 7:30 p.m.
Page-Walker Arts and History Center
August 1 from 5-7 p.m.
Morrisville Town Hall
August 2 from 4-6:30 p.m.
Apex Town Hall (with Advance Apex and Bike Apex meeting)
Town Hosts USSSA Baseball Atlantic Coast World Series
Last week the Town hosted, for the first time, USSSA Baseball's Atlantic Coast World Series. This national tournament included 121 of the best youth baseball teams in 8 different age groups (U8 – U18). Over 20 fields were used over the four days of the tournament as we partnered with Holly Springs for the use of five fields. Special thanks to the staff for helping facilitate this tournament, which brought in 4,600 visitors to Cary.
Pressure Zone Shift Meetings
In preparation for the September 12 pressure zone shift, we held two public information sessions this week in the Twin Lakes and WestPark communities. Over 30 citizens attended the open-house style sessions to speak directly with staff and learn how to prepare for the upcoming increase in water pressure. A special thanks to WestPark's long-time Block Leader, Teresa Savage, for helping us arrange the meeting and posting reminders.
The public information sessions are part of a wide-ranging communications approach that also includes letters, social media, free pressure testing and reverse 911 communications.
Information Release Request
WRAL-TV and five other media entities have filed a Petition for Release of Custodial Law Enforcement Agency Recording seeking dashboard camera recordings from the Town, the State Highway Patrol ('SHP') and the Wake County DA. This is the first petition served on the Town since the passage of N.C.G.S. 132-1.4A ('body-cam' legislation). The petitioners seek the release of a recording made August 31, 2016 related to a stop by SHP on US 1 assisted by the Cary PD. We expect that a Wake County Superior Court judge will issue an order requiring the Town to produce any such recording in Town custody for review by the court. The Court will also schedule a hearing at which time the Town, or police department personnel whose image or voice is captured in the recording, may object to the release. At present it appears the Town will have no objection to the release by the Court. The police department is working with the legal department and will respond to any order entered by the Court.
Recognitions
If you didn't catch the program live, take a minute to listen to Thursday's interview about Cary's Barbershop Rap Sessions online. Thanks to Chief Godwin and Tru Pettigrew for sharing our story about building relationships and creating a more resilient community.
Emails From Citizens
Emails from citizens this week included:
A question about when the "Class of 2019" will be painted on the water town across from Cary High School.
A concern about the exterior grounds of the Mayton Inn.
A concern about anti-Semitism and if it is occurring in Cary.
A request to change traffic signals so that bicycles will trigger them.
A request to support hotels on Harrison Avenue.
Suggestions for the second phase of the downtown park.
A concern about a housing development on Davis Drive.
Next week will have several activities including staff meetings, a Cary Matters taping, council's performance reviews of the town clerk and town attorney, downtown park public input session, a CAMPO points review meeting, and a council meeting.
Get In Touch
Well, that is all for this week. My next post will be on Sunday, July 29th. Although I have Facebook and Twitter accounts those are not the best means of communications with me. Please send all Town of Cary questions or comments to Harold.Weinbrecht@townofcary.org and email personal comments to augustanat@mindspring.com.
---
From the blog of Cary Mayor Harold Weinbrecht. Photos courtesy of Harold Weinbrecht. Coverage sponsored in part by the Cary Chamber of Commerce.
https://carycitizenarchive.com/wp-content/uploads/2018/07/HaroldBlog-July23-2.jpg
550
800
Harold Weinbrecht
https://carycitizenarchive.com/wp-content/uploads/2020/03/cc-archive-logo-450-v3.png
Harold Weinbrecht
2018-07-23 13:01:47
2018-07-23 12:49:05
Harold's Blog: Opioid Program, Planning Conference and More