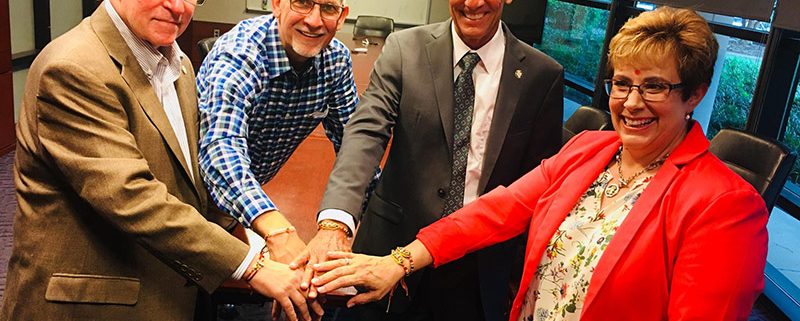 Cary, NC – This week was probably one of the last weeks I will have with open evenings. My calendar should be filling up quickly from now until the rest of the year.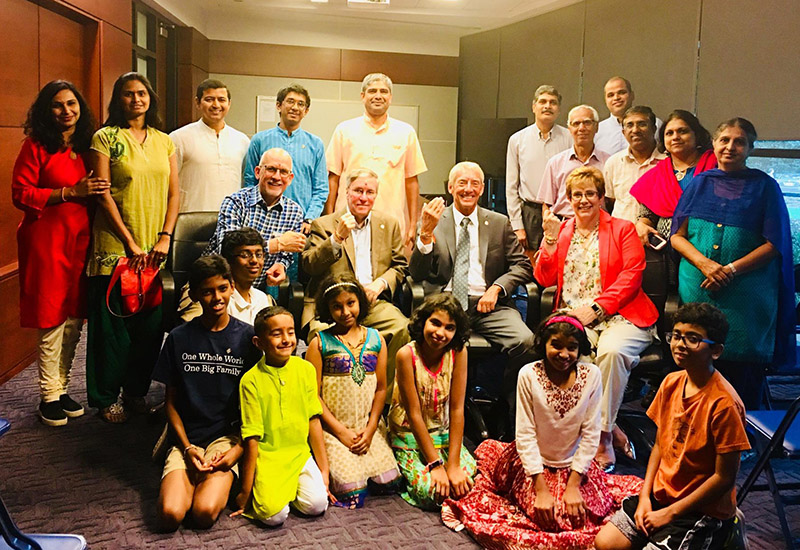 Tuesday – Cary Diwali Preparation
Tuesday I practiced my Bollywood dance. This dance will be held on October 13th. At that time I will dance with my partner for about 1 minute and then we will join 3 others and their partners for a group dance. Those include Mayor Pro-Tem Lori Bush, North Carolina Representative Gale Adcock, and Morrisville Mayor T.J. Cawley. I now know all the steps in my dance but will need to be able to do it without mistakes. Practice on the group dance will begin in September.

Wednesday – Cary Chamber Leadership Dinner
Wednesday I joined the entire council in the Cary Chamber's Leadership dinner. There were 80 people in attendance including all Cary Council members, all Wake County school board members, most of the Wake County commissioners, North Carolina Representatives Adcock, Ball, and Dollar, and U.S. Congressman David Price.
During dinner I sat with Congressman Price, chamber leaders, and the main sponsor. Congressman Price was a delight to talk with. He has a lot of historical knowledge of this area and is very well in tuned with leaders (of both parties). In his remarks he emphasized how crucial it is for everyone to work together to solve issues regardless of the party. We are blessed to have him representing us on a national level. He has done many good things for Cary and other local municipalities over the years.
After dinner I was one of the few that gave remarks. I introduced council members and staff that were in attendance. In my remarks I talked about my remarks of several years ago (in the recession) when I said Cary was positioned to do well if we strengthened our partnerships. I believe that we have done that over the year which is why we are successful today. Then I talked about all the economic development interest in downtown, the Fenton development, and other areas of town. I thanked all of them for their part in helping make Cary one of the greatest communities in America.
Thursday – Cary Council Meeting
Thursday I joined Mayor Pro-Tem Bush, council member Yerha, and council member George in a Rakhi ceremony. Rakhi is short for Raksha Bandhan or Rakshabandhan. This is an annual Hindu cultural ritual performed by the Indian culture. They tie a talisman, or amulet, called the Rakhi around the wrist of the receivers, in this case the council members, for protection. After the Rakhis were attached we all posed for pictures.
Later Thursday the council held a meeting for two quasi-judicial matters and one discussion item.
The first quasi-judicial item was a request by Green Level Baptist Church, who is adding an education building, not to have to provide 50 feet of road right-of-way. The required right-of-way would have gone to the front stoop of the church. Instead they offered 40 feet which was a good compromise. Staff and Council agreed. In addition, they asked not to be required to pay for road widening that would have cost them over $300,000. Staff and council agreed since this is an historic area and the Cary Community Plan describes flexibility for historic areas. That means the road may or may not be widened in this area.
Our second quasi-judicial item was requested by L&L Performance whose business is the sales motor cycles and accessories. They proposed a location for their business off Walnut Street where they would be surrounded by a convenience store, a transmission shop, a small shopping center, Cook-Out drive through restaurant, and the corner of an apartment complex. Most of the concern was about noise but it was pointed out that motorcycle shops, unlike automobile shops, don't allow test drives due to liability issues. It was also pointed out that motorcycles would be allowed at the gas station next door anyway. In addition, it was noted that more noise would likely come from the adjacent transmission shop. The council unanimously granted the special use permit for the motorcycle shop.
After the two quasi-judicial matters the council went into regularly session to finish decisions about the Planning and Zoning board membership and duties which was first discussed at the July 26th meeting. After discussion from both meetings here are the decisions that were made:
The number of members would remain at 9.
The ETJ member would remain a full voting member.
The board must vote on consistency to the Cary Community Plan, required by state law, but may discuss and provide any other information to council.
Public hearings will only be held at council and not at the Planning and Zoning board. Citizens will be invited to speak at any council meeting at the Public Hearing or Public Speaks Out.
While some council members expressed reservations about not having more changes, it was agreed that additional changes could be made in the future if necessary.
The council meeting concluded after about two hours.
Saturday – Ballet Training
Saturday I attended the final session of the International Ballet Association's Boys Ballet Summer Intensive Program. It is designed to give young male dancers an opportunity to receive exceptional training and to be in a supportive environment surrounded by their peers.  This year's faculty included Jock Soto (former Principal dancer with New York City Ballet, former teacher of the School of American Ballet), Jeff Rogers (principal faculty Ballet West), Maxim Ponomarenko (principal teacher International Ballet Academy), Patrick Frenette (American Ballet Theatre), Kiefer Curtis (Carolina Ballet, IBA alum). 51 boys came from distant places as Brazil, Canada, North Dakota, New York, California, Florida, Georgia, and Louisiana to participate in the program. I spent an hour watching instruction and practice. There was an amazing amount of talent on display. After the final practice of the event we all posed for a picture which also included Morrisville mayor T.J. Cawley whose son was participating.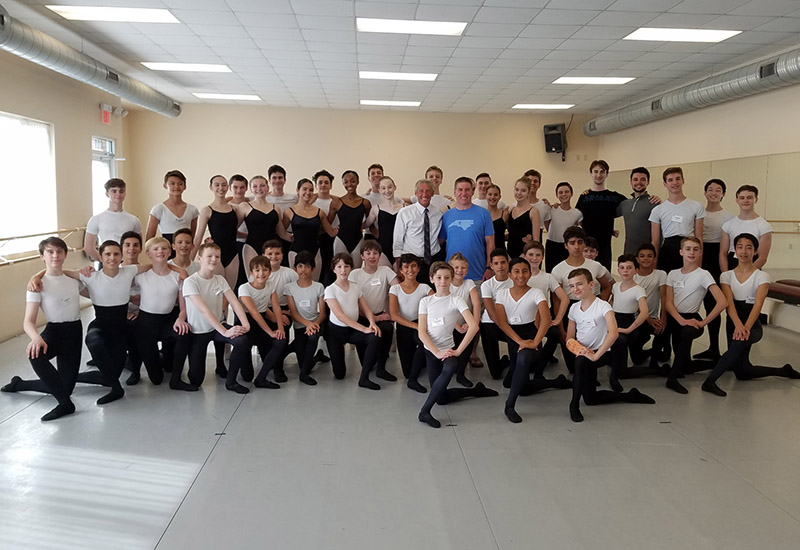 Town Manager's Report
The town manager's report for this week includes:
Previewing Thursday's Quarterly

The department directors and I are looking forward to spending time with you on Thursday at our fourth quarter meeting. We're excited to host the meeting at WakeMed Cary Hospital, which is an important partnership for our community. Similar to the May quarterly meeting, we'll gather for lunch together before jumping into our topic areas. As a preview, the draft agenda has been attached for your convenience. Please let us know if you have any questions or concerns.

Touring Camp High Hopes

Russ Overton and Scot Berry were invited to tour the YMCA's Camp High Hopes located at West Cary Middle School with other citizens and business owners on Wednesday afternoon.

Camp High Hopes is a summer day camp subsidized by donations to the YMCA's Annual Campaign. Campers participate in character-development activities, literacy instruction, sports and swim lessons. Each day, children receive a snack and nutritious meal. Camp High Hopes at the West Cary Middle School location is operated through the Taylor Family YMCA and is offered to elementary and middle school students in Cary.

Water Quality Update on Emerging Contaminants

As part of Cary's 2018 Legislative Agenda, Council supported legislation to provide resources for state agencies to develop reasonable, science-based health advisory levels for contaminants of emerging concern in public water systems. Several recent articles have reported the legislature appropriated $5M to the NC Policy Collaboratory as part of the 2018-2019 state budget to conduct statewide water sampling and testing of public water sources to establish a baseline and monitoring protocol for a group of chemicals classified as Per- and Polyfluoroalkyl Substances or PFAS.

The Town has been proactive in conducting our own testing of both our water supply at Jordan Lake and our treatment process at the Cary/Apex Water Treatment Facility. To date, staff has completed testing for 19 laboratory reports with no detections of GenX. All laboratory testing reports are posted online, search key words, "Emerging Contaminants."

Cary Staff and Council Visit the New Richmond Pulse

Town staff joined Council members Bush, Frantz and Robinson on a tour of the new Pulse bus rapid transit system in Richmond, VA. The tour, led by the Regional Transportation Alliance, offered the group a firsthand experience with an operational BRT system.  They traveled the full length of the 7.6 mile corridor, stopping along the way to study the enhanced transit stops which include raised platforms for level boarding, off-board fare payment options, and real-time arrival technology to enhance the customer experience. The average speed of the Pulse is 13.2 mph compared to 8 mph for local bus service, saving a rider about 20 minutes from end to end.  For comparison, BRT routes in the Wake Transit plan are projected to travel at an average speed of no less than 16 mph.

African-American Programming Gathering

A group of citizens from across the region joined together on August 8 at the Cary Arts Center to share ideas for African-American programming in Cary. PRCR staff met with about 25 individuals and representatives from several organizations; together they discussed ways in which current programming can be enhanced and scheduled throughout the year. Good connections were made and the group will be meeting again to further the conversation.

Say Cheese on #CityHallSelfie Day!

For a second year, Cary will join municipalities across the country on August 15 to mark #CityHallSelfie Day, a day to show pride in local government service and facilities. On this day, people take self portraits in front of local government buildings and share them on social media. Should you choose to stop by Town Hall and snap a photo, be sure to tag it on social media using #CaryNC and #CityHallSelfie. We'll be sharing photos throughout the day on our Twitter (@TownofCary) and Instagram (@EnjoyCary) accounts. The day is organized by ELGL, the Engaging Local Government Leaders Network, a big tent local government professional association of which the Town is a member.

GoCary Meeting with Local Church

GoCary marketing staff met with members of Kirk of Kildaire Presbyterian Church this week to discuss public transportation options throughout the area, as well as the new Youth GoPass. This pass allows youth age 13-18 to travel fare free on any "Go" system in the Triangle. An interpreter was available for the mostly Spanish-speaking group, which was very engaged and asked many questions.  The church is located along GoCary Route 5.

WakeMed Announces Insurance Partnership

Blue Cross Blue Shield of NC recently announced that its 2019 federal health exchange insurance will pay for services only if the customer receives care through UNC Healthcare and its physician network, as opposed to the previous network including UNC Healthcare, WakeMed, and Duke Health.

Today, WakeMed and Duke Health announced a partnership plan, named Ambetter of North Carolina, provided by Centene, a nationally recognized Fortune 100 insurance company. This partnership will allow Wake County residents to have a choice between the two providers, when purchasing health insurance coverage on the health care exchange. More information can be found here.

Cary PD Case Update

If you recall, on February 17, 2018, we responded to Woodland Terrace Nursing Home, 300 Kildaire Woods Drive, in regards to a burglary and rape of an elderly female resident. The suspect, Antwain Lamar Dennis, was quickly identified and captured due to the exceptional work of our own police department and the valuable assistance of numerous partner law enforcement agencies in the region. On August 8, Mr. Dennis received a minimum sentence of 483 months and maximum 644 months (40 – 53) years in prison for his crimes in this case.

Walnut Street Lane Closure 

Due to the construction of utilities for the Downtown library, Walnut Street between Kildaire Farm Rd. and South Walker Street will be reduced to one lane beginning August 13 from 9am-4pm for two weeks. Work will be conducted in the eastbound and center lanes of Walnut Street; drivers traveling through the area are encouraged to use alternate routes. All lanes will be open on Saturday, August 25 for the Lazy Daze Arts & Crafts Festival and Monday, August 27 for the first day of Wake County Public School System's traditional calendar.

Recognitions

Special thanks to everyone in the Police Department who helped make the eighth season of Camp Confidence so successful. The Camp is a great opportunity for rising high school freshmen to explore future careers and to establish relationships with school resource officers.

Congratulations are in order for Stacey Escamilla as she recently earned her Associate Professional in Human Resources certificate! Stacey started with the Fire Department in 2014 and has recently started applying her new skills by working in Human Resources.

And another congratulations goes to Cindi King for being awarded the Jan Parker Scholarship by the NC Parks and Recreation Association. This scholarship is a competitive process awarded to outstanding professionals and will help Cindi attend the national conference in Indianapolis this fall.
Emails From Staff
Emails from staff this week included an answer to a question about when the two Wegmans will be built. This is the response:
"Thanks for your email regarding the Wegmans at Fenton.  We are very excited about the Fenton development and look forward to construction beginning soon.

You are correct in seeing that the other Cary's Wegmans location (in Twin Lakes area, off of Davis Drive) is already under construction and is ahead of the Fenton Wegmans as has been the case since announcing in Cary.  These are actually 2 entirely separate developments, with different developers/contractors.  I don't know that I've seen a specific opening date for the Fenton Wegmans although I'd agree that the 2020 date provided by the Mayor is a great guess, know all the site work/construction that goes into these types of projects.  So that you get the most accurate information I've actually copied Abbitt Goodwin with Columbia development to see if he or his team can get you more info.

You may be interested in seeing some of the other tenant news that was announced last week for Fenton as well.  I know they have several social media sites that you may want to follow for progress/info as well.

https://www.newsobserver.com/news/local/article215845255.html.
Emails From Citizens
Emails from citizens this week included:
An inquiry about using the Cary Theater
Questions about the future Wegmans stores in Cary
Concerns and questions about intersections around Davis Drive and High House
Requests from candidates that want to meet (usually they want endorsements and I don't give any endorsements unless they are friends)
A question about local, state, and federal authority regarding code enforcement
A concern about Cary's utility system
A concern about pedestrian safety on Cary Parkway
A question about venues for National Association of Black storytellers
Next week's activities include staff meetings, a meeting with a developer, a CAMPO (Capital Area Metropolitan Planning Organizational) meeting, a quarterly meeting of the Cary Town Council, the We Strive event, and Indian Independence Day.
Get In Touch
Well, that is all for this week. My next post will be on Sunday, August 19th.  Although I have Facebook and Twitter accounts those are not the best means of communications with me. Please send all Town of Cary questions or comments to Harold.Weinbrecht@townofcary.org and email personal comments to augustanat@mindspring.com.
---
From the blog of Cary Mayor Harold Weinbrecht. Photos courtesy of Harold Weinbrecht.
https://carycitizenarchive.com/wp-content/uploads/2018/08/HaroldBlog-Aug13-2.jpg
550
800
Michael Papich
https://carycitizenarchive.com/wp-content/uploads/2020/03/cc-archive-logo-450-v3.png
Michael Papich
2018-08-13 10:01:53
2019-12-08 15:30:48
Harold's Blog: Town Council Meeting, Wegmans and More