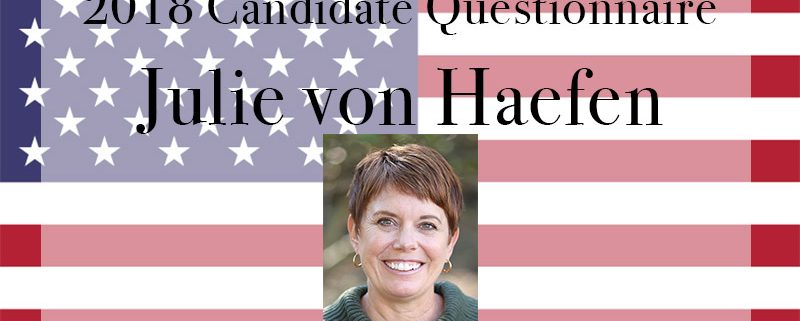 Cary, NC – We are now putting out our questionnaires from candidates in the 2018 elections in Cary and Morrisville. This questionnaire comes from Julie von Haefen, who is running for North Carolina House District 36 as the Democratic Party nominee.
We will be publishing more questionnaires leading up to the elections. These are in the candidates' own words and we do not edit or alter the content in their responses aside from formatting.
Why are you running?
I am running for the State House because I believe that it is time for new leadership in District 36. For nearly 14 years, we have had the same stale representation and a legislator that continually puts his corporate donors interests over our own. As a longtime public school advocate and PTA leader in our community, I've become increasingly upset and disappointed with the decisions made by my opponent and the current leadership in the General Assembly regarding the lack of support and funding for our public schools. As a parent, I'm also concerned about our environment and preserving our resources for the next generations. I want to bring a new voice to District 36, as someone who has been active in our community and with our families, a representative who will respond to constituents and someone who will work with both parties to get things done.
What are your top three priorities and how will you accomplish them?
We need to lower the cost of healthcare in North Carolina, create a long-term strategy to increase teacher pay and education spending, and ensure that our government is accountable to its citizens. I plan to work with Governor Cooper and all legislators, regardless of their party affiliation, to expand Medicaid, which will allow 500,000 of our neighbors access to care and lower premiums for those of us with existing plans; bring teacher pay up to at least the national average and improve our teacher pipeline; and stand up to the corporate special interests that influence our system for the benefit of the few.
Give us a brief bio and tell us about your relevant experience
I am an attorney licensed in three states and practiced law for 10 years. I stepped away from my career to stay home with my three children. When they entered the Wake County Public School System, I became very involved in the Parent Teacher Association (PTA) and have been a public school advocate for almost a decade. I was our elementary school PTA president for two years and recently finished my term as the Wake County PTA Council President. I still serve on the Board of Directors for the North Carolina PTA and was the State Advocacy Chair and Federal Legislative Chair last year. In these roles, I've worked with our school board, county commissioners and legislators at the state and federal level to address the growing list of challenges our schools face. I've advocated for North Carolina schools, children and teachers on Capitol Hill in Washington D.C. and met with federal legislators to discuss education funding and safer schools.
I organized and led the efforts here in Wake County and NC to stop the General Assembly's unfunded class size mandate, otherwise known as "class size chaos," that would have resulted in massive educator layoffs across our state and tax increases at the county level. I'm ready to take my experience as an attorney and an advocate to work across the aisle in the General Assembly so we can solve the issues of education underfunding, increasing healthcare costs, contaminated drinking water, and a legislature that no longer works for us.
Website: JulieforNC.com
Email: julie@juliefornc.com
Facebook: Julie von Haefen for NC House 36
Twitter: @juliefornc
---
Read more in the Candidate 2018 series.
https://carycitizenarchive.com/wp-content/uploads/2018/10/vonHaefen-Questionnaire-2018.jpg
550
800
Community Contributor
https://carycitizenarchive.com/wp-content/uploads/2020/03/cc-archive-logo-450-v3.png
Community Contributor
2018-10-08 09:07:09
2019-12-08 15:31:07
Candidate Questionnaire: Julie von Haefen