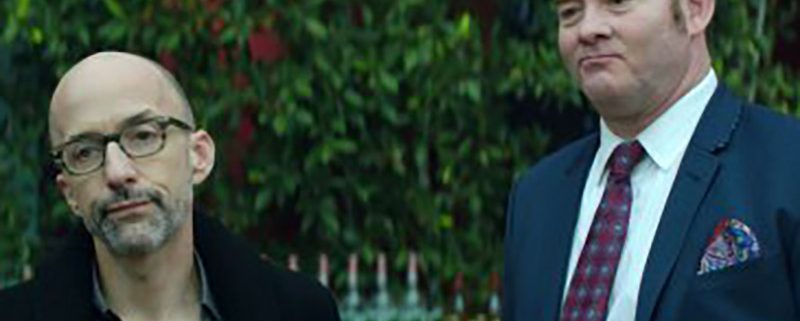 Cary, NC – One of the benefits of having an art house movie theater in Cary is being able to see smaller touring films and this weekend, the comedy "Bernard and Huey" plays at the theater, directed by Dan Mirvish and written by cartoonist and screenwriter Jules Feiffer in 1986 and based on characters he created from the late 1950s.
Comedy Decades in the Making
"Bernard and Huey" plays at the Cary Theater on Saturday, October 20, 2018 and tells the story of two college friends played by David Koechner and Jim Rash with very different personalities who reconnect after many decades and share tales of their failed romances.
Director Dan Mirvish said he was attracted to the story because he could see a piece of himself and his friends in the characters.
"Even though I'm married and they're single, I can relate to middle age issues and the women in their lives," Mirvish said. "As a director, I need to find my own way in emotionally. If there's no way in for me, it's easy to get frustrated and quit."
The screenplay itself comes from Jules Feiffer, well known for his award-winning cartoons in the Village Voice as well as several scripts for both stage plays and film. The script itself was written in 1986 but was based on characters Feiffer created for his cartoons back in the 1950s. To find the script to produce it, Mirvish said they had to get a handwritten copy from the Library of Congress.
But even though the script was written so many decades ago and the characters even longer than that, Mirvish said it still feels relevant because so much of it deals with Bernard and Huey's view and treatment of women, which he said is now at the forefront due to the MeToo movement.
"It deals with issues of masculinity and femininity in a way that feels remarkably relevant," Mirvish said. "It shows these issues have been with us for more than 60 years."
In making "Bernard and Huey," the timeline has been adjusted so it lines up with the present, although the film does feature flashbacks to the characters' pasts in the 1980s.
"It lined up with my own timeline when the characters are in college," Mirvish said. "I was able to film in my garage with all my old stuff I had from the past."
Importance of Local Theaters
When "Bernard and Huey" finished, Mirvish and his team played the film at festivals around the world and won awards along the way. Then, it opened in a limited release in 10 cities but Mirvish said he wanted to keep showing it.
"It got good reviews and I wanted to keep releasing it," he said. "Independent theaters are a big opportunity for me and for audiences to meet one another and for the audience to ask questions. You don't get that online or in a big cineplex."
Mirvish said many filmmakers nowadays are encouraged to push their films onto streaming platforms such as Netflix or Amazon Prime but he said that does not give him the kind of engagement he looks for.
"If you make a comedy, you want to hear people laugh. If you make a drama, you want to hear people cry. If you make a horror movie, you want to hear people scream," he said. "Online, you don't get that feedback."
The Cary Theater also has a direct connection to Mirvish: his sister was the architect during the theater's rebuild and redesign in 2011-2013.
"Bernard and Huey" plays at the Cary Theater on Saturday, October 20, 2018 at 7 PM. There will be a Q&A with Mirvish following the screening.
---
Story by Michael Papich. Photos courtesy of Dan Mirvish.
https://carycitizenarchive.com/wp-content/uploads/2018/10/BernardHuey3.jpg
550
800
Michael Papich
https://carycitizenarchive.com/wp-content/uploads/2020/03/cc-archive-logo-450-v3.png
Michael Papich
2018-10-18 10:44:19
2018-10-18 10:44:19
Cary Theater Screens Comedy More than 30 Years in the Making