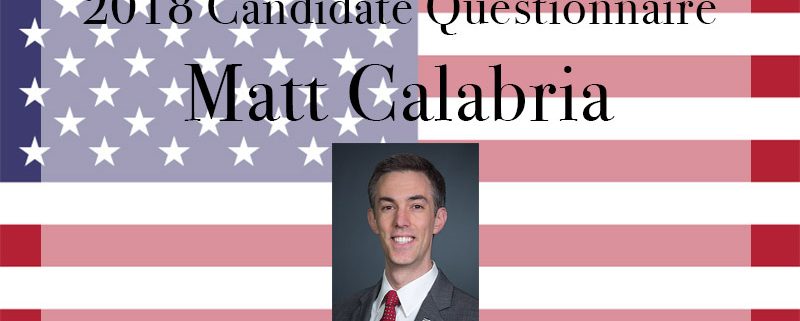 Cary, NC – We are now putting out our questionnaires from candidates in the 2018 elections in Cary and Morrisville. This questionnaire comes from Matt Calabria, who is running for the Wake County Board of Commissioners District 2 Seat as the Democratic Party nominee.
We will be publishing more questionnaires leading up to the elections. These are in the candidates' own words and we do not edit or alter the content in their responses aside from formatting.
Why are you running?
I'm running because I believe Wake County needs forward-thinking leadership. As a Wake County Commissioner, I have been an advocate for a strong public education system, including much-needed teacher pay raises. I also worked to expand early childhood education and am one of the county's leading advocates for measures to combat childhood hunger. As the Chair of the Commission's Public Safety Committee, I pushed for measures to address the opioid epidemic, improve fire service, and ensure that first responders' radios will not cut out during a school emergency due to lack of cellular reception. I have also worked to improve housing affordability, expand public transportation, increase funding for the arts, provide job training to jail inmates, pass the county's first paid parental leave ordinance, and reduce veteran homelessness.
I am running to continue this work. I want to build on the gains we have made in our school system so that we provide an internationally competitive education to every student. I want to continue implementing a plan to triple bus service in the next several years, a measure that will help address our increasing traffic problems. As we grow, we've got to make sure everyone has the opportunity to find an affordable place to live. And if we want to continue creating cutting-edge jobs, should ensure that we provide adequate worker training and extend support services to our entrepreneurs.

What are your top three priorities and how will you accomplish them?
First, as the son of a high school principal and the proud product of public schools from kindergarten through college, I believe that Wake County must increase its support for public education.  In my first term as a county commissioner, I voted to substantially increase county support for public education. I have worked to raise the local portion of our teachers' pay by 44% ($2,600), making it now the highest in the state. I also voted to make Wake County the first county in the state to put significant local funding toward SmartStart. In addition to building on these efforts, I hope to provide needed teaching supplies and hire more school counselors and social workers.
Second, the Wake County Commission should continue our march toward expanding affordable housing options. This includes not just increasing our affordable housing stock but working with municipalities to impose forward-thinking planning and zoning ordinances that create more housing options at prices people can afford. The commission's passage of the county's first comprehensive affordable housing plan will bolster these efforts and help us chart the best course for decades to come.
Third, Wake County should better address economic development and economic mobility. The prospect of new arrivals by Amazon and Apple highlight the importance of making sure we grow thoughtfully. That will require us to prioritize transportation, the preservation of open space, and the development of vibrant centers/downtowns in our municipalities. We must also work to expand opportunities for working class families to become upwardly mobile. I have worked hard to lead by example by authoring a living wage ordinance for county workers, enacting our first paid parental leave policy, and creating programs that provide worker training, life skills courses, and GED classes to our jail inmates so we can decrease recidivism and give them the best possible chance at success. In my second term, I will endeavor to improve opportunities for upward mobility by continuing my work with Capital Area Workforce Development and other county agencies to improve worker training opportunities.
Give us a brief bio and tell us about your relevant experience
I am the son of a high school principal and a stay-at-home mom. My parents gave me a deep admiration for public service at a very young age and taught me the value of hard work and thoughtful decision-making. These lessons served me well during my undergraduate work at UNC-Chapel Hill, where I served as student body president. I also attended the Duke University School of Law, where I gained the tools to help people make sense of their government and the law. As an attorney, I have worked as both a business and public interest litigator, helping my clients overcome some their most difficult obstacles. In 2017, I became a superior court mediator certified by the NC Dispute Resolution Commission. The skill sets I have gained enable me to better understand complex problems and work through disparate interests to achieve positive results.
My experience as a county commissioner has shown me how to use the levers of government for the benefit of people from all walks of life. Only 35 years old, my experience in law, in volunteering for various nonprofit organizations, and on the county commission give me the energy and knowledge to advocate for all of our citizens. For my work on the commission, the News & Observer named me one of twelve up-and-coming young leaders who are "step[ping] up to lead the Triangle" and called me "perhaps [the commission's] most influential progressive voice." In 2015, the Triangle Business Journal named me one of the Triangle's "40 Under 40." In 2016, I received WakeUp Wake County's Leadership Award for my efforts to pass a county-wide transit referendum. My candidacy has been endorsed by organizations such as the Sierra Club, the Police Benevolent Association, the Home Builders Association, Equality NC, and several others, as well as almost all of Wake County's mayors.
Lastly, my wife Molly and I just welcomed our first child earlier this year.  I am more invested than ever in the future of Wake County.
Website: www.mattcalabria.com
Email: matt@mattcalabria.com
Facebook: www.facebook.com/MCalabria
Twitter: @Matt_Calabria
---
Read more in the Candidate 2018 series.
https://carycitizenarchive.com/wp-content/uploads/2018/11/CalabriaQuestionnaire-2018.jpg
550
800
Community Contributor
https://carycitizenarchive.com/wp-content/uploads/2020/03/cc-archive-logo-450-v3.png
Community Contributor
2018-11-05 09:32:08
2019-12-08 15:31:10
Candidate Questionnaire: Matt Calabria