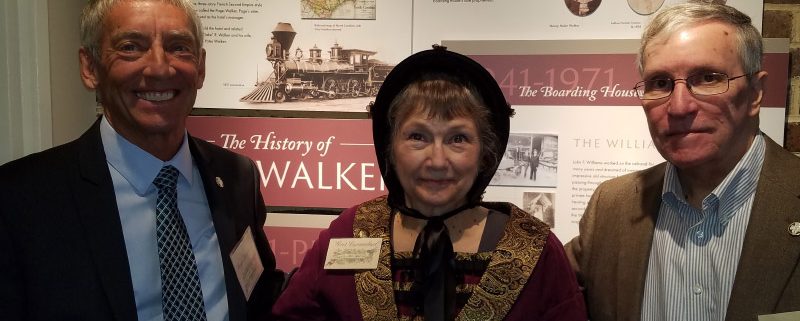 Cary, NC – This week consisted mostly of events and presentations.
My typical weekly one-on-one meeting with the town manager was cancelled on Monday so my only duty was to sign papers.
Tuesday – Downtown Park Meeting
Tuesday I joined the entire council and about 200 residents for a public meeting regarding phase II of the downtown park. The consultant's presentation lasted about 30 to 45 minutes and included information captured from a public workshop held earlier in the year.
They provided three concepts for the attendees to vote on. Each of the concepts included a water feature, a children's play area, an active entertainment area, a flexible meadow area, a flexible plaza, a dog play area, and much more. Since I can't possibly do it justice by describing it in this journal I would strongly urge all readers to view the video. Make sure to give comments on what you like and don't like to the consultants. You can find the video at https://www.youtube.com/watch?v=RCzx-jDRvGk.
Wednesday – Women's College Cup
Wednesday I attended a reception for the 2018 Women's College Cup. There were several dozen people in attendance including council members, town staff, NCAA committee members, North Carolina FC Youth (formerly CASL) representatives and Campbell University representatives. I told the group how excited we were to host a record eighth women's college cup and that we were looking forward to holding the women's college cup in 2020 and the men's in 2019 and 2021.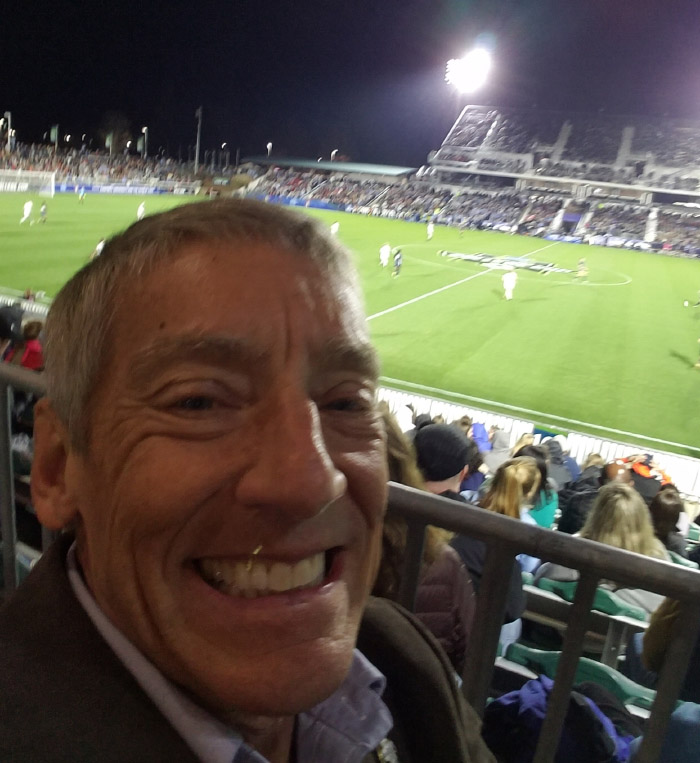 I believe our ability to get the college cup back after losing it because of HB2 was mostly because of the relationship we have built with the NCAA over the years, including being a championship city. We value our partnership with the NCAA and hope it strengthens over the coming years.
Thursday – Kildaire Rotary Club
Thursday I gave a presentation to the Kildaire Rotary. This rotary club has been in existence for about 35 years. Previous members included former mayor McAlister. My talk lasted about 20 minutes followed by about 10 minutes of questions. Topics included in my talk were finances, transportation, the Downtown Park, stormwater, and police body cams.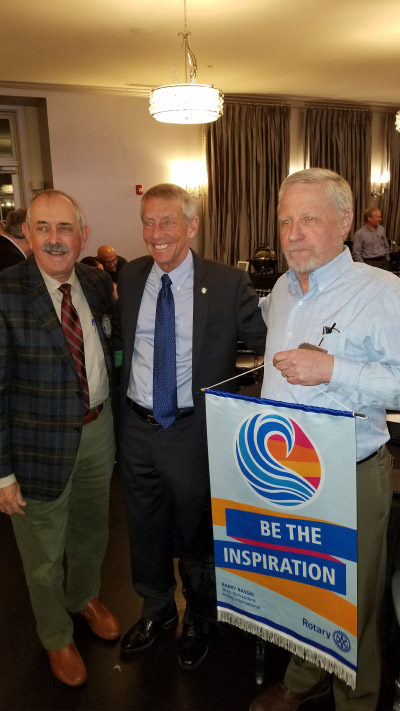 Friday – North Carolina Mayors and Women's College Cup
Friday morning I participated in a legislative update meeting of the North Carolina metro mayors. Topics discussed included sales tax redistribution, Hurricane Florence recovery, Historic Preservation Tax Credit, Voter ID, Economic Development, and Public Safety.
Friday evening I attended the Women's College Cup semi-final match between North Carolina and Georgetown. This marked the 8th time we have held the Division I Women's College Cup in Cary which is a record. The match was sold out but people were still coming in during the second half. Luckily there were two overtimes that allowed the latecomers to see some great soccer. Cary is so proud to host this championship. We have already been chosen to host the women again in 2020 and the men next year and in 2021. This college cup weekend combined with NCFC showcase tournaments, which brings in 500 teams, has an estimated economic benefit of $9 million.
Saturday – Page-Walker Hotel and Tree Lighting
Saturday afternoon I participated in the 150th celebration of the Page-Walker hotel. Council member Ed Yerha provided remarks and I read a proclamation. Then I joined Kris Carmichael in the unveiling of a display marking the 150th anniversary. Afterwards I was able to talk with descendants of Cary's founder Frank Page and others associated with the hotel. One note of interest in my conversation was from a family member of the last family to live in the Page Walker. He said there said that the smoke house on the hotel property today was not there in 1982. Hmmm I would love to know how it got there.
Saturday evening Cary held its annual tree lighting ceremony emceed by WTVD anchor Steve Daniels. It has been our tradition for the last few years to have our hometown spirit award winner be the honorary lighter. This year we were blessed to have Guy Mendenhall, the longtime athletic director at Cary High School.
Due to rain, the pre-tree lighting performances were held inside the council chambers. There was standing room only in the chamber which holds about 300 people. The ceremony had fantastic performers including singers, dancers, and a jugger. All had to audition in November to be selected to perform. After the performances, I gave remarks and introduced council members Smith, Robinson, Frantz, Yerha, and George. Then I turned the microphone over to Mr. Mendenhall who gave one of his trademark stories. Then we all headed outside for the lighting of the tree. After a countdown from 10, the switch was thrown and the tree was lit marking the official beginning of the holiday season in Cary.
Town Manager's Report
The town manager's report for this week included:
NCAA Back in Cary

After a 2 year break due to HB2, NCAA College Cup is back in Cary! The Mayor and Council Members Yerha, Frantz, Smith and George welcomed NCAA staff and the Women's Soccer Committee back to Cary at a reception at The Mayton Inn. Women's Soccer Committee Chair Janet Oberle stated that nothing matches the feeling of playing in a full stadium in front of crowds of cheering fans. Scott Dupree of the Greater Raleigh Sports Alliance said "Saying the stadium field was pristine, immaculate and perfect" was probably an understatement.

Meanwhile, Public Works Staff worked diligently to prepare the field for the 10,000 fans that will attend the games on Friday night and Sunday.

Cary Hosts Special Olympics

Special Olympics Wake County's annual Basketball Skills Competitions were held at Bond Park Community Center November 15-16. Area Special Olympians from preschool age to high school competed. Over 25 Town of Cary employees, retired employees and family members were on hand to ensure that these two days were very successful for the athletes with lots of cheering, smiles and hugs. A special thank you to those who took time to make a difference in the lives of others! It's the Cary Way – working together to change lives through exceptional service!

Hemlock Bluffs Grant

The Duke Energy Foundation awarded the Friends of Hemlock Bluffs a $9,700 grant for the Exhibit Improvement Project.  We are excited to leverage new grant funds with organizational funds and community funds to continue improving the displays in the Stevens Nature Center's exhibit hall. After the recent successful completion of the "Wildlife In Action" exhibit using Jandy Ammons Foundation grant funding, a standard of excellence has been set for integrating technology, interactivity and hands-on family fun into the exhibits in the Stevens Nature Center. Planning for the next phase will begin in the New Year.

NC Treasurer's Office

Attached is a memo providing information regarding the Town's potential local government pension fund obligations. State law requires that this information be provided to Council.

Paper Shred Event

On November 17, our citizens recycled nearly 25 tons of paper at our ninth annual shred event in celebration of America Recycles Day at the Garmon Operations Center. During the 4-hour event, Town staff along with Green Hope High AP Environmental Science student volunteers greeted and directed more than 1,000 vehicles, with a staggering 100 cars pulling through in the first 20 minutes. A 25% increase in participation compared to 2017 highlighted another successful event.

Cary Shares Expertise

Chief Tony Godwin and Tru Pettigrew presented Moving Ideas to Action: Courageous Conversations at Reconnect to Community, the first forum in a six-forum series created by NC State's Institute for Emerging Issues. Tony and Tru captivated the audience with the story of how they met, started working together, and are continuing to change lives in Cary. For more information on Reconnect NC and the forum series, please visit https://iei.ncsu.edu/reconnectnc/.

On Wednesday, Council Member Jennifer Robinson and Terry Yates presented at IdeaLab, the City of Durham's community of practice. The presentations focused on how data analytics help governments make better informed decisions about their community and the implementation of Cary's Smart City Vision. They also served on a panel focused on what the ideal smart city of the future will look like.

Town of Cary was well represented at the 2018 NCSITE Annual Meeting pf the North Carolina Section of the Institute of Transportation Engineers (NCSITE). Staff from Transportation & Facilities attended sessions dedicated to topics as diverse as bike and pedestrian projects, environmental analysis, connected and autonomous vehicles, as well as roundabouts and safety. Special recognition to Luana Deans for Moderating the Before You Build It, NEPA It session. NCSITE was established to promote sound transportation engineering practices in the planning, design, operation, and management of transportation facilities and equipment for the safe, convenient, and efficient movement of people and goods. Planners, engineers, and architects, as well as vendors, practitioners, and elected officials all call on NCSITE and ITE for the advancement of transportation principles across the country.

David Spencer presented at the Regional Transportation Alliance (RTA) – NCDOT Intersection Solutions Forum at SAS on November 13. David and Josh Hurst of Clark Nexsen collaborated to find innovative solutions to improve safety at the Buck Jones Road / Walnut Street intersection and then presented their findings at the RTA-NCDOT Intersection Solutions Forum. After evaluating past crash data, it appears many of the crashes occur at the REI driveway and median opening on Buck Jones Road. One proposed solution was to install a half signal at the REI driveway. A half signal at this location would regulate Buck Jones Road southbound traffic and REI driveway traffic but leave the northbound traffic free flowing. These solutions were developed as part of RTA's Municipal Partnerships which pairs a town and consultant to develop innovative solutions at difficult intersections.

On Wednesday evening, Nicole Raimundo participated in a panel discussion with Secretary and State Chief Information Officer, Eric Boyette, City of Raleigh CIO, Darnell Smith and Ariana Soto of Coding it Forward to share our thoughts on technology in government with UNC Institute of Politics students.

NCLM Advocacy Goals Conference

Council Member Robinson and staff members Lisa Glover and Lana Hygh participated in the League's Advocacy Goals Conference on Nov 29. The purpose was to discuss and debate the proposed goals that had been put forward by communities across the state, reviewed and refined by Legislative Action Committees and finally approved by the Board. At the end of the day, each community voted on their top 10 goals with the results being announced in today's League Letter.

Imagine Cary Implementation

The Imagine Cary Pit Crew Focus Teams continue to meet to discuss implementation of the Cary Community Plan. The Strong Neighborhood Focus Team recently met to review the number of projects and activities advancing the Actions of the Plan. Overarching topics in this focus team include housing, innovation, resilience and sustainability, plan Integration, and stakeholders.

The team has identified several exciting projects currently underway. A neighborhood services working group has formed to document Cary's current activities, resources, and partnerships for addressing citizen needs.

The group recently submitted a project proposal to the Fannie Mae Sustainable Communities Challenge requesting funding to develop a system to assist citizens in need identify community resources and diagnose additional needs to maintain a healthy and stable living environment.

Another desired outcome for the working group is to proactively address potential neighborhood decline, which is in concert with the Police Department's project titled Risk Terrain Analysis. The Risk Terrain Analysis is using SAS Analytics and Power BI data to document "tipping point" indicators that can be used to make predictions on neighborhoods in need.

Other projects currently underway include the Smart City Committee work on the integration of existing data, operations, processes and new technology to create a Smart City roadmap.

Staff also participated in the recent ReConnect to Community Forum presented by NC State's Institute for Emerging Issues. The forum explored the rise of disengagement and provided strategies to re-energize citizens, focusing on solutions for innovative strategies to engage residents.

Bridge Replacement Planned 

NCDOT held a field scoping meeting on November 29 with Town staff, CAMPO and the project consultants to discuss the project scope, existing conditions and design issues related to the Green Level Church Road Bridge Replacement. Of primary concern to Town staff is that the project is only funded to replace the existing 2-lane bridge. Traffic demand along Green Level Church Road will continue growing due to a third school opening in the area as well as anticipated development. Alston Ridge Middle School will open as a year-round school in August 2019, serving 1,450 students. Staff will continue collaborating with NCDOT and CAMPO to explore funding options to build a 4-lane bridge.

Sustainability

In late October, Governor Cooper chose to sign Executive Order 80 here in Cary at the SAS Solar Field. This Executive Order commits the State of North Carolina to a 2025 deadline to 1) reduce statewide greenhouse gas emissions by 40% from 2005 levels, 2) increase the number of zero emission vehicles to 80,000, and 3) reduce energy consumption of state-owned buildings by 40% from 2002-2003 levels.

On November 13, the fourth "EDF Cities Initiative Roundtable" convening of city staff and elected officials from around North Carolina (Highlands, Asheville, Charlotte, Winston-Salem, Greensboro, Hillsborough, Chapel Hill, Durham, Carrboro, Raleigh, Cary and Wilmington) met to talk about working together to make progress on their respective local carbon and energy reduction goals. Cary's Sustainability Manager, Emily Barrett will continue to be involved in future phases of this effort since Cary has been working toward the goals of Council's Strategic Energy Action Plan (a plan to reduce Town operational energy use, cost, and emissions).

Taking Care of our Employees

November is National Diabetes Month and we acknowledge that the pressures of family and work can make it hard for employees to exercise, eat healthy and take care of their overall health.

Given that nearly 7% of our employees are identified as diabetic, we partnered with WakeMed to host an onsite Blood Glucose Testing Event, called Get Some Sweet Talk About Your Blood Sugar. WakeMed educated employees on how to take small steps to prevent or delay diabetes, how to support loved ones with diabetes and tested employees to identify anyone who may be diabetic or pre-diabetic.

At this event, WakeMed was able to connect with approximately 8% of our employees and identified a handful of employees that were unaware they were diabetic or pre-diabetic. WakeMed helped them engage with a medical professional as well as sign up for our on-site health coaching program.

To continue these efforts, we have expanded our health coaching to include a Virtual Health Coaching Program. We will be offering additional healthy eating programs throughout December and will kick off the new year with a Weight Loss Challenge.

Recognition

The Cary Chamber of Commerce hosted its 2nd Annual First Responder Appreciation Breakfast at Prestonwood Country Club on Wednesday November 28. Recently-retired WRAL Anchor Bill Leslie spoke about his personal experience with First Responders and shared a number of stories that highlighted the important life-saving roles law enforcement, EMS and fire service members play in our community every day. The Chamber presented Jerry Miller prints as expressions of appreciation to staff members from the Cary Police and Fire Departments, Cary EMS and Wake County Sheriff's Department.
Emails From Citizens
Emails from citizens this week included:
A complaint that Cary doesn't care about people outside of Cary from a person living in the county. They complained that I didn't respond to a letter sent to me. (After searching there was no letter or email sent to me. I asked the appropriate staff to respond to her about her land use concerns).
A request to have Cary provide housing assistance to town employees (I believe Cary has done this in the past. I asked staff to look into this and get back with the citizen).
Ongoing concerns development and town vehicles from a citizen living on Whitehall Way. (Staff continues to respond to these concerns).
A complaint that town employees were picking up leaves at 7 am violating the noise ordinance. (Actually it doesn't violate the ordinance. The ordinance gives them permission: "Operating a front-end loader or other truck for refuse collection Monday through Saturday between the hours of 7 a.m. and 8 p.m.").
Next week's activities include staff meetings, Town of Cary employees' luncheon, an Economic Development Committee meeting, the CAP Team Appreciation dinner, a quasi-judicial hearing, the Jaycees Christmas parade, and a performance of the Nutcracker by IBA in Cary.
Get In Touch
Well, that is all for this week. My next post will be on Sunday, December 9th.  Although I have Facebook and Twitter accounts those are not the best means of communications with me. Please send all Town of Cary questions or comments to Harold.Weinbrecht@townofcary.org and email personal comments to augustanat@mindspring.com.
---
From the blog of Cary Mayor Harold Weinbrecht. Photos courtesy of Harold Weinbrecht.
https://carycitizenarchive.com/wp-content/uploads/2018/12/HaroldBlog-Dec3-3.jpg
550
800
Harold Weinbrecht
https://carycitizenarchive.com/wp-content/uploads/2020/03/cc-archive-logo-450-v3.png
Harold Weinbrecht
2018-12-03 12:58:17
2018-12-04 14:04:34
Harold's Blog: Cary 's Downtown Park, Page-Walker Anniversary and More