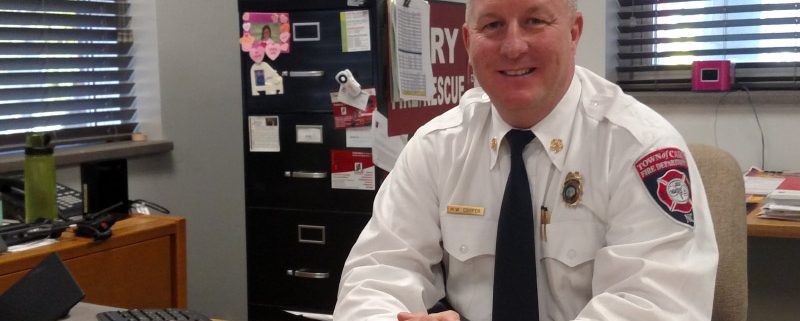 Cary, NC – Pinned at the latest Cary Town Council meeting, Mike Cooper is Cary's new fire chief, and after decades in the fire service both in Cary and around the Triangle, he shared his expertise and experience he has gained along the way.
New Fire Chief
Cooper has been in the fire service for 31 years, joining the Cary Fire Department in 2005. This year, Cooper became fire chief after Cary's previous chief, Allan Cain, took a new position as Cary's public safety director. Cain has been Cary's fire chief since 2003.
Since starting in the fire service, Cooper said the biggest change he has seen in the profession is how data-driven it is now, including measuring response time, utilizing geographic information systems and reviewing performance.
"Technology has allowed us to evaluate our performance and make sure we can carry out those most critical tasks, and it also helps us understand the coverage of our service," Cooper said. "Using data we gather, we can also evaluate risk and determine what level of response is appropriate."
Among Cooper's goals as fire chief are to improve health and safety for Cary firefighters. Currently, the three biggest health hazards for firefighters, according to Cooper, are cancer, post traumatic stress disorder and heart problems. Cancer is particularly rampant, Cooper said.
"We're taking multiple procedures to reduce risk. That includes monitoring our trucks when people breathe in exhaust to cleaning off equipment and clothing to get rid of any fire residue that can be carcinogenic," Cooper said.
For post traumatic stress disorder, Cooper said most people only think about this with regards to the military but it is seen in both fire service and law enforcement. Cooper said the department is setting up peer support teams to assist people dealing with  trauma.
When it comes to heart problems, Cooper said this has been a historic problem in fire service and he is looking into ways to reduce the risk while taking care of the department's firefighters.
"To be able to help not only the community but members of this department is very rewarding," Cooper said.
Engaged Community
This is not Cooper's first role as a fire chief – he served as the Durham Highway Fire Department's fire chief for six years and got his start in the department when he was a teenager.
But that department had several key differences from Cary. For one, the Durham Highway Fire Department is a mix of both volunteer firefighters and career firefighters. It is also a 501(c)3 while the Cary Fire Department is a municipal department.
"The main difference is the size. We had two stations and nine employees," he said. "In Cary, there are nine stations and more than 200 employees."
In general, Cooper said Cary stands out for how much the fire department is engaged with the community and vice versa.
"It's filled with people who care about taking care of the town," he said. "It's a diverse community and there's a warm relationship with the fire department."
Something that makes Cooper himself stand out is he is a graduate of the National Fire Academy's Executive Fire Officer Program and is accredited by the Center for Public Safety Excellence. Only 2,140 firefighters nationwide are accredited by the center.
"I'm blessed to have people invested in me," he said. "In the fire service, we need to invest in people, not only when it comes to their health but also in professional development."
Through both programs, Cooper said he learned about the best current practices and stays abreast of new developments. The National Fire Academy also gave Cooper a connection to members of the fire service all over the world.
"I got to network with colleagues both nationwide and international," he said. "Now, it's easy to reach out to colleagues when I have a problem and want advice."
Cooper is the first member of his family to join the fire service and he said he is very honored with his position and gets to carry out the values instilled on him by his family and community.
"To support the community that supported me is very humbling," he said.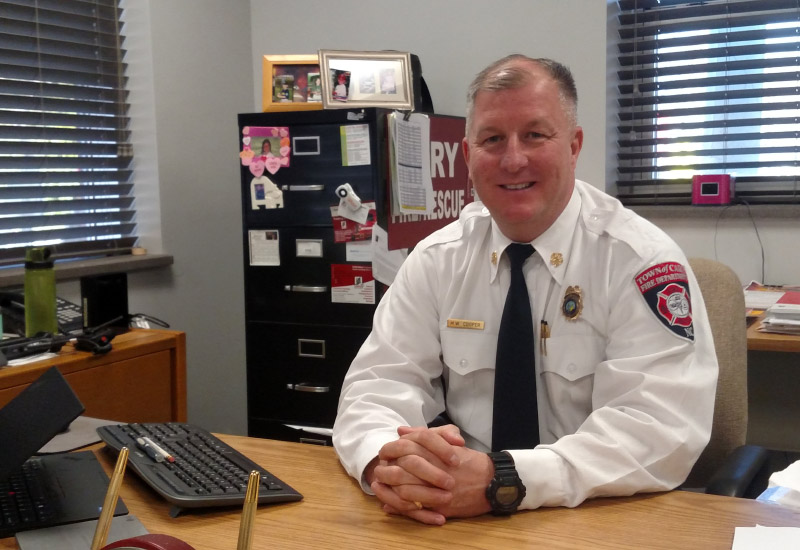 ---
Story and photos by Michael Papich.
https://carycitizenarchive.com/wp-content/uploads/2018/12/FireChiefCooper1.jpg
550
800
Michael Papich
https://carycitizenarchive.com/wp-content/uploads/2020/03/cc-archive-logo-450-v3.png
Michael Papich
2018-12-06 09:56:35
2018-12-06 09:56:35
Meet Mike Cooper, Cary's New Fire Chief