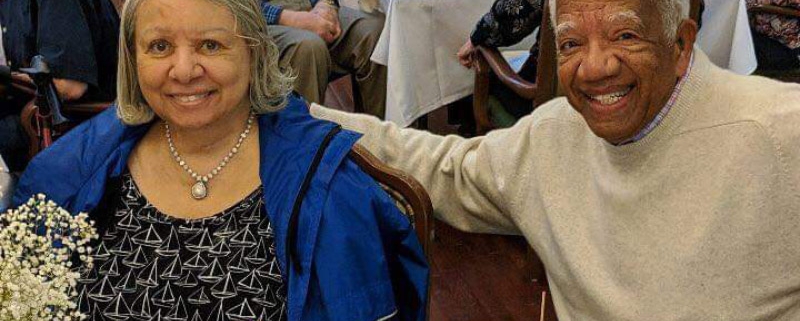 Cary, NC – With Black History Month starting this weekend, we're sharing the story of one Cary resident who was a part of local history as the first African-American woman to be chief of Duke Outpatient Pharmacy and her experiences.
First African-American Female Chief
Gayle Fleming, currently living at Waltonwood Cary Parkway, became chief of Duke Outpatient Pharmacy in 1975 and at the time was the only racial minority in the hospital's entire pharmacy. Gayle is receiving medical care at Waltonwood's memory center so we spoke with her husband, Stanley Fleming, former member of the North Carolina State Board of Dental Examiners.
"She worked her way up to become the head of the pharmacy. She had a good advisor at the start, a good man. When he retired, he recommended she take his job," Fleming said.
Fleming said Gayle got along well with everyone but once she became chief of outpatient pharmacy, she became isolated and faced push back from her colleagues.
"I think the other pharmacists, who were all caucasian, thought they should take the position. That's when the problems began," Fleming said. "She didn't complain about it, she just did her job. But I could tell it took a toll on her."
In particular, Fleming said one of Gayle's colleagues was married to the hospital's chief pharmacist and would use this connection to try and circumvent Gayle's authority. Also, Fleming said people would often assume Gayle had no authority in the hospital because she was black.
"People would say, 'I want to talk to the person in charge' and she'd say, 'I am in charge,'" Fleming said. "I faced similar things but it was amusing to me. It was not amusing to her."
Gayle worked at Duke Outpatient Pharmacy for 32 years before retiring. She has been a memory care resident at Waltonwood Cary Parkway for the past four years.
"Since she's been in Waltonwood, she's doing better. They've certainly been a tremendous help to us," Fleming said. "She loves to dance there. Music always gives her vitality, and that, she still loves."
Empowering Others
While working at Duke Outpatient Pharmacy, Gayle got involved with the nationwide non-profit The Links, Inc., which has an organization in Durham.
"It's a way to guide young women, help get them into schools, give guidance," Fleming said. "It was a good outlet for her, outside of the job."
Fleming said Gayle liked helping people and this was a way to do community outreach, particularly with other African-American women.
"Minority young ladies have always had a hard time. At Links, they try to give some spirit and uplifting," Fleming said. "Links was very powerful in her life."
Gayle was inspired by many of the women she met through The Links, Fleming said, and she was also inspired by Dr. Martin Luther King Jr., who was active when she was going through college and graduate school.
"She was very inspired by Dr. King. She followed him quite well. She took his assassination quite hard," Fleming said. "He was a moral compass for a lot of people, believe me."
Waltonwood Cary Parkway is located at 750 SE Cary Pkwy.
---
Story by Michael Papich. Photos courtesy of Waltonwood Cary Parkway.
https://carycitizenarchive.com/wp-content/uploads/2019/01/Gayle2.jpg
550
800
Michael Papich
https://carycitizenarchive.com/wp-content/uploads/2020/03/cc-archive-logo-450-v3.png
Michael Papich
2019-01-30 13:01:52
2019-01-30 10:08:19
Local History: First African-American Female Pharmacy Chief