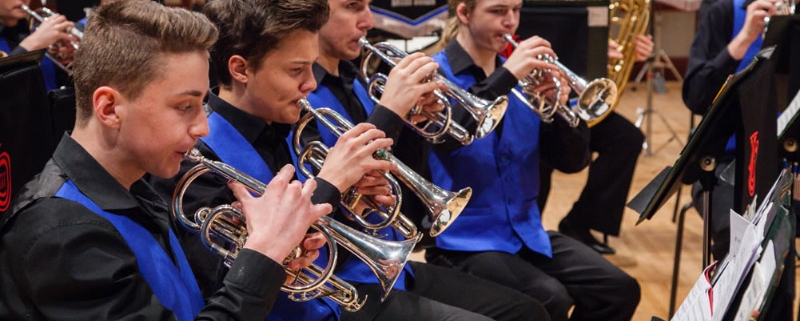 Cary, NC – The Triangle Youth Brass Band competes in the annual North American championships next month, but local music fans can get a preview with a showcase concert this March.

Youth Competition
All three groups in the Triangle Youth Brass Band, made up of mostly Cary students, will compete in the North American Brass Band Association (NABBA) Championships from Friday to Sunday, April 5 to 7, 2019.
"Our season starts in November and we start preparing for the competition the first week of January. We bring in guest teachers and conductors and practice every week," said Jesse Rackley III, artistic director of the Youth Band program and conductor of the Triangle Youth J. Perry Watson Brass Band, the senior-most group in the Triangle Youth Brand Band. "We are practicing to get as much definition and detail as possible."
Before the championship competition, the Triangle Youth J. Perry Watson Brass Band, along with the Triangle Youth Brass Band and the Triangle Youth Academy Brass Band will perform a showcase concert on Sunday, March 17, 2019 at Meymandi Concert Hall at the Duke Energy Center for the Performing Arts in Downtown Raleigh.
"It's like a dry-run for our performers. We know they're not 100 percent ready but this way, they can deal with their nerves on stage," Rackley said.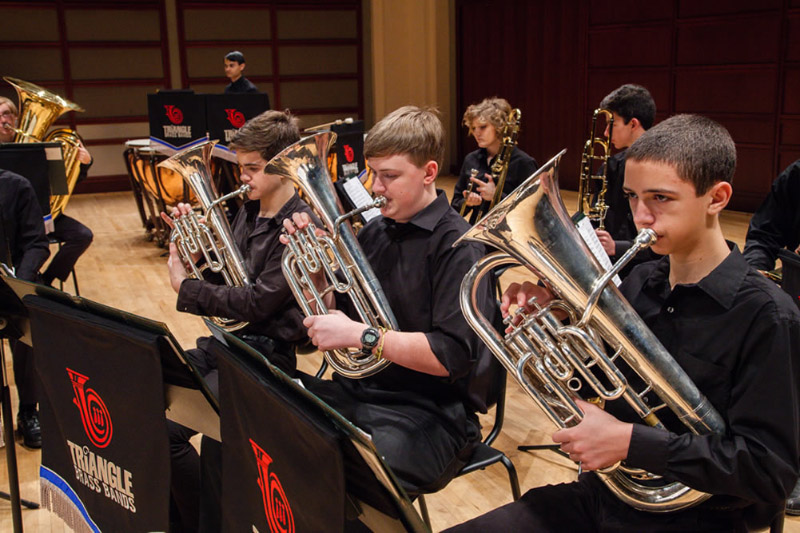 The bands will be performing the same music at this showcase that they will use at the championships, including the test set pieces that the Triangle Youth J. Perry Watson Brass Band and Triangle Youth Brass Band will have to play. All top groups in the NABBA Championships have to perform this sate test piece and Rackley said it is harder than what these students are used to playing in high school bands.
"Like in athletics, when you're in competition and in front of other people, you get the truest idea of how hard you can play," Rackley said. "With this showcase, the directors can all tell how the band is playing."
The band has won first place in the NABBA Championships in previous years, most recently in 2009 in both the Youth Band and Youth Open Band divisions.
British Brass Band Tradition
What makes the NABBA Championships is this is the only competition in North America that fits into the British brass band tradition. As Rackley explains it, small towns in Britain, and now much of Europe, have their own town bands. But unlike the Cary Town Band, these different towns will compete against each other in song competition to see who is the best.
"Here, we have marching bands that are competitive but sit-down concert bands don't have that competition element," he said. "In the British brass tradition, competition is huge."
By having this territorial competition, Rackley said it also maintains a sense of community as the band can represent its town.
"This is a unique opportunity for young musicians. What they're asked to do is typically at a much higher level than what they're asked to do in a school band," he said.
One other difference between these performances and typical American brass band music is the instrumentation is different. For example, instead of french horns there are tenor horns and instead of trumpets there are cornets.
"It's the same notes but it has a warmer sound," he said.
Event Details
Triangle Youth Brass Band NABBA Showcase
Sunday, March 17, 2019 at 4 PM
Meymandi Concert Hall, Duke Energy Center for the Performing Arts, 2 E. South Street, Raleigh, NC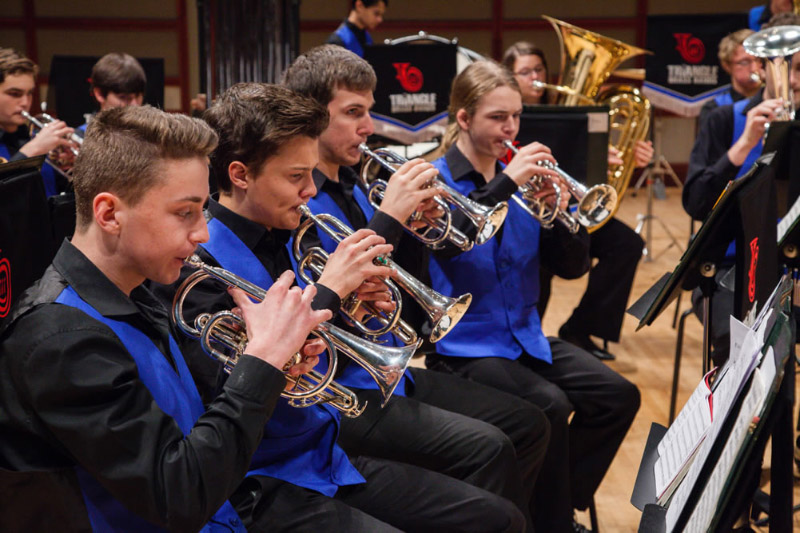 ---
Story by Michael Papich. Photos courtesy of the Triangle Youth Brass Band.
https://carycitizenarchive.com/wp-content/uploads/2019/03/TYBB1.jpg
533
800
Michael Papich
https://carycitizenarchive.com/wp-content/uploads/2020/03/cc-archive-logo-450-v3.png
Michael Papich
2019-03-07 13:01:44
2019-03-07 10:42:56
Triangle Youth Brass Band Preparing for Nationwide Competition