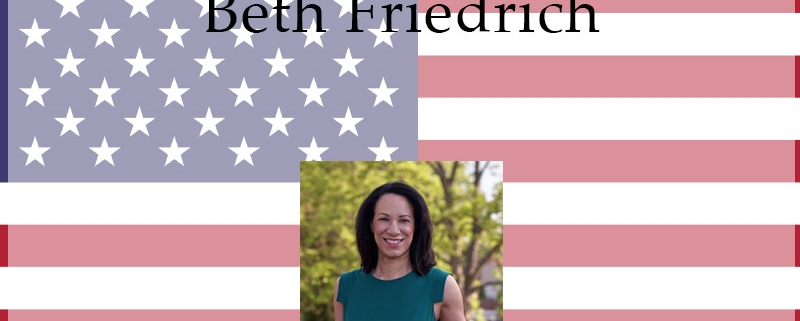 Cary, NC – This is an installment in our Candidate 2019 series, in which candidates get to respond in their own words to the same three questions.
We publish the responses in the order we receive them. This questionnaire is submitted by Beth Friedrich, running for the District D seat in Cary.
Why are you running?
I'm running for Cary town Council in District D because everything that I love lives in the Town of Cary. My husband and I had our daughter here, my brother and his wife also live here and had their three sons here, and my parents have also purchased their home here, retiring in Cary to be closer to their grandchildren. My sister and her husband live in Durham with their newborn daughter, but I expect them to move to Cary any day now!
Cary is reaching a turning point in its 150-year history. Whereas rapid growth has characterized the last thirty years of our Town, the future will be different. Cary is now reaching the end of its land available for development. That undeveloped land has largely been the catalyst through which our Town's growth has occurred, and revenue growth that was generated by our rapidly growing community has paid for the top-notch services and amenities that many of us currently enjoy. This growth meant that even during the difficult years of the Great Recession, Cary had sufficient resources to weather the financial storm and avoid many of the austerity measures that other municipalities had to adopt. To this day, property owners in Cary still pay the lowest tax rate of any municipality in Wake County.
Land is a limited resource, and with the end of development begins the next chapter in the history of our Cary—the beginning of redevelopment of aging and vacant properties across our Town. Along with green lighting new redevelopment projects the Town will also being the process of replacing and maintaining our infrastructure, and the costs of maintenance and replacing maturing infrastructure will place new pressures on our Town's financial resources. Now is the time to adjust our financial model to minimize costs and ensure that the services and amenities that we have all come to enjoy in our Town continue uninterrupted.
As an economic development attorney I believe that I have the experience, training and background to work with my fellow Council members to shepherd our Town through this transition. I am running for Town Council to make sure that the Cary that we live in continues to be fiscally sound, environmentally sustainable, and is ready to be handed down to future generations to enjoy. May our success be their road map for the future!
What are your top three priorities and how will you accomplish them?
My top three priorities are balancing our growth and preparing the policies and regulations that will guide redevelopment projects in Cary in the near future, maintaining and replacing our aging infrastructure, and protecting our environment for our enjoyment and the enjoyment of future generations.
As a part of what I would like to accomplish as your Councilwoman my first priority is balancing our growth and preparing policies surrounding redevelopment projects. One of my first initiatives would be behind the creation of workforce housing—making homes more affordable for the very people that make our community work like firefighters, police officers, teachers, etc. This is a common request that I have heard from numerous residents as I have gone across the district knocking on doors and at events. As housing costs in Cary outpace the incomes of working families employed in Cary (but not able to afford a home in Cary), those workers and their families commute to housing that they can afford, particularly down key corridors that link us to other municipalities, which also increases traffic congestion. Redevelopment of older commercial properties within Cary should be rezoned residential, and these newly rezoned residential areas should be encouraged to be developed as starter homes and family sized units to give our vital workforce options to live within the Town.
Also, for the developers who wish to build these types of workforce units in a high-cost market like Cary, development fees should be reduced and a streamlined process should be introduced. This should reduce time as well as costs related to the development review process. Additionally, along major corridors that span multiple jurisdictions (like Durham and Chatham Counties) we should develop procedures to help streamline and simplify development on cross-jurisdictional projects or on multiple projects within the corridor. Lack of workforce housing is a regional issue in the Triangle and not only Cary's problem. Working with our neighboring counties and municipalities is key to finding a solution.
Secondly, in terms of maintain and replacing our maturing infrastructure, it is important to note that not all of Cary was built in one day. Our neighborhoods were built in phases as growth continued over decades. As such developers built them at different time with different standards, and the infrastructure that our neighborhoods are sitting on is maturing in phases as well. While the Town must continue to assess and monitor existing infrastructure and systems we must also evaluate whether capacity is being exceeded by new development and redevelopment projects. The Town's Buried Infrastructure Asset Management Plan guides our efforts to protect stormwater, underground water, wastewater, and reclaimed water systems. We should utilize this plan to create an integrated stormwater management system for the Town. Stormwater is a consistent issue across the Town, not only in District D, and the Town's original stormwater systems were designed to only receive certain levels of water. Recent storms have proven that rains are becoming heavier and producing more water in a shorter period of time than we experienced in years past. One of my solutions to alleviate the issues created by stormwater is to propose the creation of a system in which the above-ground system and the below-ground system are integrated.
Thirdly, the parks, greenways, and natural environment that we have cultivated here in Cary is one of the key reasons why so many people want to live, work, retire, and play in Cary. We need to keep it that way for the next generation of Cary residents. I propose to balance redevelopment by ensuring that open space is incorporated into anything approved by the Town Council going forward. New mixed-use developments should be connected to our established greenways, walkways and bike paths. We must work harder to protect and reestablish our tree canopy. This would be best achieved by completing a Forestry Master Plan for the Town, measuring the current status of Cary's forests and then determining how to best maintain and grow our forests by targeting any invasive species and planting more storm and wind-resistant trees (primarily hardwoods). From there we could also look at doing a combined public/private commitment over a number of years to fund forest monitoring, restoration, planting, management and long-term maintenance. Lastly, I would note that one of the downsides of shipping out recycling overseas to China for processing in recent years  (in addition to the tremendous expenditure of carbon emissions from shipping tons of recycling in barges across the ocean, with the additional waste that ended up in our oceans as a result) is that it prevented cities and towns like Cary from developing our own infrastructure for domestic recycling. We need to create that recycling infrastructure now, which will eventually take down recycling costs overall. I would work with Council and our neighboring municipalities to create a regional recycling authority.
Give us a brief bio and tell us about your relevant experience
My full name is Beth Ada Friedrich and my hometown is Albany, Georgia. In Albany I attended Morningside Elementary School for kindergarten, St.Teresa's Elementary School for 1st through 8th grade, and then graduated from Westover High School. I attended the University of Georgia in Athens, Georgia, where I graduated with a BS in Political Science/International Affairs. While at UGA I studied abroad as a Regent's Scholar at the American University in Blagoevgrad, Bulgaria at the end of the Balkan Wars. My area of concentration was post-communist political change and the transition from Soviet economies to capitalist economies. I have been studying issues surrounding economic development ever since.  I have a master's degree in International Affairs from the Central European University in Budapest, Hungary, where I was a Robert Bosch Fellow. Upon completion of my MA I returned to the United States and moved to Washington, DC where I completed an internship at the Atlantic Council of the United States, a foreign policy think tank. I then took a position as an Account Executive at a local public relations firm.
I moved to North Carolina in 2010 to pursue my law degree and put down roots back in the South. I completed my J.D. at night at North Carolina Central University School of Law while working full time as Executive Assistant to the General Counsel of the Governor of North Carolina. After completing my J.D. I took a staff attorney position at the North Carolina Department of Natural and Cultural Resources before being hired as General Counsel to the North Carolina Industrial Commission, the agency that administers the State's Worker's Compensation Act. From there I was internally promoted to my current occupation as Deputy General Counsel at the North Carolina Department of Commerce, the agency tasked with economic development for the State of North Carolina. I have held this position under two administrations. In my current position I specialize in business recruitment, job creation and job maintenance, workforce training, and local infrastructure projects including water and sewer, stormwater maintenance, and road construction.
I am an active member of the Wake CAPP, a collaboration between SAFEchild NC and Prevent Child Abuse NC that brings together community leaders, parents and representatives from youth-serving organizations across Wake County to create a comprehensive plan to strengthen families and communities and protect children from abuse and neglect, issues I became passionate about after seeing widespread abuse of young women and girls during my time in Eastern Europe.
I am a graduate of the Cary School of Government and strong believe in the power of good local government. With my extensive background in economic development, infrastructure, government and environmental issues I believe that I have the qualifications for the office that I seek and the means by which to create the type of change that I am advocating for. I have a proven track record of working in a non-partisan fashion to achieve success for communities and to weigh ideas based on their merit for the sake of the greater good. I ask you for your vote this October 8th.
Website:  https://bethforcary.com/
Email: bethforcary@gmail.com
Twitter: @for_cary
Facebook: Beth For Cary
---
Read more in the Candidate 2019 series.
https://carycitizenarchive.com/wp-content/uploads/2019/09/Questionnaire2019-Friedrich.jpg
550
800
Community Contributor
https://carycitizenarchive.com/wp-content/uploads/2020/03/cc-archive-logo-450-v3.png
Community Contributor
2019-09-17 09:27:43
2019-12-11 19:13:52
Candidate Questionnaire: Beth Friedrich