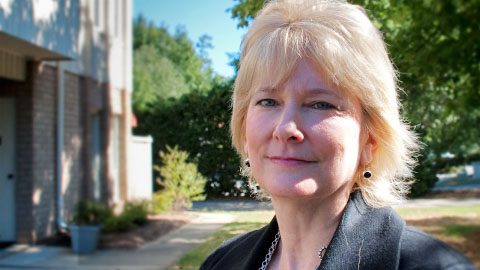 Cary, NC- Elaine Buxton never imagined she'd be the CEO of a company, let alone one that specializes in "mystery shopping". Her company, Confero, was recently named a Top 50 Family Friendly Company by Carolina Parent and is the subject of latest installment of Hidden Giants.
Mystery Solved
Elaine, a Cary native, was asked by her mother years ago to help with a business that she was developing. The new venture specialized in job training. Confero's "needs assessments" were so effective, a client suggested it could be "the whole business". So in 1986 they began concentrating on mystery shopping.
Mystery shopping works like this: people are asked to anonymously experience a business as a customer, assessing the good or bad about that experience. This information is then compiled into reports that Confero can analyze to come to conclusions on how to improve and optimize that client's business.
The Effect of The Recession
Elaine told me: "The only way to grow when the economy is not growing, is to maximize revenue and build market share". In short, down economies lift the demand for mystery shopping.
Continued Growth
Future growth will come more from non-traditional areas, for example, using technologies such as smart phones for customer feedback. Elaine told CaryCitizen that they have constantly re-invented the business over the past 24 years as new technologies have become available.
They also see growth from overseas markets. Confero just finished up a project in Columbia, South America. They currently have clients in Canada, the U.K. and Japan as well.
What Makes Confero Family Friendly?
Being a Mom of an 8-year old herself, Elaine told us: "Ultimately, if there's a choice between family and work, family wins every time. But I want happy employees too." Many of her staff have been with Confero more than 7 years. So she makes sure that employees can have flexibility to work from home. Of course, deadlines still must be met – disappointing a client is not an option. But there's flexibility in when and where you get that job done.
Want to Be a Mystery Shopper?
Hey, this probably won't be a career. Shoppers typically use this income as supplemental – on most projects,  the shopper gets the cost of the trip (miles, meals, services) reimbursed and maybe an extra $10-$15. Still sounds fun to me.
Here's what you do: click on Mysteryshop.org you will be asked to fill out a survey. You will move on to a "Job Board" that will list shopping jobs that certified organizations (like Confero) are posting to fill.
You can search based on geography and type of service. But remember: this is research! You will be expected to take notes about your experience with facts – not feelings! This will include cleanliness, wait times, sales people and quality of meals and service. You will then go online and fill out a survey of your findings and upload any receipts. You will be reimbursed and paid via PayPal. Jobs pay based on the time involved and what the service costs.
Prizes!
On the spot surprises are another twist in mystery shopping. A shopper may go in to a store and reward employees with prizes. They are not given for merely being asked by those employees to "super-size".  Rather, they are given to employees for listening to the mystery shopper's needs and solving for them.
About the Hidden Giants Series
Cary is full of large, thriving companies you may not know. Hidden Giants chronicles the rich and diverse business culture of our town.
Read more stories of Cary's Hidden Giants.
Lindsey Chester
https://carycitizenarchive.com/wp-content/uploads/2020/03/cc-archive-logo-450-v3.png
Lindsey Chester
2010-10-12 20:22:16
2019-12-07 16:59:18
Hidden Giant: Confero's Mystery Shopping