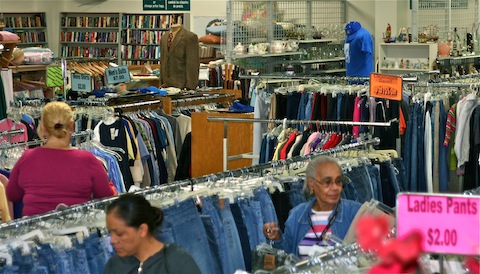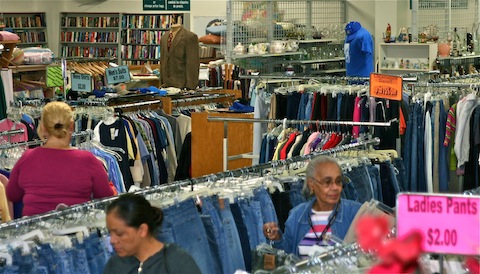 Story and photos by Leslie Huffman
Cary, NC – This past week, I finally cleaned out my closets. I made a huge pile of clothes that we've out-grown or cannot wear anymore. I'm now ready to donate my things so that my unwanted items help the community in the best way possible.
I am taking all my things to the Dorcas Ministries Thrift Shop located at 1231 N. E. Maynard Road in Cary. The thrift shop carries "gently" used clothing, toys, books, coats, shoes, lamps, appliances, and much more and then sells these items at very low prices.
The Real Benefit: Vital Social Services

The Dorcas Thrift Shop and Ministries provide emergency financial assistance by paying rent and electric bills for those in dire need.  The Thrift Shop has a food pantry and nutrition services, offers child care assistance, literacy scholarships, and job hunting assistance. And all these services are provided for low-income and needy families right here in Cary. We've covered Dorcas fine work in previous issues.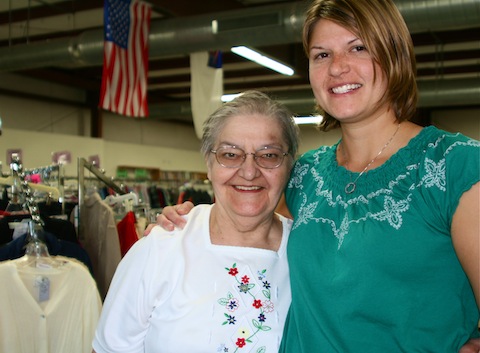 Local People Helping Local People
Dorcas works in collaboration with the Town of Cary to administer its Oasis Water program for families who cannot pay their water bills. They work with other local agencies such as Alliance Medical Ministry, the Cary YMCA and The Carying Place to maximize its impact in our community.
More than 200 volunteers work at Dorcas as donation sorters, cashiers, crisis counselors and food pantry workers. The revenue generated by the Thrift Shop provides 85% of all the income needed to keep services available to folks in crisis.
The Dorcas Thrift Shop generates an annual revenue of almost $600,000 which is reinvested into the neediest members of our community. Your donations to the Thrift Shop help local Cary families directly.
With the slowed economy, there are more people in need and the less donations showing up at the store. Your donations are now needed more than ever.  Recently the Dorcas Ministries has seen a 13% drop in income and a 32% increase in need.
The Future For Dorcas
Howard Manning, Executive Director of the Dorcas Ministries, shared some exciting news with me concerning their future location. Dorcas Ministries has purchased the Cary Plaza Shopping Center on High House Road and plans to occupy the anchor spot sometime during the first quarter of 2011.
"Dorcas Ministries has a vision to create a non-profit hub in the Cary Plaza Shopping Center", says Manning, Executive Director. "We are inviting tenants like Wake Tech, Habitat for Humanity, and Alliance Medical Ministry and others to come occupy space in the center so that the community in need can access adequate services at one location."
At the Cary Plaza Center, the Thrift Shop retail space will double. Within the first year of occupancy, Dorcas forecasts a 25% increase in sales revenue bringing the annual income from the shop to $750,000.
Capital Campaign

Part of the Dorcas Ministries capital campaign is to sell the current Maynard Road property. The building has an appraised value between $1 and $1.5 million, according to Manning. The proceeds from the sale of the building will be reinvested in the Cary Plaza property.  Combining proceeds from the future sale of the building and gifts to the campaign, Dorcas is looking to raise $3 million over a three year period.
What Dorcas Does For Local People
Crisis Ministry assists almost 400 neighbors a month with bills, food, clothing and services
Crisis Ministry has distributed more than $1,600,000 since 2005
The Food Pantry provides groceries for more than 2,500 people a year
Have provided childcare funds to more than 150 families
Has given $12,000 in adult education scholarships each year
Provides quality items for sale at very low prices through its Thrift Shop
Clean Your Closet / Spread The Word / Help a Cary Neighbor

When cleaning out your closets, be sure to save some items for the Dorcas Shop.  You can bring in housewares, clothing, furniture and decorative items for donation. You can also shop for great things for you or your growing children. Its also an awesome spot to find clothing and housewares at great prices for college students.
Remember that every item you donate or buy will help a Cary neighbor in need.
https://carycitizenarchive.com/wp-content/uploads/2010/11/dorcasshop1.jpg
274
480
Leslie Huffman
https://carycitizenarchive.com/wp-content/uploads/2020/03/cc-archive-logo-450-v3.png
Leslie Huffman
2010-11-07 17:45:28
2019-12-07 13:03:36
Dorcas Ministries Helping Cary Families