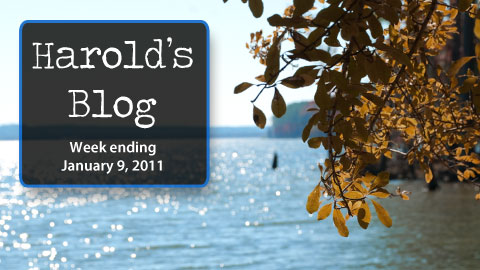 From the blog of Cary Mayor Harold Weinbrecht, covering the week through January 9, 2011.
Wastewater, Chatham County and Red Light Cameras
On Tuesday I met with the town manager to go over current issues. We discussed the Western Wake Regional Wastewater Management Facilities, the new Chatham County commissioners, and red light cameras.
Upcoming Retreat: Improving Downtown, Transportation and More
On Thursday the council had a short work session to go over details for the upcoming council/staff retreat. The retreat, which starts on Friday, January 14th at the Embassy Suites in Cary, will have four topics. The topics are:
Where we want to be: Achieving a Remarkable Community
Transportation Improvement Process and Funding (includes Adequate Public Facilities Ordinance and Transportation Development Fees)
Short-Term Downtown Action Steps: What can we do right now?
Updating Initiatives
Since Cary has a very experienced staff and council, I believe this will be another very productive retreat.
Friday was supposed to begin with an agenda meeting to go over any potential questions or concerns for Tuesday's regularly scheduled council meeting. Since the agenda is so short and there were no questions or concerns from council, I canceled the meeting.
Happenings Outside the Town that Affect Us
Later Friday I met with the town manager and town clerk to review ideas about how to better communicate information from outside Cary meetings. We formulated ideas that we will present to council for consideration. Hopefully, the future will result in better communications about issues that happen at meetings outside Cary like the Mayors Association meetings.
State of the Town at Glenaire
Saturday I presented the State of the Town address to about three to four dozen residents at Glenaire. I used power point to queue my comments. It was well received and there were just a few questions afterward.
Canes and Mayors at RBC
Sunday I attended a Mayors Association outing at the RBC Center. We watched the Carolina Hurricanes beat the Atlanta Thrashers in overtime. This is the first of two invitations the mayors receive each year to attend games. Our next one will be in February.
Mailbag
Emails this week included complaints about the Tryon Road and Cary Parkway proposal, our decision to deny the AT&T tower near Cary Parkway and Old Apex Road, and the lack of programs for people with disabilities. I also received thanks for our decision on the Weldon Ridge Road alignment, questions about the town's population, thanks for our greenway system, and a recommendation to take Cary TV off the air for 6 hours a day. In addition I received invitations to speak at a Heart of Cary meeting and at Farmington Elementary school (I accepted both).
As it is every week, I received several emails from staff members. A couple of emails in particular referenced permits for the Western Wake Wastewater Management Facilities. Staff notified me that the partners received the NPDES (National Pollutant Discharge Elimination System) permit and the Air Permit from the NCDENR (NC Department of Environment and Natural Resources) Air Quality.
Next week the pace will pick up a bit. The highlights will include a meeting on rail, a council meeting on Tuesday, and the annual staff/council retreat on Friday and Saturday.
Well that is all for this week. My next post will be on Sunday, January 16th.
Please feel free to email me with a comment.
Personal comments please send to augustanat@mindspring.com.
All Town of Cary business – please email me at Harold.Weinbrecht@townofcary.org
Jordan Lake photo by Hal Goodtree.
Harold Weinbrecht
https://carycitizenarchive.com/wp-content/uploads/2020/03/cc-archive-logo-450-v3.png
Harold Weinbrecht
2011-01-10 12:00:45
2016-01-09 11:46:56
Harold's Blog: State of the Town Now and Planning for the Future