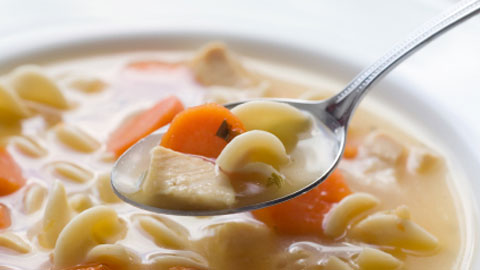 By Hal Goodtree
Cary, NC – Just yesterday, we ran an item about free flu shots from Cary EMS. But there's another way to fight cold and flu season. It's Jewish Chicken Soup, a dish so powerful it has been reputed to cure rigor mortis.
Behold the Power of Soup
Scientists and philosophers have mused on the power of Jewish Chicken soup for generations. Does it really do anything for you?
As they say in New York, it couldn't hurt.
When you're stressed out, or fighting off an infection, anything you can do to make life easier on your body is good. Homemade soup is incredibly nutritious, but it is also easier to digest than a heavy meal. Feeling stressed? Give your organs a rest. Eat soup.
Jewish Chicken soup is reckoned with an almost mystical power. I have two theories:
It's the Bones – Simmering the bones for hours releases nutritious ingredients from deep inside the marrow;
It's the Dill – One thing that separates Jewish Chicken Soup from other chicken soups (almost every culture has a variation) is the use of fresh dill. The aroma of the soup, punctuated by the fresh dill, takes me back to my Grandma's kitchen in 1964.
Ingredients
Jewish Chicken Soup is very easy to make and its restorative powers are available to people of any race, creed or sect.

3 lbs of chicken bones
1 large onion
2 carrots
2 celery stalks
fresh or frozen dill
Egg noodles or matzoh balls
Make the Chicken Stock

Make your own chicken stock. Do not under any circumstances use canned stock or bouillon.
All you need is chicken bones, water and about 8 hours.
We save chicken bones from dinners past in a ziplock in the freezer. When a one gallon bag is packed with bones, we dump them in a pot, cover with water and simmer all day.
You can also use a package of cheap chicken parts from the supermarket, or even a small fryer.
For making stock, bones are more important than meat. Boneless chicken breasts will not make a good stock.
Whatever you use, put it in a big pot, cover with water and simmer slowly all day.
Make the Soup
Strain the broth and discard the solids. Skim the fat. Return the broth to the pot.
Add the carrots, then the onions, then the celery. Season generously with salt and pepper.
Add egg noodles (or matzoh balls or your favorite soup noodle). When the starch is al dente (slightly undercooked), turn off the flame (pull the pot off an electric burner).
Mince up the fresh or frozen (not dried) dill and add it to the soup. Cover and let sit for five minutes.
Serve!
Finer Points
With Chicken
Saute a couple of chicken breasts, cut them up into bite sized pieces and add them to the soup with the vegetables.
Serve with fresh bread and you have a compete meal.
Matzoh Balls for Everyone
Matzoh ball mix is available in many supermarkets (in the "international" aisle).
Simple to make – you just need two eggs and a tablespoon of oil. Directions are on the pack.
Don't use the spice pack that comes with some packages of matzoh ball mix – it's mostly salt.
With Rice, Dumplings or Tortellini
Don't like noodles or matzoh balls? Add rice or dumplings instead.
Tortellini also makes a nice substitution.
Hal Goodtree
https://carycitizenarchive.com/wp-content/uploads/2020/03/cc-archive-logo-450-v3.png
Hal Goodtree
2011-01-08 17:45:13
2015-12-29 22:55:18
Recipe: Jewish Chicken Soup