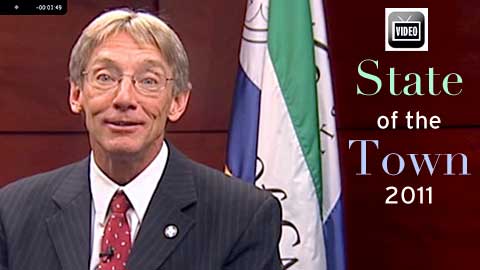 Cary, NCorth Carolina, Wednesday January 25, 2011 – This morning, Cary Mayor Harold Weinbrecht delivered the State of the Town address for 2011 to a packed house at Prestonwood Country Club. The annual event is sponsored by the Cary Chamber of Commerce.
Main Themes
For those of you who read Harold's Blog on CaryCitizen, you already know that the Mayor has been working on the SOTT speech for many weeks. The address was delivered on video in late December and the full text is available online at townofcary.org.
The Cary Chamber event today was a chance for the Mayor, Town Council and Staff to gauge the response of the business community to the ideas in the annual address.
Like many leaders across America, Mayor Weinbrecht led with a discussion of business and the economy of the town. Unlike many others, the news in Cary was pretty good.
"We've continued to maintain a remarkably hot business climate, being one of the few areas in the country where businesses continue to want to locate, relocate, and expand. While our nation, state, and even surrounding communities are suffering from unemployment rates hovering near double digits, Cary's unemployment rate continues to fall from nearly 7 percent 18 months ago to now just over 5 percent." – State of the Town address
The Mayor devoted significant time to talking about the environment (green initiatives and water), police and fire (awards and accomplishments) and the business of sports (economic impact on Cary). He finished up with comments about the Community Arts Center (opening this spring) and the Town budget ($12 million surplus).
"So, once again, I'm happy to report that Cary begins 2011 as one of the best places in the United States to live, work, run a business, and raise a family.

…With the help of the businesses and residents of Cary, we will remain one of the greatest places to live in the United States." – State of the Town address
State of the Town Video
Here is Mayor Weinbrecht's 2011 State of the Town Address in its entirety. Thanks to Town of Cary Public Information for making this content available.
Cary NC State of the Town Address 2011 on Vimeo.
Hal Goodtree
https://carycitizenarchive.com/wp-content/uploads/2020/03/cc-archive-logo-450-v3.png
Hal Goodtree
2011-01-26 23:25:19
2015-12-29 22:55:19
Video: State of the Town 2011